Monsters Within ...
Taught By Multiple Professors
Rated

5

out of

5
by
nes006
from
Very enlightening
This course added to my mental reference library and will certainly make my movie watching and book readings much more thought provoking.
Date published: 2021-02-23
Rated

5

out of

5
by
horrorfan
from
Great mini course for the Horror Buff
I was familiar with every single piece mentioned in the course and was delighted to find new and interesting ways to connect a thru line. Engaging, fun, and thoughtful. I only wish it was a full length course! But then again, it's hard to find people who take horror seriously so I'm grateful for this little tidbit.
Date published: 2021-02-23
Rated

5

out of

5
by
Gabriela7
from
Excellent!
Concise review of interesting themes in the art of horror. Very enlightening, I wish there were more episodes!
Date published: 2021-02-22
Rated

1

out of

5
by
Jon71
from
I'm really sick of left wing commentary!!!
It really ticks me off when I sit down to try to learn about movie appreciation only to be treated to leftwing indoctrination. This garbage is getting really old.
Date published: 2021-02-09
Rated

4

out of

5
by
GhostTemple
from
Cool!
Cool series. The psychological horror movie lecture got me to check out a lot of great films based on recommendations, the victorian novel lecture had me reading frankenstein and dracula and learning more about how horror reflected societal values at the time. Wish it was longer!
Date published: 2020-11-19
Rated

5

out of

5
by
Tommmm
from
Dude... Really good
Like... Really good... Like really good... dude, why does no one watch this
Date published: 2020-10-13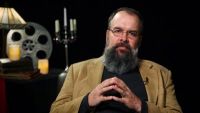 1: Psychological Horror Films
Join Eric R. Williams, Professor in the School of Media Arts & Studies, to examine the genre of psychological horror films through three popular movies. Discover how, while each movie is vastly different, they all stem from the same foundational—and very commonly known—story.
2: Victorian Horror Novels
Examine why many of the monsters featured in Victorian novels are more human-like than your standard understanding of a monster. Looking at Dorian Gray, Dr. Jekyll, and Bertha Mason, among others, Professor Cognard-Black explores how the Victorians projected the most disturbing parts of being a human into these fictional freaks and ultimately created enduring monsters—ones that continue to shock and thrill contemporary Americans.
3: The Horrific, Moral, and Transcendental
Review various concepts and ideas through history to explain, first, what horror is, and then, why people like horror. Comparing various philosophical views, Professor Breyer considers why we find horrific characters so compelling. He examines the use of three types of monsters through storytelling: the horrific, the moral, and the transcendental. He further considers how as a manifestation of evil, they become teaching tools to help us better confront real-life psychological and physical fears and to help us gain a moral compass to better understand what is right and wrong.
Eric R. Williams
Film, as an art form, helps us to define our experience of the world, and other worlds.
ALMA MATER
Columbia University
INSTITUTION
Ohio University
About Eric R. Williams
Eric R. Williams is a Professor in the School of Media Arts & Studies at Ohio University, where he teaches courses on screenwriting, film, and virtual reality production. He is also the director of the MFA in Communication Media Arts program at Ohio University. Professor Williams received his bachelor's degree in Communication with a minor in Education from Northwestern University, and he earned his Master of Fine Arts degree in Film from Columbia University. Before directing his first feature film, Professor Williams worked as a cinematographer and assistant director in New York City. He has written more than 30 screenplays. He has also written, produced, and directed for companies such as Workshop Productions, Liam Films, American Movie Classics, Fox Interactive, and Universal Studios. Professor Williams's films and screenplays have won the Best New Work award from the Writers Guild of America and the Individual Excellence Award in screenwriting from the Ohio Arts Council. His film Breaking News was selected as one of the "Top Five Films Not to Miss" by the Athens Independent Film Society at the Athens International Film and Video Festival. At Ohio University, he received the University Professor Award for excellence in teaching, and he was also a finalist for the Presidential Teacher Award. Professor Williams co-edited the book Media and the Creative Process. He is also the author of two other books: Screen Adaptation: Beyond the Basics and The Screenwriters Taxonomy. When he is not writing, producing, or directing, Professor Williams enjoys working on international media education projects and he frequently travels to South America and Eastern Europe. His dedication to teaching was recognized by the president of Guyana, where he was awarded a lifetime honorary membership to the CineGuyana society.
Jennifer Cognard-Black
Each of us has the capacity to write meaningful essays that tap into the heartbeat of humanity.
ALMA MATER
The Ohio State University
INSTITUTION
St. Mary's College of Maryland
About Jennifer Cognard-Black
Dr. Jennifer Cognard-Black is Professor of English at St. Mary's College of Maryland, a public liberal arts college. She graduated summa cum laude from Nebraska Wesleyan University with a dual degree in Music and English. She studied under Jane Smiley for her M.A. in Fiction and Essay Writing at Iowa State University and received her Ph.D. in 19th-Century British and American Literature from The Ohio State University. Among her awards for teaching and writing, she was named a Fulbright Scholar to Slovenia, where she taught the American novel and creative writing. She was the recipient of a Maryland State Arts Council individual artist award and was twice the recipient of the Faculty Student Life Award, the most prestigious teaching award at St. Mary's, selected by the students themselves. She was awarded Mellon Foundation grants on three separate occasions, and she won a gold medal in the national 2016 Independent Publisher Book Awards contest for an anthology she edited. Nebraska Wesleyan University has named her a Distinguished Alumna and an Outstanding Graduate. Professor Cognard-Black's publications are extensive and eclectic, reflecting her intellectual background as both a writer and a literary critic. She is the author of numerous books, has published her essays and short fiction in a number of journals, and she has appeared on NPR.