Plus Pilots: Neutron Stars and Pulsars
Rated

5

out of

5
by
Lyoung200
from
Neutron Stars and Pulsars
Very clear handling of a subject that can be difficult to translate into language for the layman. I feel I really have a grasp of neutron stars and their relatives that I didn't have before. In fact, most of those relatives were completely new tome. Well done.
Date published: 2021-04-09
Rated

5

out of

5
by
Mjfoys1
from
I look forward to taking the rest of the course in the near future.
Date published: 2021-02-12
Rated

5

out of

5
by
LearnSomethingNew
from
A whirlwind look at neutron stars and pulsars
Dr. Emily Levesque presents, with enthusiasm, a great overview about Neutron Stars and Pulsars. While the origin of these celestial objects is fascinating, I particularly liked the explanation of how pulsars can be used to study gravitational waves and explanations of her studies to find Thorne-Zytkow objects. Also, the story of Jocelyn Bell, who discovered pulsars but did not get the Nobel for her discovery, was a sad reminder that astronomy, like other sciences, is not always a level playing field. The one question I have that did not seem to be addressed was how long do neutron stars last?
Date published: 2021-01-09
Rated

5

out of

5
by
Jake88
from
Intriguing Subject and Great Instructor
I've always had an interest in Astronomy and basically any field regarding space and the universe. In the last few years my interest has definitely been growing in these areas so I find myself trying to learn as much possible about it whether it's books or videos. I thought this lecture was very informative and well presented. I truly hope to see more lectures and courses like this and, so far, I've really liked all of the accompanying guidebooks too.
Date published: 2020-12-30
Rated

5

out of

5
by
Anonymous
from
Very interesting topic and great instructor
I've become obsessed with astronomy since subscribing to Great Courses, and neutron stars are a fascinating topic. I'd love to see more. The professor was amazing also.
Date published: 2020-10-24
Rated

5

out of

5
by
Lori D
from
Great Content and Presenter
I love astronomy/astrophysics educational videos, and this one was well done. The material was very interesting, and the presenter had great inflection in her voice. I hope to see more lectures from this presenter.
Date published: 2020-10-18
Rated

5

out of

5
by
VisualThinker
from
Please produce this course!
I really enjoyed this lecture, and I would very, very much like to see more! Please make this course TGC. This topic fascinates me. Neutron stars are really interesting. From a lifelong customer.
Date published: 2020-10-16
Rated

5

out of

5
by
KnowKnots
from
Reality can be stranger than fiction
Excellent instructor and stellar subject matter! Reminds me of the best of Adler Planetarium's evening classes in Chicago
Date published: 2020-10-05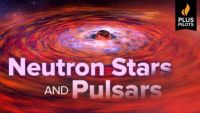 1: Neutron Stars and Pulsars
In 1967, a strange signal of data was detected by a radio telescope. Pulses of radio emission appeared with astonishing regularity, like a perfectly ticking clock. These pulses were the very first observations of a neutron star, the tiny and dense remnant left behind by the supernova death of an enormous star many times the mass of our own Sun. Explore what neutron stars are. Where do they come from? How do they work? And most important, what can these objects teach us about stellar death, gravity, and our own universe?