Rated

5

out of

5
by
Franalice
from
Wonderful introduction
The lessons began with materials and preparation and then led to some very doable paintings. With the accurate terminology and technique instruction, the later paintings were achievable. Seeing the completion of the sample paintings was also helpful. The friendly manner of the instructor made the course helpful and most enjoyable.
Date published: 2021-03-31
Rated

5

out of

5
by
PippaD
from
Brilliant introduction to watercolours for novices
I can't recommend this course too highly for anyone who is wanting to try watercolour painting. Kateri is a wonderful teacher - she explains everything so clearly and is very encouraging and reassuring. The course starts with an introduction to the different types of paint, paper, brushes & other tools, and then progresses to some practical exercises, which Kateri does on-screen, making it easy for the learner to follow her. For a few of the earlier projects, she also gets a beginner student to try the same exercises on screen - this was so helpful, because I could compare my own efforts with someone my level instead of just with the expert's work! The later lessons each cover a different type of painting - I felt they were well-graded in terms of increasing difficulty, and also, by covering so many different types of picture, it enabled me to work out what painting type I most enjoyed doing. Before starting the course, I was concerned to read in some of the reviews that the course was poorly filmed, required more materials than were listed in the handout and that the projects were far too difficult for a beginner. I feel the course is very clearly filmed (there is one brief section of jolty, mobile footage in a craft store, but this is just to illustrate the overwhelming choice of materials than can daunt a beginner - it only lasts a few seconds and you won't miss anything if you close your eyes for this bit!). The only item actually needed in the course that is not listed in the handout is masking fluid, but you don't really need that until the seascape. Kateri also uses white and black gel pens when doing her mixed media picture, but these depend on what picture you decide to do - I just used what I already have. (She does demonstrate a few other brushes and paints, but she is very clear that you should NOT buy these items until you are very confident in handling those required for the course. And none of them is used in the course projects.) Regarding the projects being too difficult, all I can say is that I hadn't touched a brush since finishing compulsory art at school 30 years ago (and I wasn't very good at it even then!) I honestly thought I was 'too bad' at art to be able to achieve anything, yet after a month of following Kateri's course, I have just finished the final project, the bird painting (photo attached). It's by far the hardest picture on the course, and obviously mine has a lot of room for improvement, but I'm really pleased with my first attempt. I'd recommend this course to anyone who wants to try watercolour for the first time and also to anyone who has tried in the past and failed - if anyone can get you producing something worthwhile, it will be Kateri!
Date published: 2021-03-29
Rated

5

out of

5
by
BarbO
from
Wonderful Intro to Watercolor!
Kateri is a gifted watercolorist and shares her techniques clearly. This is a perfect intro to watercolor painting. The lessons are interesting and informative, each class builds up to the next. The projects are just the right amount of challenge. This is the class I've been waiting for!
Date published: 2021-03-15
Rated

5

out of

5
by
Laura43
from
As a beginning watercolor painter, I found this course to be a wonderful foundation offering a wealth of information. As a teacher myself, I appreciated the fine balance Kateri achieved between giving information, demonstrating techniques, and giving opportunities to practice. I also appreciated how well organized the course was and how one step built upon the other. I would recommend this course to any beginning or intermediate watercolor painter.
Date published: 2021-03-03
Rated

5

out of

5
by
nance77
from
Fantastic!
This is a fantastic course. I'm a beginner....not knowing where to start. A friend recommended this and I'm so glad I started here. It was just what I needed for a good foundation and basic understanding of watercolors. I'm so encouraged to continue and I thank Kateri for her clear, calm explanations. She's a gifted educator.
Date published: 2021-03-02
Rated

5

out of

5
by
JimBobWilly
from
Beginner
I really loved the way this was presented in a very thorough and step by step process for water colors. I had previously only used dry media, so this was quite a change for me. I think I got good results, but can only hope that my technique improves as I continue to practice. Well done
Date published: 2021-01-30
Rated

5

out of

5
by
Bindi
from
Wonderful Course!
I have just loved this course...learned so very much! While I have taken a few in person classes in watercolor, I've never had anyone explain so much that goes beyond how to paint this or that. Kateri does a wonderful job with explaining color theory and takes it on into the practical use and mixing of color, just from a few paint tubes. I have spent so many hours staring at paint tubes in the store and never really sure of which to buy, but now I know and feel more confident about actual mixing to find just the right color. I find myself reviewing several of the lessons over and over, learning more each time that I do, and learning to apply them in so many ways. Now practice is more fun!
Date published: 2020-12-27
Rated

5

out of

5
by
jetcetra
from
Made me love watercolor!
Prior to this class, i'd taken another TGC watercolor step by step class, which gave me a little foundation for this class. Still, this class provided the details for the techniques needed to create different kinds of watercolor images, I really liked the way the camera showed the artist creating the sample and the reference photo as well. We could follow along so well! This class started a love affair with watercolor!
Date published: 2020-11-10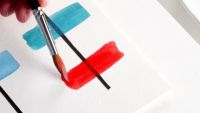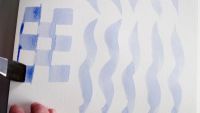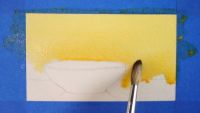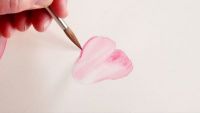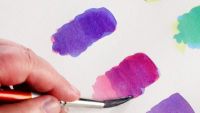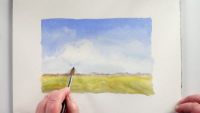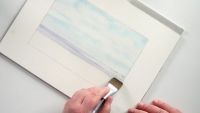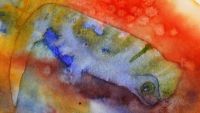 12: Projects: Expressive Mixed Media
Explore a more expressive, gestural watercolor style. Start by dropping color into a water glaze on paper and see if any shapes or subjects emerge. Then lift, push and pull the pigment to refine the shape, using colored pencils and pens to define your subject.
Kateri Ewing
Watercolor can become like a new language that you can use to express your creativity across my subjects and styles.
About Kateri Ewing
For watercolorist Kateri Ewing, painting is all about capturing the awe she feels for the natural world. In preparation for painting, Kateri regularly walks and photographs the woods, meadows and waterways in two of her favorite places near her home in western New York state: Wyoming County and Knox Farm State Park. Kateri's passion for painting and drawing is infused in her teaching, and sharing her techniques with students of all ages is her favorite thing about being an artist. Kateri's original watercolors are currently represented by Meibohm Fine Arts.