Plus Pilots: Beneath the Streets of Ancient Rome
Rated

4

out of

5
by
Balletgirl
from
Great Possibilities
I, too, was disappointed and frustrated by the lack of enough visuals, but I want to support and encourage the development of this pilot into a fully fleshed out course.
Date published: 2020-10-24
Rated

3

out of

5
by
Love Italy
from
More Visual Content Needed
I agree with the prior reviews - while the instructor seems knowledgeable and passionate, the material would have been much more impactful with more visuals.
Date published: 2020-10-04
Rated

3

out of

5
by
Ruodrik
from
THIS NEEDS TO BE MORE
I agree with the other review posted this was good but needed a lot more. I don't know if this was just a try out for this subject and lecturer but this course was covered in another class that was much more detailed.
Date published: 2020-09-18
Rated

3

out of

5
by
ongf001
from
This was more of a teaser for a potential course
Would have been a lot more interesting if a LOT more photos and videos had been added to sync up with the lecture. The lecture is quite descriptive but still fails to convey the magnitude of what's being talked about. At one point he says the tourist would be using videos and VR to go through the last site talked about. It would have been much more exciting (especially in the day and age of Covid) to have used part of that VR tour to show the majesty of what he was takling about. Could have been a commercial tie-in or product placement!
Date published: 2020-09-11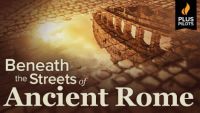 1: Plus Pilots: Beneath the Streets of Ancient Rome
Join an archaeologist, Professor Darius Arya, to uncover some truly hidden gems of ancient Rome with two exceptional sites that were intentionally created underground in Antiquity for specific purposes: the subterranean basilica at Porta Maggiore and the Domus Transitoria of Nero on the Palatine Hill. Both are still little-known to the public at large, but they preserve a unique and fascinating window into life in early imperial Rome.