Plus Pilots: Beneath the Streets of Ancient Rome
Rated

2

out of

5
by
QuentinQ
from
A Race To The Finish Line
We thought we were watching speed dating ; it's the journey in between that counts not getting to the end of the lecture; where are the visuals where are the maps to accompany the words? Most unsatisfying presentation and one totally unfamiliar with Roman history would find the lecture bewildering. However, in general we love The Great Courses.
Date published: 2021-04-05
Rated

3

out of

5
by
Stu V
from
Needs work, but has potential
1. Everyone else is right, add visual aids (e.g. maps, floor plans, photographs). 2. The color grading on the studio segments is terrible. Did Zack Snyder direct this? Dull as ditchwater.
Date published: 2021-03-28
Rated

5

out of

5
by
Jenny Love
from
Great Course!
I loved the first lecture. the course is not released yet. I like this professor's teaching style and this course will add lots of new wonderful information to the complement of courses about the Roman Empire on the Great Courses Plus. It is very difficult when going to Rome to see sights of the ancient city except for some remains that are thought to be the ancient forum. this courses shows different places that are hidden under the streets and will give more info when in Rome of where to go to see the actual sites.
Date published: 2021-03-01
Rated

3

out of

5
by
Albert B
from
Disappointed
This is my first exposure to Great Courses in over 20 years. I find that different people learn in different ways including hearing, seeing, and reading. This course relies heavily (90%) on the lecturer verbally describing the scenes. As someone who only spent one day in Rome, I would have appreciated a map that pinpoints some landmarks including the Colesseum and the Vatican relative to the two landmarks being discussed in the lecture to orient me. Then as one gate or another was spoken about, show where they are located on the map. It's boring watching a lecturer even though this lecturer was articulate and described the scenes well. More pictures or even sketches would have been appreciated. A list of the various emperors mentioned and their time in power would have been nice. It's hard to know how to spell the Latin names of the many locations and characters mentioned when you have only heard them spoken leaving no way to even look them up if I was interested in pursuing this topic further. And obviously, videos would have been appreciated as the lecturer describes the various sites. At the beginning of the lecture the lecturer said that the purpose of these landmarks is still a mystery. By not showing more photos (or even sketches) the course does not draw in the viewer to the point where they might have an opinion on the purpose of the structures. My review is based on the lack of visual and written information displayed and not due to lack of interest on my part of the topic or the presenter's style.
Date published: 2021-02-15
Rated

4

out of

5
by
le_fae1330
from
Good, but short
This is one of the few plus pilots that I really enjoyed, both because it is newer for ancient history, but also because I enjoyed the speaker. I'd love to see this pilot continued in the near future to learn more about what lays beneath Rome. Darius Arya is a good speaker and knowledgeable on the topic.
Date published: 2021-01-29
Rated

2

out of

5
by
JTW1
from
All talk lack of pictures
Disappointing due to lack of visual information. Verbal descriptions never replace pictures.While the presenter may be knowledgeable his appearance and lack of photographs detract from the course. I would return this course had I purchased it for misrepresentation. You only get one chance to make a first impression and this presenter's appearance made me wonder if he just came in from working in his garden! Not up to Great Courses' standards. This course is practically worthless!
Date published: 2021-01-28
Rated

4

out of

5
by
Balletgirl
from
Great Possibilities
I, too, was disappointed and frustrated by the lack of enough visuals, but I want to support and encourage the development of this pilot into a fully fleshed out course.
Date published: 2020-10-24
Rated

3

out of

5
by
Love Italy
from
More Visual Content Needed
I agree with the prior reviews - while the instructor seems knowledgeable and passionate, the material would have been much more impactful with more visuals.
Date published: 2020-10-04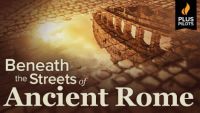 1: Beneath the Streets of Ancient Rome
Join an archaeologist, Professor Darius Arya, to uncover some truly hidden gems of ancient Rome with two exceptional sites that were intentionally created underground in Antiquity for specific purposes: the subterranean basilica at Porta Maggiore and the Domus Transitoria of Nero on the Palatine Hill. Both are still little-known to the public at large, but they preserve a unique and fascinating window into life in early imperial Rome.