Plus Pilots: Dangerous Minds: Extreme Offenders
Rated

5

out of

5
by
Anonymous
from
Fascinating
My mother and I are doing The Great Courses together. We just finished an incredible Anthropology course and decided to delve into this one. It did not disappoint. We love the instructor! We feel the amount of information that we received in the piolet was unbelievable. We have to have the rest of this course. We will be watching for the debut of Dangerous Minds.
Date published: 2020-09-12
Rated

5

out of

5
by
cvmiller1
from
Fascinating
I got very engrossed in this lecture and was disappointed that the entire course was unavailable. I am looking forward to finishing the rest of this course. Riviting.
Date published: 2020-09-05
Rated

5

out of

5
by
jimc50
from
fascinating topic
I find this topic fascinating so I'm sold. I've read quite a bit on this subject but there was some new facts I wasn't aware of. The icing on the cake for me though is the Professor's delivery. She's terrific. I'm very much looking forward to this course
Date published: 2020-09-03
Rated

5

out of

5
by
idkthisss
from
interesting
this is very interesting please release the rest of the videos, thank you
Date published: 2020-09-02
Rated

5

out of

5
by
Syeda
from
Fascinating topic, fantastic delivery
I can't wait for the full course to be released! The lecturer is engaging and I feel that even after one lecture I learned quite a bit. Please release the full course soon!!
Date published: 2020-08-29
Rated

5

out of

5
by
Vicky123
from
Very interesting
Good pilot. I look forward to hearing more about the topic from a scientific point of view.
Date published: 2020-08-28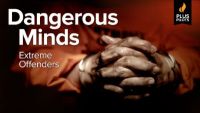 1: Plus Pilots: Dangerous Minds: Extreme Offenders
Katherine Ramsland, professor of forensic psychology, introduces you to the fascinating disciplines of criminology and forensic psychology—looking at the earliest documented cases from the 19th century and introducing you to the forefathers of criminal psychiatry. She then walks you through the evolution of research through the early 1970s when the FBI started the Behavioral Sciences Unit and began behavioral profiling for serial murder cases.