Plus Pilots: Max Planck and the Ultraviolet Catastrophe
Rated

5

out of

5
by
RebeccaandBob
from
An Excellent Presenter
Looking forward to the course, I may struggle with the subject matter, but think I have half a chance with this presenter.
Date published: 2021-02-27
Rated

3

out of

5
by
Anonymous
from
Literally just the book.
This lecture is essentially the first chapter from his (Chard Orzel's) book, Breakfast with Einstein: The Exotic Physics of Everyday Objects. The order he presents everything in is the same, the examples are the same, the approach is the same, the words and phrases he uses are the same (including the phrase "this is like 'catnip for physicists." He's practically reading his own book. My advice, read the book; don't watch the lecture. I can only assume that were this lecture an actual series of lectures offered, each subsequent lesson would have just followed another chapter in his book.
Date published: 2021-02-24
Rated

2

out of

5
by
GCLearner
from
Sorry, bad presentation
I've studied a lot of physics, and I just don't think this lecture does a good job of explaining this topic. I think it needs better visuals. A picture of the "black box", and what's going on inside, with each sentence uttered, would be very helpful. Also, some basic displayed arithmetic during the explanation of fundamentals and integer-only modes would have helped. He seems to skip through this too quickly. I agree with the other reviewer that the optics detracted from the presentation. The listener is looking up at the professor, while he looks down, and that distortion is distracting.
Date published: 2021-01-02
Rated

5

out of

5
by
danielzgc
from
Very interesting
I found his discussion of the subject to be very interesting, and I feel I understand black box radiation somewhat better than I did. Of course a brief lecture can only give the broad outlines, but it gave me some understanding and interest in finding out more. I liked the lecturer; he seemed knowledgeable and approachable and I will look for more talks from him.
Date published: 2020-11-23
Rated

5

out of

5
by
pavi
from
I enjoyed the Pilot. It piqued my interest. I would like to explore the topic in more detail. The professor did a very good job at introducing a tough topic and he is very relatable.
Date published: 2020-11-09
Rated

5

out of

5
by
LSNJ
from
Very interesting lecture
Excellent presentation of a problem that lead to the development of quantum mechanics. I would recommend this lecture and would look forward to seeing other presentations on related topics from this professor.
Date published: 2020-10-06
Rated

5

out of

5
by
Craig150
from
Insight !
The professor elegantly presents the resolution to a fundamental problem that became a gateway to understanding nature, quantum physics.
Date published: 2020-09-14
Rated

3

out of

5
by
skaar
from
No Favors. Good Lecture. Wrong mental framing.
The Great Courses did this guy no favors... First the video starts with bad sound (probably no sound check before recording), second it's visually messed up. Using the Rule of Thirds, he head is WAY TO HIGH in the frame (see attached photo), this make him look too large drawing attention to him, his appearance, and the lack of a tie... more so than what he is saying. The Beige Coat vs. the Beige Wall makes him fade into the background... so audio/visual... it's a jumble. Second... Black Box Radiation & Quantum Mechanics... first, the question isn't framed well... I thought that the Toaster Example was excellent... and while an example of Quantum on the human scale... that's not the meaning of the "if you think you understand it you don't" quote... but that the Mechanics of Quantum Mechanics has not analog above the atomic scale... like, "-1/3 spin".. how can something be spinning in 1/3... either there is rotation or there isn't... but in quanta... Spin can doe weird things which make not sense in our world. About half way through the example it was thinking, "what are we talking about again?" There is no description of the box in which the photons bounce around... I'm thinking they'll hit the walls of this black box, get absorbed, and generate heat. Instead, you have to visually frame the box as mirror-lined with no possible escape except probabilistically at either end... and then reflections... as it applies to wavelengths... couldn't there be some small angular error that could allow photons to bounce around and increase the probability of a stray photon comes out NOT in a quanta frequency... This IS and WAS a good lecture, well worthy of a university... but NOT framed in such a way to keep the focus on WHAT THE PROBLEM IS and WHY IT HAD TO BE SOLVED in this unique quantum way... The spectrum of radiation is fundamental... and since I already understand this stuff its hard for me to figure out just where this went of the rails... I think it was the transition from radiation to fundamental frequencies and the use of the box. It's not a given that such an apparatus would do what it does... more time needed to be devoted to the set-up and how and way it works and why it surprisingly DOESN'T work... unless describe wavelength multiples (or fractions) are used... THEN it would all gel ... And for heaven's sake... don't let him wear brown onto this video set...
Date published: 2020-09-11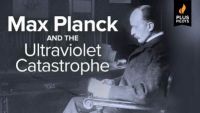 1: Max Planck and the Ultraviolet Catastrophe
Quantum physics is known to be hard to understand; really, really weird; and very far removed from our everyday reality. Join Professor Chad Orzel to demystify the world of quantum physics, starting with all the ways you observe the key phenomena that make up the science of quantum physics. You'll gain a new appreciation for your toaster!