Plus Pilots: The Exciting World of Project Management
Rated

5

out of

5
by
JDBK
from
Looking forward to more
This is excellent information and I hope we get to learn more.
Date published: 2021-01-24
Rated

4

out of

5
by
JFG51
from
Hugely Important
I really think this is a hugely important topic and he does a good job explaining why it is important. I hope you continue to develop this series.
Date published: 2020-12-06
Rated

5

out of

5
by
jc1234
from
Great addition to TGCP
This is a topic of great interest to professionals in every field and will attract new customers to TGCP. The lecture method can be improved with extra practice and adding more dynamic elements.
Date published: 2020-11-28
Rated

5

out of

5
by
Anonymous
from
This would be a great course!
This is well presented and I think the information would be really valuable. I'd certainly go through this course if a full version was offered.
Date published: 2020-11-01
Rated

5

out of

5
by
Swati
from
Great start to Project Management
Very well put - a concise summation on Project Management. Would love to learn more on the subject from the professor.
Date published: 2020-10-20
Rated

5

out of

5
by
JJensen
from
Ditto The Great Courses needs this course
The Project Management pilot is packed with information that gives a wonderful overview of just what project management is. As listening, to the pilot lecture I could see how useful this course will be on several home projects that I am now involved in. In addition it could open a world of possibilites for considering a small home base business.
Date published: 2020-09-14
Rated

5

out of

5
by
WesW
from
Great Courses needs this
This is a foundational pillar of education that many, many people would benefit from learning about - and I haven't found anything like it on Great Courses yet. I've gone through a few Project Management courses already, and I happened to pick up a couple new tidbits in this pilot lecture. The content is great. I hope they proceed with the full course.
Date published: 2020-09-08
Rated

5

out of

5
by
Hooms
from
Very knowledgeable and credentialed instructor!
Would love to see more individual lectures from this Professor as a full expanded version of a Project Management course.
Date published: 2020-09-05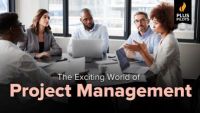 1: The Exciting Field of Project Management
Professor Te Wu, the CEO of PMO Advisory, introduces you to the significant role that project management plays in everyday life. No matter what your role is, you'll discover how you need project management skills in order to succeed—and how learning project management is a great way to become a better you.