Plus Pilots: The Three-Pointer of Basketball
Rated

4

out of

5
by
plbw
from
Enjoyed it
Yes, it was an old fashion lecture, but I enjoyed it and learned lots of interesting facts. I would watch other episodes if they were available.
Date published: 2021-05-06
Rated

2

out of

5
by
Simon1
from
too many metaphors
Too slow to the point, more videos and photos need, overused the metaphors.
Date published: 2021-02-01
Rated

3

out of

5
by
BTX49
from
Lots of Potential But Needs Work
Watched this on PlusPilots. I'm a guy who LOVES basketball and while the concept of this lecture was great the Professor's style was much too wordy and drawn out. Yes, the "David and Goliath" analogy works once, but coming back to it over and over is just redundant. And, while he makes the point that basketball was historically a big man's game I'm not convinced that smaller players (guards) have been the game's underdogs. A fellow named Cousy comes to mind! Also, if the title and description are about "basketball" I would expect more coverage of the college game and not the overwhelming focus on the professional game. On the plus side I felt he did a good job of linking the three-point shot to the financial needs of the ABA, and then it's evolution into the modern game. A course built out from this lecture would be a great addition to the curriculum. But tighten up the presentation and broaden the scope beyond the pros.
Date published: 2020-12-11
Rated

2

out of

5
by
Hoosier Boy
from
All talk and no video.
I was an ABA basketball fan and I know about its history. I attended games and enjoy the thrill of the three-point shooters. I was amazed there is no video in this course of the great three point shooters that changed the game. Its a visual subject.
Date published: 2020-12-08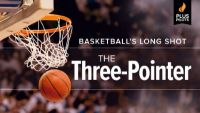 1: Basketball's Long Shot: The Three-Pointer
Professor Ian Johnson shows you basketball like you've never seen it before. Focusing on the three-point shot, you'll learn how this approach became an integral part of basketball today, as the way for the smaller, underdog-like athletes to fight back and get an advantage on the court. Professor Johnson takes a look back at some of the best three-point sharp shooters throughout basketball's history. He then discusses the long arc of the three-point line and its enduring influence on basketball games worldwide.