Plus Pilots: Understanding Human Emotions
Rated

5

out of

5
by
Brycenate
from
Really liked. Hope they make more episodes.
I like the focus on emotion and also the introductory nature.
Date published: 2021-04-07
Rated

5

out of

5
by
dagama
from
Great potential
I've been looking for a while for something like this. The professor presents it very clearly, backed by science. Would definitely love to hear more about it.
Date published: 2021-01-01
Rated

5

out of

5
by
Williame
from
Great lecturer
Really enjoyed this lecturer, and this is a topic that I'd love to explore more. Our society is very emotionally unintelligent and so it's a very timely addition to the other programs that the Great Courses has to offer.
Date published: 2021-01-01
Rated

5

out of

5
by
Arbind Prasad
from
Great Insight
Presents insight based on evidence. I want to watch the full course to understand role emotion plays in effective communication and developing inter-personal relationship.
Date published: 2020-12-30
Rated

5

out of

5
by
Aidan
from
Great Start!
This is a good beginning to what could be very interesting full course.
Date published: 2020-12-02
Rated

5

out of

5
by
dgerm
from
Very clear and interesting
Loved the presentation and the clarity of the professor. Understanding emotions and feelings are very helpful. Would like to see more of this class.
Date published: 2020-12-01
Rated

5

out of

5
by
suave_girl
from
Long awaited course, waiting for more
Looking forward to subsequent lessons on this topic. This was insightful.
Date published: 2020-11-24
Rated

5

out of

5
by
Linneamae
from
Well presented and easy to understand
I enjoyed this plus pilots on understanding emotion. The professor made the subject easy to understand and the material was broken up into well-defined sections. Hope to see more like this.
Date published: 2020-11-12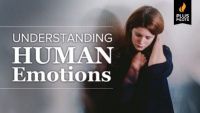 1: Understanding Human Emotions: A Scientific and Practical Guide
For the last 50 years, research has provided astounding new insights into the science of human emotions. Join Lawrence Ian Reed, the director of psychological services at McLean Hospital's Borden Cottage, to delve into our emotional experiences through the lens of science. Dive into some of the most famous ideas around emotions, including the Cannon-Baird, Schachter and Singer, and James-Lange theories, and get the latest ideas and trends pertaining to this fascinating subject.