Rated

5

out of

5
by
Sleeps
from
Great advice
This is a really great short course offering practical advice about how to help someone who is considering suicide. It takes you through the steps of who is at risk, how to identify when someone is in crisis and how and when to seek professional help whilst supporting them through it. This course demystifies fears and anxieties and provides the tools to help a friend or relative if you are concerned they may be at risk. I recommend this course. It takes less than an hour to complete and may save someone's life.
Date published: 2020-11-12
Rated

5

out of

5
by
RogerL
from
Gives me the tools I needed...
I've enjoyed this instructor's more in-depth courses, and he is the perfect, calm teacher to present this short, very focused course on Suicide Prevention. Next time I am in a situation where I am concerned that someone may be thinking of harming themselves, I have the tools I need to feel confident that I can follow-through and help that person get connected to professional help.
Date published: 2020-10-15
Rated

5

out of

5
by
Eugene666
from
Real practical information
This course was great. It offered practical information and guidance that may just be helpful enough to save a life. Instructor made the material easy to understand and used clear unambiguous language and examples.
Date published: 2020-09-24
1: Who Dies by Suicide?
Suicide rates are increasing in the US. Dr. Benaroch reviews recent studies about who is primarily at risk and what the most telling warning signs can be. He devotes a good portion of this introductory lecture to rectifying misconceptions, and defining commonly misused and misunderstood concepts associated with suicide, including mental illness, addiction, and depression. He then breaks down newly-released statistics regarding risk in relation to age, gender, location, and other factors that contribute to a higher likelihood of suicide.
2: When Should You Act to Prevent Suicide?
Feeling down is part of life, but how to do you know the difference between a blue period and the vast hopelessness that lead to an increased suicide risk? Dr. Benaroch spends this lecture separating the normal feelings of sadness from markers of suicidal behavior. He outlines some major warning signs of suicide risk; provides insights into word use, actions, and reading someone's mood; and teaches you how to look at changes in daily habits, including eating, sleeping, social activities, and more.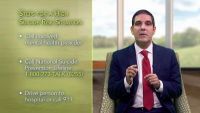 3: Preventing Suicide: What to Do, What to Say
Dr. Benaroch closes with a guide to help you decide the best steps to take: what to ask, what to say, and most importantly, what to do. He offers tips on how to start important conversations and what questions to ask, as well as what not to say when faced with a high-risk situation. He also provides a plethora of resources to help you should you ever be faced with this sensitive and scary situation.
Roy Benaroch
Doctoring is about listening and paying attention. There's a lot to know, too-- but if you're not paying attention, you'll be misguided by what you think you already know. An open mind is a better diagnostic tool than one stuffed with facts
ALMA MATER
Emory University
INSTITUTION
Emory University
About Roy Benaroch
Dr. Roy Benaroch is Adjunct Assistant Professor of Pediatrics at the Emory University School of Medicine. He earned his B.S. in Engineering at Tulane University, followed by his M.D. at Emory University. He completed his residency through Emory University's affiliated hospitals in 1997, serving as chief resident and instructor of pediatrics in 1998. Board certified in general pediatrics in 1997, Dr. Benaroch practices full time at Pediatric Physicians, PC, located near Atlanta, Georgia. In his dual roles, he teaches medical students and residents at his practice and gives regular lectures to physician's assistants at Emory University.
Dr. Benaroch has published two books on parenting and pediatric health topics: Solving Health and Behavioral Problems from Birth through Preschool: A Parent's Guide and A Guide to Getting the Best Health Care for Your Child. He also has a blog for parents and health professionals at pediatricinsider.com, and he has served as a featured expert on WebMD.com. Dr. Benaroch also serves on the board of directors of the Cobb Health Futures Foundation, Inc., a nonprofit group dedicated to public health for people of all backgrounds.