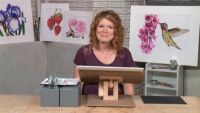 1: Working With Watercolor
Meet Anna Mason and get started discovering the simplicity behind painting with watercolors. Develop your painter's eye with watercolor basics as Anna helps you uncover the secret to layering watercolors. You'll also learn her brush techniques for painting fine details. Think small!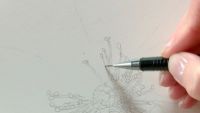 2: Preparing to Paint
Set up your workspace for success! Anna will provide techniques for taking the best reference photo to work from, no fancy camera required. Then get started working on a realistic pencil outline of a flower by either tracing or using Anna's measurements technique for an accurate rendering.
4: Painting the Stamen & Reassessing Petals
Begin painting a realistic-looking stamen to add color variation to your painting! Learn the importance of order in watercolor painting and building up tone throughout the painting process. After finishing the stamen, you'll reassess the petal tones and balance the darkness of the petals.
5: Painting the Bud
Start painting a flower bud by layering tones light to dark. Anna will teach you how to avoid making mud out of your color choices. Use greens and reds to add tones to the sepals for clarity and deep contrast. Finally, gain confidence in your contrasts and explore how to use gouache for brilliant highlights.
6: Painting the Leaves & Stem
Create a variety of greens to cover the leaves, stems and thorns for a natural-looking finish. Layer the dark tones on top of the dried lighter tones using Anna's layering technique. You'll fill in the midtones to create the veins and juggle the rest of the hues to create a smooth, finished look.
7: Finishing Details & Assessing Contrast
Add final key details to make your painting look natural. Anna demonstrates how easy it is to make your details pop for a realistic finish. Learn to make darks richer and help details shine through with Anna's techniques for color correcting. Then assess the big-picture contrast of your painting.
Anna Mason
Nature was a constant theme in my artwork and I was captivated by the detail I can see in the natural world.
About Anna Mason
Anna Mason is a watercolorist specializing in big, bold, botanical subjects. After making a huge career change to paint full-time 10 years ago, she's been honored with an RHS Gold Medal for Botanical Art and the Grand Prize by International Artist Magazine. In recent years, Anna has made it her mission to teach her unique watercolor techniques in an easy-to-understand way by contributing to Artists & Illustrator Magazine in the U.K., writing The Modern Flower Painter (Search Press) and teaching on Craftsy.