Rated

5

out of

5
by
Crystal777
from
fantastic
I loved the course. Your detail in mixing paint, layering, and finishing was very helpful. You put so much time and effort into your work helping me learn to do this as well. thank you so much
Date published: 2021-01-31
Rated

5

out of

5
by
jetcetra
from
Great step by step!
I had never worked with watercolors before this class and I was worried I didn't know enough to be successful. But the instructor really does take you step by step and you learn the techniques as you go -- and, you really do create this lovely rose!
Date published: 2020-11-10
Rated

5

out of

5
by
LanaJ
from
Great course for beginning watercolor students!
I just completed this course and I greatly enjoyed it! I have done some limited painting years ago, but I had never had any instruction with watercolors or realism. With regard to this course, I considered myself a beginner. I felt the instructor did a great job walking through each step of the painting, explaining what to look for in assessing colors and tones, and she explained what mix of colors she used to achieve the colors and tones on her painting. This allowed me to mix the same colors and practice getting the right tones for my painting. I appreciated the step-by-step approach because it was easy to follow and I ended up with a painting that I felt good about. In this course, you work with a provided reference photo that you recreate in watercolors. You do not paint from a live model (i.e, you're not expected to paint a vase full of flowers sitting on a table in front of you). I believe this approach is easier to learn, and the instructor explains why she uses this method. Throughout the course, the instructor works on her own painting so that you can watch how she approaches the painting. She explains the choices she makes at each phase of the painting, and wraps up the course by reviewing how to assess the correct level of detail to achieve a realistic painting. Because this class is virtual, it relies on the student to develop critical observation skills in assessing their own painting in comparison to a reference photo. This is an important skill to learn if you want to continually improve your work. This course is great for beginners.
Date published: 2020-09-14
Rated

5

out of

5
by
KelleO
from
Realistic Watercolor
Bought as a birthday gift for my mom. She's loving it!
Date published: 2020-08-13
Rated

2

out of

5
by
Karan
from
Disappointed
I purchased this course 11/24/18 and now it is June 2020 and I've just watched. I love The Teaching Company courses and I get so enthusiastic I order too manyat one time and then don't watch them immediately. I find Anna speaks quite fast for me. I don't have an iPad and stand which would make this painting easier to do. I think her instructions and technics are very beneficial. However I'm afraid I will not benefit from this course but I am going to recommend it. Too much time has passed to request a refund. Sincerely KEM
Date published: 2020-06-20
Rated

4

out of

5
by
johnnybuffalo
from
Thhe title speaks for itself.
This course fits the bill for those who want to learn the basics of water coloring. The finished product of the teachers painting was beautiful. Selection of a subject, correct composition, attention to accurate sketching, and learning the art of mixing colors for realistic application were covered, and the importance of much practice to attain satisfaction were all covered in this course. I suggest to anyone who is serious about learning to paint, to take a course in learning to sketch, as I have. It's a good foundation to start on the right footing. This course gets you started. You must learn to have patience, work slowly at first,have plenty of practice in sketching and mixing colors to obtain the desired results. Paying attention to details is the key if you want a realistic ending. Highly recommended.
Date published: 2019-08-23
Rated

5

out of

5
by
alaskarich
from
This watercolor course is different!!
This course shows how to exactly reproduce a picture of a beautiful rose, each step well-described and illustrated. Other watercolor courses apply the paint to convey a feeling rather than a picture-perfect replica. I have enjoyed painting both ways, so I think it depends what you like. But realize that these two techniques are quite different!
Date published: 2019-04-13
Rated

4

out of

5
by
Ezspeech
from
Very Good Start for Botantical Watercolor
I am a beginner water colorist. I am currently exploring different styles of watercolor art. Before I took this course I did a another course on the color wheel, how to mix color, watercolor papers, brushes and basic techniques. So, when I began this course I did have some basic knowledge. I not only learned a great deal from Anna regarding botanical watercolor especially tones, highlights, form and color. I thought her process of painting light then dark tones and working the tones in between to be enlightening. I was especially pleased that her work was step by step and she explained clearly what she was doing as she was doing it. I did find that I would have like to have her color choices and brushes available to me but the color course gave me a basic understanding of how to mix the colors I needed. I did do a color study prior to her course on the rose. I hope to take more of Anna's classes. I think I am in love with watercolor!
Date published: 2019-02-14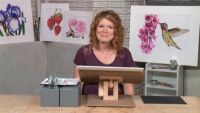 1: Working With Watercolor
Meet Anna Mason and get started discovering the simplicity behind painting with watercolors. Develop your painter's eye with watercolor basics as Anna helps you uncover the secret to layering watercolors. You'll also learn her brush techniques for painting fine details. Think small!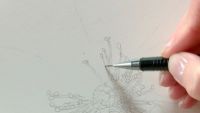 2: Preparing to Paint
Set up your workspace for success! Anna will provide techniques for taking the best reference photo to work from, no fancy camera required. Then get started working on a realistic pencil outline of a flower by either tracing or using Anna's measurements technique for an accurate rendering.
4: Painting the Stamen & Reassessing Petals
Begin painting a realistic-looking stamen to add color variation to your painting! Learn the importance of order in watercolor painting and building up tone throughout the painting process. After finishing the stamen, you'll reassess the petal tones and balance the darkness of the petals.
5: Painting the Bud
Start painting a flower bud by layering tones light to dark. Anna will teach you how to avoid making mud out of your color choices. Use greens and reds to add tones to the sepals for clarity and deep contrast. Finally, gain confidence in your contrasts and explore how to use gouache for brilliant highlights.
6: Painting the Leaves & Stem
Create a variety of greens to cover the leaves, stems and thorns for a natural-looking finish. Layer the dark tones on top of the dried lighter tones using Anna's layering technique. You'll fill in the midtones to create the veins and juggle the rest of the hues to create a smooth, finished look.
7: Finishing Details & Assessing Contrast
Add final key details to make your painting look natural. Anna demonstrates how easy it is to make your details pop for a realistic finish. Learn to make darks richer and help details shine through with Anna's techniques for color correcting. Then assess the big-picture contrast of your painting.
Anna Mason
Nature was a constant theme in my artwork and I was captivated by the detail I can see in the natural world.
About Anna Mason
Anna Mason is a watercolorist specializing in big, bold, botanical subjects. After making a huge career change to paint full-time 10 years ago, she's been honored with an RHS Gold Medal for Botanical Art and the Grand Prize by International Artist Magazine. In recent years, Anna has made it her mission to teach her unique watercolor techniques in an easy-to-understand way by contributing to Artists & Illustrator Magazine in the U.K., writing The Modern Flower Painter (Search Press) and teaching on Craftsy.