Rated

5

out of

5
by
Sueco
from
Very Helpful
I like the way Dale works and explains things. He is practical and simplistic. It is nice to know how to make jigs without having to spend lots of money to buy them. I would like for Dale to add what type of saw blade he is using or recommends.
Date published: 2021-02-18
Rated

5

out of

5
by
Rainman44
from
Very solid course
I've been woodworking for 20 years but I still enjoyed this course for the practicality of the jigs created and also because it's just good to listen to an experienced woodworker share what and how they do things in their shop (even if I was familiar some of those things already).
Date published: 2021-01-21
Rated

5

out of

5
by
Tierno158
from
Great Series, Super Instructor
I'm just starting in woodworking and really enjoyed this series. The instructor does an excellent job explaining the basics. It's apparent that he's a master craftsman with years of experience but that doesn't always translate to being a good instructor. This is a very solid offering.
Date published: 2020-11-22
Rated

4

out of

5
by
Ruodrik
from
FUN CLASS
Very good and fun class for wood working. Just wish I had more tools.
Date published: 2020-10-18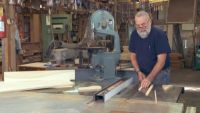 1: Crosscut Sled
Meet woodworker Dale Barnard, and dive into your first project, a crosscut sled. Dale takes you step by step through the process from cutting all of the pieces to assembly, and offers tips for measuring and making adjustments along to ensure your sled-and its cuts-are perfectly square.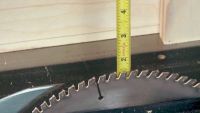 2: Fences
Build a sliding tall fence, useful for cutting raised panels or grooves into the ends of long boards. You'll love how quickly this jig comes together and how you can turn it into a stationary fence if needed. Finally, discover why Dale says it's important to "measure once and cut five or six times."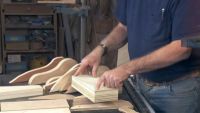 3: Push Sticks
Keep your fingers out of harm's way as you create a variety of push sticks. Discover which woods work best for these tools, and why you'll want push sticks in a variety of widths. Then, use Dale's patterns to make two different styles, and improve your bandsaw skills along the way!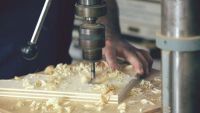 4: Squaring Jigs
Assemble boxes, doors, bookshelves, and more with confidence as you learn how to make a squaring jig of any size. See how to measure your jig for square and learn how to make adjustments if it isn't. Then, learn how to clamp these jigs to your projects to bring them into square.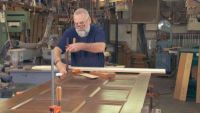 5: Straightedges
Trim down doors or create rabbet joints with ease using custom-made straightedge jigs for your power saw or router. You can build these to any length! Learn how to use your router or saw to ensure that cuts are always straight, and gather Dale's tips for securely clamping the jigs to your projects.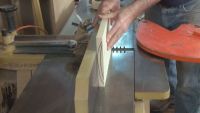 6: Clamping Cauls
Glue segments of milled wood together to create smooth tabletops and more with the help of your clamping cauls. Dale shows you how to taper the cauls using a jointer, but offers a variety of other methods for shaping, too. Pick up tips for gluing and clamping your wood together as you create a solid piece.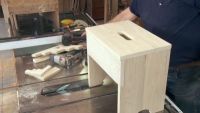 7: Small Shop Stools
Build a multipurpose stool using many of the tools you've made in the class. Use your glued-up wood to cut the pieces you need and shape them using a bandsaw or orbital saw. Then, assemble your stool. You'll be glad you have your cauls, crosscut sled, push sticks, and squaring jigs for this project!
Dale Barnard
My goal is to build your confidence in craftsmanship as you create beautiful furniture and learn new skills.
About Dale Barnard
Dale Barnard has been named one of the top woodworkers in the country by Popular Woodworking magazine. During his expansive career, he has worked in the fields of carpentry, home building, cabinetry, architectural millwork, antique repair and craftsmen furniture. His work has been featured on HGTV's Modern Masters. Dale also owns and operates the Barnard Woodworking School out of his shop in Paoli, Indiana.