Rated

5

out of

5
by
Franalice
from
Just fun.....and informative too!
The short biographies of beloved authors gives insights into their motivations, their challenges and how they used their experiences to create delight and rich stories. Although these are fun, as an adult, to listen to, they would be perfect to share with a class to let them learn about these authors. There are only three of these talks.....Perhaps he will create some more???!!!
Date published: 2021-03-24
Rated

5

out of

5
by
Rehan
from
Great story teller !
The professor himself is a great story teller. I came across these short conversations as I was going through another series of his lectures. I can vividly remember that Winnie the Pooh was one of my earliest collection of English story books, and the Hobbit and the LOTR movies are indeed my all time favourite, which I watched way later in my adult life. I have noted his suggestion to immerse into these astonishing works of fiction by actually reading them.
Date published: 2021-02-24
Rated

4

out of

5
by
Rrrose
from
Good background information
Snippets of biography of various authors of children's books, which help enrich the experience of reading them. A lovely half hour of entertaining information.
Date published: 2020-12-29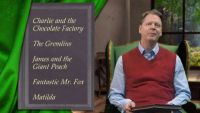 1: Roald Dahl: Adventures of a Boy Muddler
Roald Dahl has had one of the more interesting histories among our classic authors. He was considered a poor student in school, almost didn't survive the Second World War as a pilot for the Royal Air Force—after being forced to literally jam his six-foot-six frame into a tiny cockpit—and then spent some time as a top-secret agent. With this motely collection of experiences, it's no surprise he could create such imaginative and creative stories. As you discover more about the fascinating life of this unique writer, you'll read his stories with an entirely new appreciation.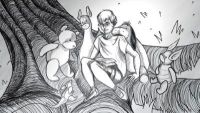 2: How A.A. Milne Discovered Winnie-the-Pooh
Christopher Robin and Winnie-the-Pooh are close to 100 years old today, although Pooh was originally called Mr. Edward Bear. A. A. Milne was already a well-known writer—journalist, novelist, and playwright—before "Winnie the Pooh" was created. But once you dive into the touching background of how the Winnie the Pooh stories came to be, you'll understand why these were the ones that resonated and endured. Lovely illustrated animations make the story of Winnie's creation come alive before your eyes.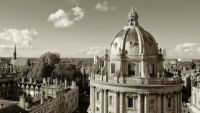 3: J.R.R. Tolkien and C.S. Lewis: A War and Friendship that Changed Storytelling
It's always fascinating to find out that famous writers were peers. As you will learn, two of our most cherished fantasy writers were more than peers—they were good friends, who drew inspiration and support from each other. They even created a writing club called The Inklings! As you delve into their history, you'll see how they used writing and their friendship to help heal from the traumatic incidents they endured during the First World War. You'll also read their works with a whole new appreciation as you learn how both authors created fantasies against a backdrop of war and infused them with themes of good and evil as a reflection of their experiences.
Eamonn Gearon
Change is our constant, and the past does indeed inform the present.
ALMA MATER
University of London
INSTITUTION
Johns Hopkins University
About Eamonn Gearon
Eamonn Gearon is a Professorial Lecturer at Johns Hopkins University, School of Advanced International Studies, in Washington DC. He received his M.A. in Near and Middle Eastern Studies and Arabic from the School of Oriental and African Studies (SOAS) at the University of London, and has also taught at the American University in Cairo.
Mr. Gearon is the cofounder and managing director of The Siwa Group, a specialist consultancy firm, where he trains U.S. Department of State officials, Department of Defense workers, and other U.S. government employees whose work takes them to, or is concerned with, North Africa and the Middle East.
Mr. Gearon spent years living in, traveling, and exploring the Sahara. These days, he enjoys his role as a public speaker, whose presentations combine elements of Middle Eastern history and contemporary affairs. He is a distinguished speaker on Cunard's flagship Queen Mary 2 and other vessels.
Mr. Gearon has published extensively on Middle Eastern history, culture, and contemporary politics. A regular reviewer for The Times Literary Supplement and other prestigious publications, he is also the author of The Sahara: A Cultural History. He has contributed to numerous other titles, including the Encyclopedia of African History (edited by Kevin Shillington), Meetings with Remarkable Muslims: A Collection of Travel Writing (edited by Barnaby Rogerson and Rose Baring), and Sahara Overland: A Route and Planning Guide.