Rated

5

out of

5
by
Older learner
from
Interesting facts
I happened upon this 1 lecture gem while scanning through the courses. Not only was the instructor knowledgeable, he was personable. I enjoyed the content as I had not know current day connections to times thousands of years ago.
Date published: 2020-09-04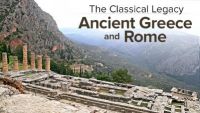 1: The Classical Legacy: Ancient Greece and Rome
Professor Gregory S. Aldrete from the University of Wisconsin takes you back in time to ancient Greece and Rome in order to reveal the origins of many staples of modern living. Explore the earliest roots of sports and fandom, marriage traditions, cookbooks, and more.
Gregory S. Aldrete
As an ancient historian, my goals are to share the enthusiasm for and fascination with antiquity that I feel, and to show some of the connections between that world and our own.
ALMA MATER
University of Michigan
INSTITUTION
University of Wisconsin, Green Bay
About Gregory S. Aldrete
Dr. Gregory S. Aldrete is Professor of Humanistic Studies and History at the University of Wisconsin, Green Bay, where he has taught since 1995. He earned his B.A. from Princeton University and his master's degree and Ph.D. in Ancient History from the University of Michigan. Honored many times over for his research and his teaching, Professor Aldrete was named by his university as the winner of its highest awards in each category, receiving both its Founders Association Award for Excellence in Scholarship and its Founders Association Award for Excellence in Teaching. That recognition of his teaching skills was echoed on a national level in 2009, when he received the American Philological Association Award for Excellence in the Teaching of Classics at the College Level-the national teaching award given annually by the professional association of classics professors. The recipient of many prestigious research fellowships including five from the National Endowment for the Humanities, Professor Aldrete has published several important books in his field, including Gestures and Acclamations in Ancient Rome; Floods of the Tiber in Ancient Rome; Daily Life in the Roman City: Rome, Pompeii, and Ostia; The Greenwood Encyclopedia of Daily Life I: The Ancient World (as editor); Unraveling the Linothorax Mystery: Reconstructing and Testing Ancient Linen Body Armor (with S. Bartell and A. Aldrete) and The Long Shadow of Antiquity: What Have the Greeks and Romans Done for Us (with A. Aldrete).