Rated

5

out of

5
by
Banksman
from
Excellent Brief Overview of Crypto
I loved this professors demeanor, going to look into taking his other extended courses. This was a good primer style overview of Bitcoin and Blockchain. It's a complex system and process so could use an entire 6-12 lesson course to itself. I'd like to see it explained in reference to the history of gold and paper currency in the US and abroad as the representative value of money is a relatively complex system as is, so seeing how Bitcoin/Crypto/Blockchain fits into that, and how it could be used in the future as a replacement or adjunct to the current international trade system would be interesting to me.
Date published: 2021-05-11
Rated

1

out of

5
by
AdamBTC
from
Merely an opinion
This "course" is just a biased view of Bitcoin. The instructor advised against investing in Bitcoin. I feel bad for people that took his advice.
Date published: 2021-04-04
Rated

2

out of

5
by
Dani124
from
Prefer a course explanation cryptocurrency today.
Would need a younger guy who likes cryptocurrency. Bitcoin is the granddaddy of the crypto world. Interested in investing strategies of today.
Date published: 2021-03-27
Rated

3

out of

5
by
Gouch
from
Nice intro to crypto
Served as a nice intro, but I was hoping for a full course on Crypto, with data and examples, not only of Bitcoin but also for several of the other well known cryptocurrencies Also, since he recommends against Bitcoin, but suggested instead investing in Blochchain, it would have been nice to give several examples where blockchain is used in other industries/services, with data, charts, etc.
Date published: 2021-02-14
Rated

3

out of

5
by
pawanvora
from
A good introduction... needs elaboration
It's a fair introduction to blockchain and cryptocurrency. But it's more like an op-ed. I'd like to see a more complete course on the subject which explains the technology, use cases, current state of crypto, etc. with better support for the opinions and could the same opinions be applied to other types of assets including cash and gold.
Date published: 2021-02-12
Rated

1

out of

5
by
Anonymous
from
A rambling waste of time
The guy did not explain much. He sort wandered around in a number of directions. For example, he spoke of the need for cryptocurrency and then without actually explain that need clearly he stumbles into an explanation on the construction of the computer programming/coding for cryptocurrency, and it doesn't get any better. I'm not sure of the target market for this lecture, but I hope I'm not it because it missed me by a mile.
Date published: 2021-01-30
Rated

1

out of

5
by
SpongePam
from
Should be called "Don't Invest in Cryptocurrency"
I want to learn more about cryptocurrency and how it works.Although he did a decent job introducing the concept, I don't need a guy telling me that it isn't a good investment and that I should invest in technology. I can ask my grandma for that advice.
Date published: 2021-01-24
Rated

5

out of

5
by
Firpo
from
Instructor's personal opinion aside, very good
I found it to be a good quick introduction to the subject. The explanation of how bitcoin works was quick and easy to understand. I would appreciate a series of more in-depth short courses.
Date published: 2020-12-21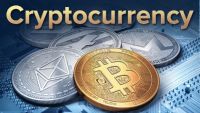 1: The Cryptocurrency Craze
Dig into the history of cryptocurrencies and learn how they work, why they are desirable—or disadvantageous. Professor Connel Fullenkamp from Duke University reveals the emergence and evolution of e-money. He appraises the requirements money needs to deliver, explains the importance of blockchain, and dives into the pitfalls of e-currency such as fraud, unwarranted inflation, and its use to pay for illegal or illicit activities. If you have ever considered the cryptocurrency market, or even just wondered what all the fuss is about, you can't miss this insightful and balanced explanation.
Connel Fullenkamp
I love that the The Great Courses gives me a chance I wouldn't otherwise have to teach people who love to learn. I really enjoy the challenge of putting together courses that are engaging and useful!
ALMA MATER
Harvard University
INSTITUTION
Duke University
About Connel Fullenkamp
Professor Connel Fullenkamp is Professor of the Practice and Director of Undergraduate Studies in the Department of Economics at Duke University. He teaches financial economics courses, such as corporate finance, as well as core courses, such as economic principles. In addition to teaching, he serves as a consultant for the Duke Center for International Development. Prior to joining the Duke faculty in 1999, Professor Fullenkamp was a faculty member in the Department of Finance within the Mendoza College of Business at the University of Notre Dame. Originally from Sioux Falls, South Dakota, Professor Fullenkamp earned his undergraduate degree in Economics from Michigan State University. In addition to receiving the Harry S. Truman Scholarship, he was named one of the university's Alumni Distinguished Scholars. He earned his master's and doctorate degrees in Economics from Harvard University, where he was also awarded a National Science Foundation Graduate Research Fellowship. Professor Fullenkamp's areas of interest include financial market development and regulation, economic policy, and immigrant remittances. His work has appeared in a number of prestigious academic journals, including the Review of Economic Dynamics, The Cato Journal, and the Journal of Banking and Finance. He also does consulting work for the IMF Institute at the International Monetary Fund, training government officials around the world. He is a member of the IMF Institute's finance team, whose purpose is to train central bankers and other officials in financial market regulation, focusing on derivatives and other new financial instruments. In recognition of his teaching excellence, Professor Fullenkamp has received Duke University's Alumni Distinguished Undergraduate Teaching Award as well as the University of Notre Dame's Mendoza College of Business Outstanding Teacher Award. Along with Sunil Sharma, Professor Fullenkamp won the third annual ICFR-Financial Times Research Prize for their paper on international financial regulation.