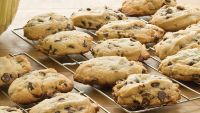 1: Handle with Care-Basic Doughs
Understand several basic techniques and methods you can then expand on to make a wide range of unforgettable desserts. Here, focus on organizing your workspace, methods for proper measuring, and ways to cream butter, sugar, and eggs to the right consistency. Then, watch as Chef Durfee makes cookies and pound cake and shows you what can go right-and what can go wrong as well.
2: Mixing It Up-Methods for Cakes
Regardless of what cake you're making, they all revolve around several basic mixing methods. What are they? And what are their secrets? Chef Durfee takes you step-by-step through baking a rich devil's food cake and several egg foam cakes (a chiffon cake and an angel food cake), the latter of which helps demonstrate the right-and wrong-way to whip eggs and cool your cakes.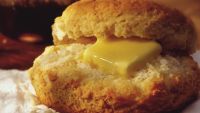 3: Blue-Ribbon Winners-Pies and Biscuits
Here, learn everything you need to know about flaky dough, which can often be intimidating even for an experienced baker. First, gain confidence in making a buttery pie crust by learning how to mold it with your hands or pastry tools, how to blind-bake it, and even how to make an attractive latticed top. Then, explore some of the secrets to making tender, flaky biscuits and beautifully golden-brow...
4: Lighter Than Air-Cream Puffs
Cream-puff pastry is unique in that it's a twice-cooked pastry dough. And its applications go far beyond what you'd expect. In this lesson, master the art of baking and experimenting with puff pastry and use it to create some unbelievably decadent desserts. Among these: chocolate eclairs, cream puffs, and deep-fried Mexican churros. Along the way, you'll also get tips on making pastry cream...
5: Simple to Elegant-Custards
Vanilla-infused crème anglaise. Butterscotch pudding. Crème brulee (complete with a blowtorched sugar topping). Learn tips and tricks to wowing your dinner guests with these delectable egg-based custards, all the while strengthening your confidence in the sometimes tricky art of baking with eggs on the stovetop or in the oven. By the end of this lesson, you'll discover just wh...
6: Final Touches-Mousse and Dessert Sauces
Whip your more advanced baking skills and techniques into shape in this final lesson devoted to light and luscious mousses and creams. After learning how to make your own whipped cream, chocolate mousse, dessert sauces, and vanilla bean panna cotta, you'll watch Chef Durfee as he demonstrates the best ways to unmold, plate, and present your desserts with flair and your own unique touch-just like a...
Stephen L. Durfee
So many people are interested in learning how to bake, but they're intimidated because they think that it is either too complicated or scientific. The truth is baking can be a lot of fun. It's not that complicated and if you master just a few basic techniques, that's really all you need to know to get started. 
ALMA MATER
Hamilton College
INSTITUTION
The Culinary Institute of America
About Stephen L. Durfee
Stephen L. Durfee is a Pastry Instructor at the Culinary Institute of America (CIA) at Greystone, where he has been on staff for more than 10 years. He is a Certified Executive Pastry Chef and a Certified Hospitality Educator. Before then, he was the Executive Pastry Chef at The French Laundry in Yountville, California. While there, he won the 1998 James Beard Award for Outstanding Pastry Chef and in 1999, he was named one of the Top Ten Pastry Chefs in America by Pastry Art & Design and Chocolatier magazines. Chef Durfee's extensive career includes working as a pastry chef at Charles Nob Hill in San Francisco, California, and at the Wheatleigh in Lenox, Massachusetts; and as a pastry instructor at the New York Cooking School (where he earned his certificate in pastry/baking). He also apprenticed at restaurants in Paris and ChambEry, France. Chef Durfee has also participated in and judged numerous cooking competitions and challenges. In 2007, he represented the CIA at the National Pastry Team Championships, where his team won a bronze medal. In 2010, he finished third in the World Chocolate Masters competition. In 2012, he won the position of chocolatier on the U.S. team that will compete in the Coupe du Monde de P,tisserie in Lyon, France, in 2013.