The Everyday Gourmet: How to Master Outdoor Cooking
Taught By Multiple Professors
Rated

5

out of

5
by
TC458
from
Very Pleased
I bought this for my husband. Although he is familiar with outdoor cooking, he has wanted to try grilling different items with a more gourmet flair. We watched together and he is experimenting and really enjoying trying out new things. We love that the accompanying book is spiral bound! Makes it so easy to use and it contains all of the recipes. We are so very pleased with this video. It's a great addition to our culinary library.
Date published: 2018-06-16
Rated

5

out of

5
by
Sloputtputt
from
This course is for those who like to grill...
Not only does the course go over tips and techniques on how to grill, it also has very good recipes to follow and prepare. The two instructors are very knowledgeable on grilling.
Date published: 2018-05-26
Rated

3

out of

5
by
rosey2
from
I enjoyed watching the DVD and learned some interesting tips. What both my husband and I found off putting was that Chef Patrick Clark seemed to have an allergy or a cold and kept sniffing. I wanted to get him a Kleenex and to stay away from the food. Very disappointing to include that in a food video.
Date published: 2018-05-01
Rated

5

out of

5
by
Mike1244
from
Practical tips for grilling
Professional culinary educators demonstrate techniques and share recipes for the home cook. They use ingredients available to the average cook and recipes that are not overly complicated.
Date published: 2018-04-16
Rated

3

out of

5
by
josd
from
master outdoor cooking
not exactly what i expected but picked up a few tips.. would have liked to have learned more about building the fire, tips on cooking foods.. I didn't get the sense that the chefs were honing in on how to create the cooked food, no tips on timings or temps or how to really smoke foods..
Date published: 2018-03-18
Rated

5

out of

5
by
Pat004
from
I am just starting this course. However, I find its beginning lectures just as interesting and informative as the 3 previously studied courses presented by these professors. Definitely a high recommendation.
Date published: 2018-03-02
Rated

5

out of

5
by
Cousindrew
from
Terrific course!
I have become a big fan of Chef Briwa and find him to be a terrific teacher of the culinary arts. I am a cooking novice and took this course because I do know how to grill out. I found this course highly informative and entertaining, and I am confident it will help me expand and improve what I can do on the grill. Chef Briwa has an infectious enthusiasm for cooking, and while he tends to the fancy and gourmet side of things, he offers so much practical advice that everyone with an interest in cooking can enjoy his presentations and learn from his teaching. Highly recommended!
Date published: 2018-01-20
Rated

3

out of

5
by
JWoolf
from
Okay but lacking true grilling for the average grillure
Date published: 2017-11-24
Rated

5

out of

5
by
Joree
from
Return to the Grill
I just bought a new grill and the lessons have been great to make me look atrilling in a new way. Not only meat but lots of vegetables make great meals grilled. I especially liked the section on kale!
Date published: 2017-11-18
Rated

3

out of

5
by
Rickey Lynn
from
Some good and some bad
After watching the entire DVD, I felt this was not the best that has been produced. The main author does a good job, but he brings in his friend, another person from the CIA, who I felt was an almosta chef that was trying to get a feel for what a TV set was and how to address it. As a food critic I paid careful attention to recipes, techniques and tips. I felt that the ones from the extra person were often not valid and that the show could have easily been made without him. I'm glad this was not a full price DVD, because had it been I'd have certainly returned it.
Date published: 2017-09-09
Rated

1

out of

5
by
Flyover county boy
from
Lame is the only way to describe this
I have tried to view these video's on several occasions and I just can't. the Subject matter would have been great if they had someone else be the instructor but this guy is so bland and boring its to the point of sickening. And all is this course is this. "watch me make some fancy dinner on a grill with ingredients you don't have access too at your local store" What a waste of my valuable time.
Date published: 2017-07-27
Rated

5

out of

5
by
Don Simon
from
Great Instructors, Inspirational
Chef Briwa and Clark remind me of the excellent professors I had for my engineering degree - Subject Matter Experts who are passionate about their subject, but more importantly, ones who can impart that knowledge to those interested and willing to learn. All in all the course as inspirational and a great deal of fun to watch and experiment. Well done!
Date published: 2017-07-16
Rated

5

out of

5
by
Jorgec55
from
Master Outdoor Cooking
A really outstanding course with a great amount of information.
Date published: 2017-05-21
Rated

5

out of

5
by
wilhelmm
from
Loved the variety
Loved how much variety this course teaches-- grilling vegetables, poultry, seafood, etc.
Date published: 2017-03-20
Rated

5

out of

5
by
Mitt
from
The Everyday Gourmet
I have all 4 courses and Chef Bill Briwa makes the course fun and informative. His attitude is one learning and doing it with enjoyment because you can experience his enjoyment of his profession! He has inspired me to venture into new territories of cooking and spices! Do not hesitate get them all now!
Date published: 2017-03-17
Rated

5

out of

5
by
KinkyReggae
from
Great teachers
This is done as well as the other cooking series. They are excellent teachers & are very inspiring.
Date published: 2017-03-04
Rated

5

out of

5
by
Sparkle54
from
Great grilling information
My husband felt that my grilling skills were too limited and suggested I buy this course to expand my repertoire. The two chefs are very interesting and the visuals in the instruction are clear and attractive. The 2-DVD set comes with a book, as well, so the recipes are available to read at any time. I totally recommend this Great Course
Date published: 2016-11-10
Rated

5

out of

5
by
juice
from
Comprehensive and fun
This DVD set and the other cooking sets from the Culinary Institute of America are all done very well. The accompanying books are also very helpful. What's particularly nice is the courses are about TECHNIQUES and not just recipes. Highly recommended.
Date published: 2016-10-24
Rated

4

out of

5
by
maywood
from
Great Course!
My only wish is that gas grilling would have been given more scope in this course. Otherwise, I'm already getting some great ideas!
Date published: 2016-07-30
Rated

5

out of

5
by
Smokie
from
Former grilling
The chefs offer some very good ideas for grilling. However, they have unlimited access to fresh herbs and high quality olive oil which many weekend cooks don't have. Also, it would be helpful to know the exact ratio of ingredients v
Date published: 2016-07-23
Rated

4

out of

5
by
MajorMAO4
from
How to Master Outdoor Cooking
I am 53 and have cooked outdoors for 50 years since I camped in the Sierra Nevadas while gold prospecting with my uncle. I'm not afraid to say that I learned a few new tricks...and seen how and why some of my own observations have developed on methods and techniques of cooking over gas or charcoal. I am eager to explore cooking fish and seafood and utilizing spices and herbs to enhance flavor in ways that I haven't previously encountered.
Date published: 2016-07-02
Rated

5

out of

5
by
Priscilla
from
well worth the cost
I have learned so much from the courses I have purchased. I love to cook and this series is the best.
Date published: 2016-07-01
Rated

4

out of

5
by
EngineerinVA
from
For Gourmets, Not Gourmands
Yeah, I should have read the other reviews before I bought this course. It is definitely for gourmets, not for gourmands like me. I was looking for a course that showed me how to throw some wood on a grill and turn it on and this is definitely not that course. (By the way, my grades are for a student who is as much a novice as I. I assume that somebody who is skilled would get much more out of it than I.) This course is a series of recipes, typically about three per 30-minute segment. I was surprised to see that perhaps half of the recipes were for salad. Although the grill is used for a meat or roasted vegetables used in the salad, the bulk of the attention is actually away from the grill itself. I was also stunned to learn that grilling is very different from barbecuing. My apologies to the chefs involved,. I reiterate that they were far better teachers than I was as a student.
Date published: 2016-06-21
Rated

5

out of

5
by
Anthony
from
good course
good lectures, generally useful background on a topics with a lot of information that i did not know about beforehand and recipes to follow or modify.
Date published: 2016-06-19
Rated

4

out of

5
by
RubieTuesday
from
Master Outdoor Cooking
Overall learned a lot and was inspiring. Presentation was very good. sometimes the ingredient list is very long and some ingredients are not available, and I live in a large city. Buy this when it goes on sale.
Date published: 2016-06-04
Rated

3

out of

5
by
GregS2
from
Emphasis is on 'gourmet'
This class was very well presented by the two chefs, however the emphasis is really on 'gourmet'. About 3/4 of the recipes have key ingredients that are not even available to me. I fail to see how 'everyday' aged California goat cheese, mizuna or thinly sliced pancetta is -- and that is in the first 10 pages. Also the book mostly treats the grill as just a source of heat with few of the recipes actually taking advantage of the unique properties of cooking over live fire nor is much time spent showing specific cooking techniques. They did walk through a low-and-slow brisket but while they do mention the 8-12 hour cooking time they make no mention of how to maintain hot coals for this long. The chefs clearly are experts in their field and their presentation is excellent. But I cannot recommend purchasing this video series to learn how to grill.
Date published: 2016-04-04
Rated

3

out of

5
by
mdr3
from
Not for the average cook
I have to agree with a previous reviewer that this course will not teach the average person how to grill. I loved watching the 2 chefs grill in the beautiful setting, but the ingredient list far exceeds anything I will find in rural Pennsylvania. We do not have access to gourmet farms providing Easter egg radishes. Also I haven't used charcoal or wood to grill unless we were camping. I was more interested in the "how to's" and practical recipes for my friends and family and there was very little of that. However, as I said the chefs are very entertaining and easy to listen to. They clearly know their material and have a passion for cooking. I did learn a few tricks that hopefully I can apply to my gas grill.
Date published: 2016-01-29
Rated

5

out of

5
by
kasey
from
Fantastic Course - even for indoor "grilling"
I own all of Chef Briwa's other cooking courses, and initially I held off on purchasing this one, since i don't have an outdoor grill, and one of the questions asked whether this would be a good course if you don't cook outdoors. Well, I have to say YES! It is! I do own a cast iron grill pan to use stove top, and honestly, I would say that 90% of this course content/recipes/flavor combinations would work fine for an indoor stove top griller like myself. Where I would say an indoor griller can watch, but not participate (that was OK for me), was in the discussion of the different types of outdoor grilling and a couple of the cooking techniques that involve putting the food item directly on the coals. Chef Briwa, as always, is fantastic - a true natural in front of the camera. A great instructor and easy to follow. Chef Clark has a different style, but is also a really good instructor. What I loved best about this course was sitting back, enjoying the set outdoors, and seeing the great flavor combinations and different ethnic cooking styles. As with Chef Briwa's other courses, this course may feel a bit challenging for a brand new cook - he does assume some familiarity with cooking and cooking techniques. Overall a great purchase and can't wait for the next Great Courses cooking course!
Date published: 2016-01-23
Rated

5

out of

5
by
Historystudent
from
Truly a "great" course
I'm not a cook, and never have been, but this course tempts me to try my hand at grilling vegetables and steak when the weather gets better. Bill Briwa makes it seem so easy -- though it really isn't -- to make a number of dishes that I never thought could be done on an outdoor grill. Particularly, I want to try the grilled vegetable salads he prepares during the Mediterranean section. Great course.
Date published: 2016-01-20
Rated

5

out of

5
by
Ark1836
from
Fun with Fire
This was an interesting course that explored grilling techniques and recipes designed for outdoor cooking. The course also explored several regional varieties of outdoor cooking, including Latin American, Asian and American BBQ. Overall, the course was very good. It was taught by two professors alternating lectures between them. The course was overall relatively advanced and assumed more than a basic knowledge of cooking, food safety, etc… I recommend starting with the more fundamental The Everyday Gourmet: Rediscovering the Lost Art of Cooking before taking this course. Perhaps the best part of this course was the last lecture where the two professors worked together to demonstrate using the grill to prepare a party from appetizers to main course to dessert. My major regret regarding this course is the format that I purchased. This was the first course that I decided to purchase as a video download to watch on my iPad. There were no problems watching it on my iPad, but I regret not having a hard copy of the book. The course book has many recipes that I would like to try, but it is very difficult to use my iPad to follow the recipes. Also, the Great Courses App does not have a bookmark or quick search mechanism, which makes the online course book clunky to use as a cookbook. So, my advice is to buy the DVD version of this course to get the hardcopy course book.
Date published: 2015-11-03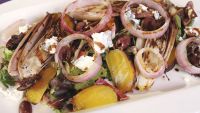 1: The Art of Grilling
Start your course with the basics of grilling: choosing wood, cleaning the grill, tools of the trade, and a few lessons in food safety. Then try your hand at three simple recipes-two types of steak and a grilled salad-to get a feel for cooking over live fire. This first lesson offers a wealth of rules of thumb.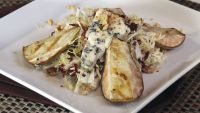 2: Grilled Vegetable Starters and Salads
Now that you're up to speed on all things grilling, take a closer look at preparing different types of salads, from pancetta-wrapped endive to Bartlett pears and greens. In addition to branching away from the traditional main course meat, this lecture on fruits and vegetables shows you how the grill can enhance your homemade salad dressings.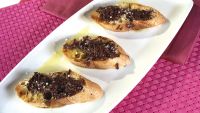 3: Flatbreads and Pizza on the Grill
Delve deeper into cooking with different types of charcoal. Here, you'll find out how to make different types of bread recipes on the grill, including a delicious bruschetta and a savory crostini. Then turn to homemade pizza dough and various sauces and toppings. Plus, see how to use leftover breads to make a sweet treat with the coal embers.
4: Grilling Seafood
Fish can be a tricky meat and requires close attention. Discover some common mistakes with grilling seafood and find out how best to prepare salmon, tuna, halibut, and more. Along the way, you'll learn crucial lessons about making marinades and vinaigrettes. End with a pair of recipes for grilled oysters and marinated shrimp.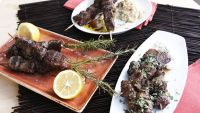 5: Mediterranean-Style Grilling
Enjoy a wealth of multicultural dishes with this tour of the Mediterranean, from Italy and Greece to Turkey and Tunisia. Here, you'll explore several popular outdoor cooking recipes. Highlights include lessons in sauces such as muhammara and tzatziki, ember-roasted vegetable dishes, sandwiches and pitas, and lamb kabobs.
6: Grilling Poultry
Take a deep dive into chicken on the grill. After reviewing the different parts of the chicken, learn how to make a classic American barbeque chicken dish, a unique marinated quail mixed grill, and a non-traditional smoke-roasted turkey with a complementary three-grain salad-sure to spice up your next holiday gathering.
7: Latin American-Style Grilling
Swing down to the Caribbean to sample the flavor of the islands. Start with a skirt steak in orange mojo sauce, and move on to an original jerk chicken recipe. Then hop over to the Yucatan for a unique twist on a traditional Mexican dish. Traditionally made with marinated pork, your cochinita pibil dish here is a barbeque halibut with fire-roasted salsa and tortillas.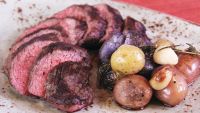 8: Grilling Lamb and Beef
When we think of the grill, many of us think of meat first. Look beyond the traditional burgers and hot dogs to explore different cuts of meat. Your chefs show you how to grill a marinated Thai-style hangar steak, a dry rub flat-iron steak with coal-roasted potatoes, and hoisin-glazed pork tenderloin.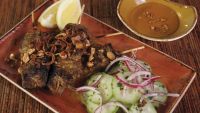 9: Asian-Style Grilling
Thailand. Japan. Vietnam. Korea. Asia is home to some of the most delicious recipes on the planet, and this lecture surveys some of the popular Asian cuisines that can be prepared on the grill. After a series of skewered meat dishes-including beef satay and yakitori chicken-you'll end with Korean barbeque short ribs.
10: Grilling Veggie Savories and Sides
Shift your attention from meat to the rest of the meal. Learn how to time different types of vegetables on the grill, which will cook fast and caramelize depending on the combination of heat and sugar. Make a splendid vegetable platter with shirred eggs-perfect for a summer brunch-and then turn to grilled corn and portobello mushroom burgers.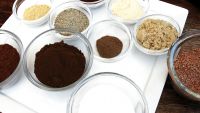 11: The American Tradition of Barbecue
Travel south for a tour of the great barbeque styles (vinegar-, ketchup- or mustard-based) and places (the Carolinas, Tennessee, St. Louis, and Texas). After exploring the history and culture of barbeque, see how to make your own with a variety of meats, dry rubs, and sauces. Cook everything from pork butts to ribs to brisket.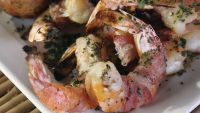 12: Entertaining-Grilling for a Group
What's a grill without the occasional outdoor party? Put together everything you've learned with several scrumptious recipes for one amazing party this summer: smoked and grilled appetizers, cedar-plank grilled king salmon, and a dry rub leg of lamb-plus a few special desserts for the road.
Bill Briwa
Don't waste any time wishing you were a better taster. Put your effort into becoming a better taster through focused attention and curiosity every time you prepare, season, and eat food. This skill set is really foundational.
ALMA MATER
The Culinary Institute of America
INSTITUTION
The Culinary Institute of America
About Bill Briwa
A popular chef-instructor at the Culinary Institute of America (CIA), Bill Briwa has worked in the hospitality business as a professional chef and culinary instructor for experts and laypeople around the world for more than 30 years. He was the resident chef for The Hess Collection Winery in the Napa Valley, California; the executive chef for The Wine Spectator Restaurant at the CIA at Greystone; and an officer on the board of the St. Helena Farmers' Market. Over the past 15 years, Chef Briwa has devoted himself full time to teaching audiences around the world about cooking, flavor dynamics, gastronomy, and food and wine pairing. As a member of the Industry Services Group at the CIA, he works closely with a range of corporate clients to help them realize their culinary goals. Chef Briwa has been a speaker, presenter, and judge at numerous professional conferences, gatherings, and competitions in the culinary world, including the annual International Association of Culinary Professionals Conference and the National Restaurant Association Show in Chicago, Illinois. His writing on food and wine has been featured in industry journals and publications, including Fine Cooking, Mise en Place, and Practical Winery &Vineyard Journal.
Chef Briwa participated in The Great Courses Professor Chat series. Read the chat to learn more about cooking
Patrick Clark
One of the challenges of cooking with live fire is we all know the challenges of grilling is managing food on the surface now we also have to manage our fuel source at the bottom at the same time.
ALMA MATER
The Culinary Institute of America
INSTITUTION
The Culinary Institute of America
About Patrick Clark
Patrick Clark has been a chef-instructor at the Culinary Institute of America (CIA) since 2008. A 1991 graduate of the California Culinary Academy (now called Le Cordon Bleu College of Culinary Arts), he brought strong industry experience in high-end, high-volume dining, most recently at Sutro's restaurant in San Francisco's historic Cliff House, where he won accolades for his farm-fresh, California-coastal cuisine.Chef Clark served as executive chef for the California Cafe restaurant group in Palo Alto, California, and the Santa Barbara Grill in Cupertino, California; both positions allowed him to bring his culinary passion for seasonal, local, and organic foods to the table. Chef Clark also has extensive experience in opening private clubs and luxury hotels. As a member of the 1992 Chaine des Rotisseurs Culinary Team USA, Chef Clark was the only apprentice to compete on a team that received 26 medals in the International Culinary Olympics in Frankfurt, Germany. As a Chef-Instructor at the CIA, Chef Clark has developed curricula and has taught a wide range of culinary topics, including garde-manger techniques, modernist cooking, modern banquets, and breakfast and lunch. He has traveled to teach and study cuisines across the United States and in Mexico, the Mediterranean, and Europe.