Rated

4

out of

5
by
MarleysGhost
from
More than Sierra Nevada and Bass
Dr. Bamforth worked for Bass in the UK and advises Sierra Nevada in addition to being a Distinguished Professor Emeritus at UC Davis. So it is not surprising that he uses much of his background in the industry as he presents his course. This means frequent references to both companies and their beers, most especially Sierra Nevada. I was at first a bit put off by this, but the more I thought about it, it began to make sense. Sierra Nevada's product line is both very diverse and widely available across the US (although not so much where I live), as opposed many other "craft" breweries, about which one can read, but rarely taste. Even so there were a few times that some of his interviews can across as more of a commercial than I would have liked. Otherwise this is a fine course for those interested in beer, its origins, styles, geographic diversity and components. Although I found lecture two on how beer is made interesting and I found out things I did not know, the heart of the course is in lectures three, four and five, where he discusses styles and the differences between ales and lagers and their styles as well. The lectures on the different types of hops and how they contribute to flavor and aroma, as well as how the malts vary according to the style of beer being made was yet another area where I found I knew less that I had thought. Professor Bamforth is not a particularly smooth lecturer, speaking with many pauses, ums and ahs and the like. This for me did not detract from his overall expertise, which was abundantly clear. Lecture 10 where he interviews the chef at the Sierra Nevada, North Carolina tap room and restaurant, while interesting and helpful, was where he was obviously outside of his depth. Fortunately the chef was so proficient, that she turned the lecture into one of the more interesting ones. The accompanying course materials are notable in their absence. The guidebook was of high quality visually, but lacking in additional readings and references. The bibliography is limited to 10 entries and there are no industry or critical websites recommended. As a plus most of the interviews are conducted onsite at Sierra Nevada and otherwise the lectures seem not to be given in a studio, but more of a lab. Dr. Bamforth's evident knowledge and love of his subject makes many of my comments seem trivial. Recommended for those who like beer or wish to know more.
Date published: 2020-11-13
Rated

5

out of

5
by
Loco Nova
from
Foamy, Worldly, Detailed- Falstaff exonerated!
Beer will save the world, and this offering explains how that is happening. Instead of the Boar's Head Inn, we have Sierra Nevada, as basically a textbook modern business case for the present brewing business. Instead of the Merry Wives of Windsor, we have various Sierra Nevada "beer pairing" and "quality assurance" staff. Instead of King Hal (Henry V), we have a current Sierra Nevada General Manager from the Grossman family. Prof Bamforth plays Falstaff, hosting the brew party. My first expectation was that somehow this offering would tell me how to be a craft brewer myself, perhaps via electronic osmosis, in twelve easy lessons. Didn't happen, but instead I was deeply informed about the business, health, and enjoyment aspects. Also, as Falstaff would certainly have had it, I was encouraged to explore and taste brands and styles and pairings I didn't know existed. The information that no proper glass shape pairing actually makes a difference, the correct way to pour, and the serving temperature guidance by style, was worth the cost of the course. I must commend The Great Courses for this offering, which serves the dual purpose of explaining the history and current status of brewing by a great author and professor (Bamforth conjures Falstaff with a PhD), but also provides a business case for responsible enterprise. Indeed, Sierra Nevada is specifically highlighted. Yes, I would also love to hear from Yuengling, Boston Beer, and the Chinese and Japanese outfits who make Snow and Kirin (former Anheuser Bush/ InBev affiliates). I would hope for the same environmentally responsible and customer forward message, and perhaps would get pairings with ballpark, sushi, and Mandarin cuisine. But that would be a massively larger course offering. So, I thought I was going to just a craft beer garden party, and wound up with an explanation of beer history, varieties, pairings, and production. Also, heard about the issues of making beer a livelihood, and the big and small players in brewing space. Any entrepreneurial craft brewer wannabie should have this information as a base. Caveats, ambiguities, and insecurities, include: *The lack of deep web resources, such as exist with the TGC wine offerings. *A lack of insights and guides to home craft brewing. The course is an overview of brewing process varieties, with no how-to links for the DIY crowd. Although, I admit, the details are there, but not the overview. *Insecurity about the best beer end transport. Last year, I was ecstatically using large fill-up jugs at various places. Currently, that has become pandemically illegal, and craft breweries and others have switched to large cans, sealed near the tap. Question remains, what is the best end fill for fresh beer from tanks and barrels long term? Bamforth recommends cans in any case (and presents compelling reasons). However, I really like my big brown jugs, which do not need recycling! In any case, enjoy the foam and bubbles, as recommended within...
Date published: 2020-10-06
Rated

5

out of

5
by
Ruodrik
from
WONDERFUL COURSE IN THE DIFFERENT STYLES OF BEER
I thought this course was well done bringing in many aspects of beer. I enjoyed watching this and I really learned a lot on my favorite drink.
Date published: 2020-09-18
Rated

5

out of

5
by
Romen
from
Really enjoyable
This was fantastic, a really good use of my time. I learned a bit, and overall enjoyed all of the content. There was enough here that whether you know nothing or are already fairly knowledgeable about beer, the material is approachable and there's something for everyone. There's also more to dive into, and I'm revved up to learn even more now about this subject now. The instructor seemed incredibly knowledgeable about the topic. I think this course will enhance your enjoyment of beer, no matter where you are with your experience and knowledge.
Date published: 2020-08-21
Rated

2

out of

5
by
Kent R
from
Sierra Nevada Commercial
Dissapointed in the course. Too much emphasis in Sierra Nevada and too many snide opinions by lecturer. I would have appreciated a more neutral view on beer companies and more specific information so I can make my own connections. Seems like professor dumbed the course way down and just used hyperbolic terms when discussing sour, foamy, etc.
Date published: 2020-07-20
Rated

5

out of

5
by
mikeinMV
from
A thoroughly enjoyable series
My wife purchased this course as a Fathers Day gift and I've watch most of the lectures. I thought I knew quite a bit about beer but each lecture provided new information. It definitely has enhanced my appreciation of beer.
Date published: 2020-07-02
Rated

2

out of

5
by
Jean F
from
Everyday Guide to Beer
I was expecting more technical info on beer production.
Date published: 2020-06-28
Rated

2

out of

5
by
grandsonson
from
easy to order
I bought this for my grandson (age 24). I can only address how easy it was to order. 2 separate addresses and all reached the right parties - i got the bill and he got the materials
Date published: 2020-06-26
1: 8,000 Years of Beer
Begin your journey with a primer on the history of beer and its place among peoples like the Sumerians, Egyptians, and the Medieval Benedictines. You'll learn about figures like Dukes William IV and Ludwig X of Bavaria and the Reinheitsgebot, and even hear the fascinating story behind the origin of British pub signs.
2: Malt, Hops, Yeast, Water: How Beer Is Made
Now that you've traveled through beer's history, you're ready to discover how it's made. You'll go in-depth with ingredients like malt and hops, and which geographic regions of the world each variety comes from. Then, Sierra Nevada's Head Brewer Scott Jennings will take you through the process of how this elite brewery produces its award-winning beer.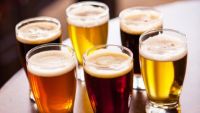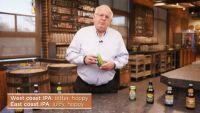 4: All about Ales
Ale is one of beer's most significant and diverse classifications. Here, you'll investigate popular versions like pale ales, India pale ales (IPAs), and Scotch ales. But did you know that porters and stouts are also ales? Go in depth with this important beer category and then discover the unique characteristics of each sub-type.
5: All about Lagers
Germany's impact on beer history cannot be overstated, and nowhere is this more prevalent than when drinking a glass of lager. A deceptively difficult beer to brew, this category includes styles like doppelbocks, marzens, and the increasingly popular Oktoberfest. But an Oktoberfestbier in Germany means something very different than it does in other parts of the world.
6: Beers of the World: Who Drinks What
The world's leading beer brand has significantly more market share than Budweiser and Coors Light combined, and you've likely never heard of it. In this lesson on the business of beer, find out how this is possible and what top producers like Anheuser-Busch InBev, and micro and regional breweries all mean for the industry as a whole.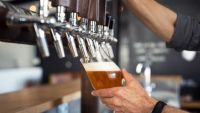 7: Enjoying Beer I: The Perfect Pour
How a beer looks can influence our perception before we even take our first sip. Learn why everything from a beer's packaging and label to the bottles a brewery uses can affect our experience. You'll also discover how to pour a beer properly to get the appropriate amount of foam, and what nucleation sites in a glass do for both presentation and flavor.
8: Enjoying Beer II: Maximizing Flavor
Did you know that the aroma from hops is made up of at least 420 different compounds? Learn the typical flavor each type of malt infuses into a beer and how different chemicals combine to form the sweet, salt, sour, or bitter notes each style is known for. Conclude with the proper serving temperature for most of the major beer types you've learned about in previous lessons.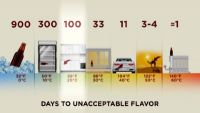 9: Enjoying Beer III: Buying and Storing
The way beer is stored, packaged, and distributed can have a huge impact on how it tastes. Ryan Mintzer, packaging and warehouse manager at Sierra Nevada, will take you through some of the brewery's best practices to ensure that each beer has optimal flavor and freshness before being poured into your glass.
10: Pairing Beer with Food
Pairing beer with food effectively can take some practice, but a few important tips will help you plan that next meal with confidence. Whether it's matching beer with existing recipes or actually adding it into a dish, beer's versatility should not be underestimated. Experience a five-course dinner menu with beer pairings, specially prepared by Jessie Massie, head chef at Sierra Nevada's Mills River Taproom.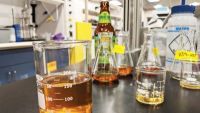 11: The Science of Quality Beer
Quality in beer can be very subjective and a difficult thing to quantify. General Manager Brian Grossman, of Sierra Nevada's Mills River facility, and Quality Manager Liz Huber discuss this idea and how measurements of alcohol by volume (ABV), clarity, pH, and other checks are used to achieve desired results.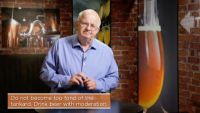 12: Beer and Human Health
Nutritious or just empty calories? In this final lesson, Dr. Bamforth will take you through the health benefits and risks associated with beer consumption, such as recommended consumption limits and why moderation has been preached since this beverage's early days. However, beer also contains antioxidants and an array of vitamins like niacin, folic acid, and riboflavin.
Charles W. Bamforth
Beer is a thing of beauty. Four simple ingredients; yeast, malt, hops, and water combine under the right conditions to create a product that can be wholesome, nutritious, delicious, and satisfying.
ALMA MATER
University of Hull
INSTITUTION
University of California, Davis
About Charles W. Bamforth
Charles W. Bamforth is a Distinguished Professor Emeritus at the University of California, Davis. He received his PhD in Biochemistry from the University of Hull. He is also a senior quality advisor to Sierra Nevada Brewing Company and an Honorary Professor in the School of Biosciences at the University of Nottingham. He has been part of the brewing industry since 1978, holding such positions as deputy director-general of Brewing Research International as well as quality assurance manager and research manager at Bass Brewers.
Professor Bamforth's many academic and professional honors include the Award of Distinction from the American Society of Brewing Chemists, the Faculty Stewardship Award from the UC Davis Foundation, and the Brewers Association Recognition Award. He was also awarded the Horace Brown Medal, the highest accolade of the Institute of Brewing and Distilling; the Award of Honor by the Master Brewers Association of the Americas; and the Award of Distinction by the College of Agricultural and Environmental Sciences at UC Davis.
Professor Bamforth has published numerous books and articles about beer throughout his career. Since 1985, he has also written prolifically about soccer. He has appeared extensively in the media, including on the BBC, Discovery Channel, NPR's Science Friday, and PBS. His video credits include "The Art & Science of Beer," Brew Dogs, How Beer Saved the World, How Stuff Works, and Ultimate Factories.
Professor Bamforth has presented lectures at numerous venues, including Google, the New York Academy of Sciences, the Smithsonian, and the National Press Club.