Rated

1

out of

5
by
Anonymous
from
Misunderstood title, doesn't teach to make beer
I really thought this video was about making beer at home. My fault for assuming that it was. I don't need to know the history of beer to make my own.
Date published: 2021-02-12
Rated

5

out of

5
by
Ezequiel
from
A very interesting introduction to beer
A very fun course to watch. Gives a good sense of the types of beers and what to expect from them.
Date published: 2021-01-22
Rated

5

out of

5
by
BSholund
from
Met expectations
The culture of beer drinking is one that is underserved, IMO. There are endless books, TV shows, and experts for wine drinkers and even spirits but nothing for the man whose favorite alcoholic drink is a brew. The question for the beer drinker is; what kind of beer should I drink and when. This series of lectures attempts to answer that question, and it does a good job of it. In entertaining and easily understood lectures the professor takes us on a guide of the many different beers that are out there, explains some of the finer points of enjoying a good brew, and even how to match beers to food. The series focuses heavily on the Sierra Nevada brand but it does highlight other brewers and styles of beer. I learned a few things from watching this series and it made me want a beer and that is more than enough for me to recommend it.
Date published: 2021-01-19
Rated

5

out of

5
by
Glen P
from
Quite a lot of fun
This is a fun course. If you are looking for something that may amuse you, as well as giving some useful and interesting facts, this is a course for you. Especially if you are a beer drinker. The lecturer certainly knows his subject and has that dry English wit.
Date published: 2020-12-24
Rated

5

out of

5
by
BadAzz
from
Be-ah
Yes he talked about Sierra Nevada a bit, buts what? Yeas he may've said "ah, um" a bit, but so what? It was informative and somewhat entertaining, but if you want to know the complete be-ah story, this is well worth it
Date published: 2020-12-23
Rated

5

out of

5
by
Stevo K
from
Charlie is awesome!
I think this is my favorite Great Course! There is so much more to beer than the average beer drinker would expect, and Charlie covers it all. He knows his subject intimately and obviously has fun imparting his wide ranging knowledge to his virtual students. I enjoyed it immensely!
Date published: 2020-12-13
Rated

5

out of

5
by
tjorge01
from
At last, beer gets the respect it deserves!
I came out of the closet a few years ago, admitting to myself and the rest of the world that my alcoholic beverage of choice was beer ... not wine. It was liberating. But once I had this epiphany, I realized that I knew virtually nothing about beer culture, and educating one's self about beer was not easy. I was able able to piece together a little information here, and a little there, but my knowledge of beer still had a lot of holes. How I wish I had had this course to guide me at the time. This course validated for me that the art and science of brewing is every bit as advanced and cultured as that of winemaking. The professor is fabulous. He provides a whirlwind tour of the world of beer, and he just exudes enthusiasm for the topic, which he knows well from having been in the brewing business all of his life and rising to the heights of academic brewing science (a professor at UC Davis). But this course is truly just and introduction, a Beer 101 course so to speak. I would encourage GC to recruit this professor to give some advanced courses focusing on specific aspects of beer, such as one course on craft brewing and another on home brewing. Even a course on the business side of brewing would be interesting. (My advice to beer lovers taking this course is to drinking a different beer style while watching each episode. It enhances the experience.)
Date published: 2020-12-13
Rated

5

out of

5
by
Doctor A
from
Outstanding Overview Of Beer - Professor Is XLNT!
Dr. Charlie Bamforth offers an exceptional presentation on the many facets of beer -- the brewing science that goes into making it, the key differences among the various styles, and much more. His expertise and decades of experience in the industry are obvious throughout this course. His presentation style can be described as casually authoritative and quite personable. Before purchasing the DVD version, I was a bit skeptical of the content, especially given several of the critical reviewer comments. After viewing this course twice, I am thoroughly impressed with the information provided and am completely pleased with my purchase. Despite a few sharp reviews to the contrary, this certainly is NOT an infomercial for Sierra Nevada. Frankly, it would be wise to simply dismiss those negative comments as the disgruntled remarks of nitpickers who are chronically dissatisfied. Some folks could stand in the middle of Kew Gardens and only point out the weeds. I would like to offer some general comments regarding these detracting reviewers. I grew up in Napa and am professionally trained in the industry. I previously taught food and wine courses at culinary schools part-time for over two decades. I am now retired in Bend Oregon where we enjoy a widely held reputation for some of the finest craft beers made in America. Many of these brews are indeed produced with considerable care and great passion and I have enjoyed a wide variety of these finely made beers. Naturally, staunch fans of various beer brands and styles abound here. I am often amazed at the rigid opinions offered by some beer purists who often display great awe and reverence for local microbrews -- as if being a small operation somehow magically made their beers superior by default. To me, that smacks more of snobbery and an embedded anti-big bias than it does as a testimony to their presumably superior, ultra-refined taste buds. As the witty jazz pianist Mose Allison once wrote, "Critics. They can't swim and they can't even float. They just stand at the shore and wave at the boat!" Having traveled to 32 countries and even lived in a few, I would suggest there are very real differences in beer quality among countries. In all candor, despite all the love, superb ingredients and meticulous technique displayed by many brewers in this country, the extraordinary beers produced in the UK, in Germany and in the Czech Republic (often for hundreds of years) are truly in a class by themselves. This is an opinion shared widely by many aficionados. At the risk of disappointing some ardent domestic fans, the majority of beer connoisseurs find an obvious difference in the taste, texture, richness and overall quality of many exquisite European beers compared to most of that produced domestically. Perhaps if those myopic local beer geeks ever have the opportunity to taste some of these world-class beers in-country, they would likely agree. Oops, I digress. I'll get off my soapbox and return to my review. I highly recommend this course, especially the DVD version. I found the information offered to be absolutely relevant, on-target and well supported. Professor Bamforth presents the course in an inviting and engaging style. Of the many Great Courses I own, this is one of my favorites.
Date published: 2020-12-01
1: 8,000 Years of Beer
Begin your journey with a primer on the history of beer and its place among peoples like the Sumerians, Egyptians, and the Medieval Benedictines. You'll learn about figures like Dukes William IV and Ludwig X of Bavaria and the Reinheitsgebot, and even hear the fascinating story behind the origin of British pub signs.
2: Malt, Hops, Yeast, Water: How Beer Is Made
Now that you've traveled through beer's history, you're ready to discover how it's made. You'll go in-depth with ingredients like malt and hops, and which geographic regions of the world each variety comes from. Then, Sierra Nevada's Head Brewer Scott Jennings will take you through the process of how this elite brewery produces its award-winning beer.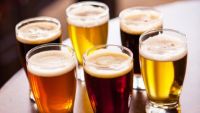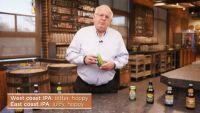 4: All about Ales
Ale is one of beer's most significant and diverse classifications. Here, you'll investigate popular versions like pale ales, India pale ales (IPAs), and Scotch ales. But did you know that porters and stouts are also ales? Go in depth with this important beer category and then discover the unique characteristics of each sub-type.
5: All about Lagers
Germany's impact on beer history cannot be overstated, and nowhere is this more prevalent than when drinking a glass of lager. A deceptively difficult beer to brew, this category includes styles like doppelbocks, marzens, and the increasingly popular Oktoberfest. But an Oktoberfestbier in Germany means something very different than it does in other parts of the world.
6: Beers of the World: Who Drinks What
The world's leading beer brand has significantly more market share than Budweiser and Coors Light combined, and you've likely never heard of it. In this lesson on the business of beer, find out how this is possible and what top producers like Anheuser-Busch InBev, and micro and regional breweries all mean for the industry as a whole.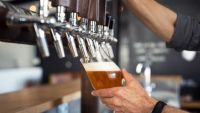 7: Enjoying Beer I: The Perfect Pour
How a beer looks can influence our perception before we even take our first sip. Learn why everything from a beer's packaging and label to the bottles a brewery uses can affect our experience. You'll also discover how to pour a beer properly to get the appropriate amount of foam, and what nucleation sites in a glass do for both presentation and flavor.
8: Enjoying Beer II: Maximizing Flavor
Did you know that the aroma from hops is made up of at least 420 different compounds? Learn the typical flavor each type of malt infuses into a beer and how different chemicals combine to form the sweet, salt, sour, or bitter notes each style is known for. Conclude with the proper serving temperature for most of the major beer types you've learned about in previous lessons.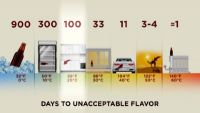 9: Enjoying Beer III: Buying and Storing
The way beer is stored, packaged, and distributed can have a huge impact on how it tastes. Ryan Mintzer, packaging and warehouse manager at Sierra Nevada, will take you through some of the brewery's best practices to ensure that each beer has optimal flavor and freshness before being poured into your glass.
10: Pairing Beer with Food
Pairing beer with food effectively can take some practice, but a few important tips will help you plan that next meal with confidence. Whether it's matching beer with existing recipes or actually adding it into a dish, beer's versatility should not be underestimated. Experience a five-course dinner menu with beer pairings, specially prepared by Jessie Massie, head chef at Sierra Nevada's Mills River Taproom.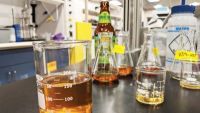 11: The Science of Quality Beer
Quality in beer can be very subjective and a difficult thing to quantify. General Manager Brian Grossman, of Sierra Nevada's Mills River facility, and Quality Manager Liz Huber discuss this idea and how measurements of alcohol by volume (ABV), clarity, pH, and other checks are used to achieve desired results.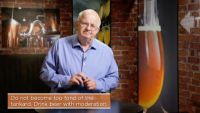 12: Beer and Human Health
Nutritious or just empty calories? In this final lesson, Dr. Bamforth will take you through the health benefits and risks associated with beer consumption, such as recommended consumption limits and why moderation has been preached since this beverage's early days. However, beer also contains antioxidants and an array of vitamins like niacin, folic acid, and riboflavin.
Charles W. Bamforth
Beer is a thing of beauty. Four simple ingredients; yeast, malt, hops, and water combine under the right conditions to create a product that can be wholesome, nutritious, delicious, and satisfying.
ALMA MATER
University of Hull
INSTITUTION
University of California, Davis
About Charles W. Bamforth
Charles W. Bamforth is a Distinguished Professor Emeritus at the University of California, Davis. He received his PhD in Biochemistry from the University of Hull. He is also a senior quality advisor to Sierra Nevada Brewing Company and an Honorary Professor in the School of Biosciences at the University of Nottingham. He has been part of the brewing industry since 1978, holding such positions as deputy director-general of Brewing Research International as well as quality assurance manager and research manager at Bass Brewers.
Professor Bamforth's many academic and professional honors include the Award of Distinction from the American Society of Brewing Chemists, the Faculty Stewardship Award from the UC Davis Foundation, and the Brewers Association Recognition Award. He was also awarded the Horace Brown Medal, the highest accolade of the Institute of Brewing and Distilling; the Award of Honor by the Master Brewers Association of the Americas; and the Award of Distinction by the College of Agricultural and Environmental Sciences at UC Davis.
Professor Bamforth has published numerous books and articles about beer throughout his career. Since 1985, he has also written prolifically about soccer. He has appeared extensively in the media, including on the BBC, Discovery Channel, NPR's Science Friday, and PBS. His video credits include "The Art & Science of Beer," Brew Dogs, How Beer Saved the World, How Stuff Works, and Ultimate Factories.
Professor Bamforth has presented lectures at numerous venues, including Google, the New York Academy of Sciences, the Smithsonian, and the National Press Club.