The Everyday Guide to Wines of California
Rated

1

out of

5
by
Suziej
from
Mindless background music
I have tried to listen to this and the review of Italian wines. And I have given up. In both of them there is mindless elevator music playing in the background while she is speaking. Quite unnecessary and really annoying.
Date published: 2019-01-13
Rated

5

out of

5
by
POPS3
from
Easy to follow along
Easy to follow along. She uses 6 wines per class, if you cant afford to go out and buy all 6, start with 2 at a time. Ex: French chardonnay vs. American Chardonnay. Then another time try Oaked vs Unoaked, etc..... The course is easy and fun to follow along, with lots of good tips included!
Date published: 2017-07-02
Rated

5

out of

5
by
Kent 21
from
This course is teaching me things about wine that l never knew. Thank you great course for enlightening me.
Date published: 2017-04-10
Rated

5

out of

5
by
frosty70
from
Wines of California
We have been wine tasting for years. We have friends who enjoy traveling through CA wine countries which include Napa, Sonoma, Santa Barbara, Solvang, etc. This course gave me a deeper understanding of how to appreciate wine.
Date published: 2016-12-10
Rated

5

out of

5
by
Reddia
from
A lecture that makes Wine Shine.
This is a very informative lecture. It has a lot of interesting points. I Have taking a course in wine and passed at a class online. But these lectures help me go a step further. The video lecture is great because she goes through the step not just telling you the differences with the wine. Knowing what to look for in the color and comparing them, what to pair the wine with, and what to look for for find that perfect blend. Best advice from me: When watching a lecture and I know it may sound funny is watch it 2x.. I have learned this is helpful especially if it is a video crammed full of information and this one is loaded. The first time watch it all the way through. The flow of enjoying the lecture. Then watch it again for jotting notes and tidbits. I love writing, traveling, food and photography not in that order all the time. But when I watch a movie lecture is that my biggest favorite thing to do comes out Research. I look up the teachers, the wines and where they were made. the places like the restaurant. the different types of making wine. As you can tell loaded with information or leads you down many other things to explore.
Date published: 2016-09-04
Rated

1

out of

5
by
DragonG
from
Hard to take seriously
The instructor is irratating to watch and listen to. The fact that she spews about how great italalian wines are leads me to believe she either doesn't know what she is talking about or has some goofy bias for italy. One wold have to be deaf, dumb and blind to believe the wine from italy is somehow better or on par with France and the US. Don't waste your money on this class
Date published: 2016-03-03
Rated

5

out of

5
by
winedrinkers
from
Everyday guide to wines of California
A great wine course for novice or expert wine drinkers. Jennifer presents the subject in a manner that is both entertaining and educational.
Date published: 2016-01-20
Rated

4

out of

5
by
Bruce Belcher
from
Great Instructor but Poor Value
Jennifer Simonetti Bryan is a great instructor. She has a thorough knowledge of wine, and she is able to present it in a down to earth manner. The course is not a good value because the cost per lecture is about double what the cost is for most Great Courses classes.
Date published: 2015-07-18
Rated

3

out of

5
by
Twyla
from
No book
The material is well thought out, but to get the information down, it needs pausing every minute or so to write down a brand name or a significant detail about wines. If course had a book to go along with it, I would highly recommend the course, but as is, it is only fair.
Date published: 2014-09-13
Rated

5

out of

5
by
Geoperky
from
Ben would be proud
Video download. I purchased these 'lectures' mostly for my daughter (now living in central California) thinking that she might use them as a basis for a wine party, during which the group could watch the lectures and sample the wine, thus defraying costs and giving a great excuse to enjoy wine with friends. Not a connoisseur, but a great fan of wine, I had to get the set for myself...just to learn a little bit more about the differences and similarities of wine from around the world. I was not disappointed. Dr Simonetti-Bryan presents clearly and is well organized. Surprisingly, she seems all-together lucid after tasting so many sips of wine...a true professional. As Benjamin Franklin is alleged to have said: " Wine is proof that God loves us and wants to see us happy." Seeing these video lectures made me happy. (Note: I used a combination of screen capture (of the lectures notes) and power point to print readable lists of the pairing and lecture summaries)
Date published: 2013-10-27
Rated

4

out of

5
by
CanuckBrit
from
Cautionary Note for the Video Download ONLY
Rather than the usual expansive Course Notes this course has a Reference Guide which includes a suggested Wine List from each area covered. This is a concertina-type document with three folds, and includes four "pages" of information on each of its two sides. The catalogue describes it as "slim and portable, it's an ideal companion for shopping and reviewing the material." Unfortunately this Reference Guide has been copied into the downloadable document as only two pages, each showing all four "pages" of the guide, rather than each "page" being scanned separately. While this can be sized appropriately to be read on a computer, when printed off the writing is so small as to render the document virtually useless as "an ideal companion for shopping." Hopefully this major faux pas is soon corrected by The Great Courses. For this reason I cannot give the Video Download version of this course a 5 rating for Overall or Value.
Date published: 2012-12-29
Rated

5

out of

5
by
BTdeCA
from
Infectious Enthusiasm about Wine
As you can tell from my nickname, I am from California. I live on a "romantic" little island in San Francisco Bay; no, not Alcatraz. Instead, I am situated within easy driving distance of all but one of the California wine regions (AVAs). After carefully reviewing Ms. Simonetti-Bryan's original masterwork, The Everyday Guide to Wine, I thought it not possible to improve on the subject; not so. She has outdone herself with this easily absorbed mini-course on California terroir and the resulting world class wines. I am a regular reader of Wine Enthusiast and Wine Spectator magazines. I have enjoyed many writings by Wilfred Wong, Jancis Robinson, Robert Parker, etc. I have attended hundreds of pairings and thousands of tastings and no one or nothing comes close to the generously dense, actionable information in Ms. Simonetti-Bryan's course. I cannot imagine more usable information on California wines being delivered in only 6, thirty-minute lectures. High production values abound, from the new set layout to callouts, CG animations, overlays, sound effects, green screen scenes and transitions. Included with the DVD disc is an absolutely brilliant, 3-fold, 8-page laminated, "take-with" color guide and map; a killer idea, better than the original Cliff's Notes. This little course is a tour de force for Simonett-Bryan and The Teaching Company. From California sparklers to inky Zinfandels and Syrahs, you will be exposed to the "who, how, why, where and when" aspects of the California "wine experience." On a cautionary note; if this is your first exposure to Ms. Simonetti-Bryan, you will be inexorably drawn to much broader, much more comprehensive, much longer TTC course by her, such as "The Everyday Guide to Wine. So, if this course is your initial "toe in the water", er, uh, "toe in the wine", you will undoubtedly follow this course by diving into Simonetti-Bryan's and TTC's more expansive offerings on wine and spirits. Rating this course a 5-star course only shows the paltry power of 5 stars to describe the quality therein. Enjoy!"
Date published: 2012-11-12
Rated

5

out of

5
by
MarkyG
from
Her Best!
I have purchased and very much enjoyed four of Prof S-B's courses (all but "Italy") and this is her best in many obvious and not-so-obvious ways: *Accessible. Since many of us have been to Napa and we've heard of most of these wine-makers, we're able to find more of the wines. Big plus. *Prices and Brands:. She is very clear about what wines cost for some selected brands. You could taste the wines in this course for less $$ than the others. *Quality: Prof S-B is direct about what makes a high quality wine versus a low quality wine. *Grape (not geography) oriented: Because of their emphasis on the geography of wine making regions, I had found the France and Everyday courses hard to absorb. This one is grape focused; the degree to which geography/topography ia addressed is helpful but not overwhelming. She's got some wonderful 3-D geography graphics that really *work.* *Smaller Scope so Less Rushed: She's able to cover the material in more depth, which means it is easier to understand. *Basic wine info. This course covers things I don't remember in the others. Cellaring, for example *Most Comfortable: This is her best lecturing "performance." She seems more comfortable and relaxed with the material than France and Everyday. She does this without sacrificing passion. *Distractions removed: Compared to "Everyday Guide," the wine spitting awkwardness and the stylish but distracting clothing style has been addressed. In sum: *If you gave Prof S-B's other courses a 4* or 5*, I think you'll give this one a 5*, since many issues have improved. *If you haven't gotten any of her wine courses, this is a great place to start - better I think than the "Everyday Guide." *If you're looking for a fun treat, but not sure you're interested in wine, try her "Spirits" course.
Date published: 2012-10-24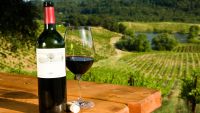 1: California's Superstar Status
What makes California unique among other wine-making regions of the world? How does a French Chardonnay compare with its California counterpart? What's the best way to read a California wine label? What are some general guidelines for opening a wine bottle and tasting in a winery? Find out the answers to these and other questions in this lecture that prepares you for the rest of your journey throu...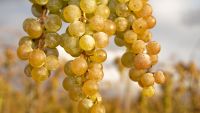 2: Noble Whites-Sauvignon Blanc and Chardonnay
This lecture focuses on two white grape varieties-Sauvignon Blanc and Chardonnay-that are extremely popular and easy to find. Alongside Ms. Simonetti-Bryan, sample some of California's best, including a Fume Blanc by Robert Mondavi and Chardonnays from Sonoma and Napa. Also, get tips on some delicious food-pairing suggestions, the best temperature at which to chill and serve these wines, di...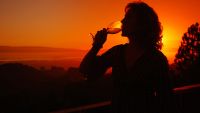 3: Rising Stars-Fragrant Whites and Organic Wines
Explore some of California's most fragrant and exciting new white wine varieties, which yield a variety of aromas and tastes reminiscent of flowers and fruits: a Pinot Gris, a Viognier, and an unoaked Sauvignon Blanc. Then, go beyond tradition (and into somewhat controversial territory) and see how California growers are experimenting with organic wine-wine made from organically farmed grapes with...
4: Elegance in a Glass-Sparklers and Pinot Noir
Turn now to California's sparkling wines and one of its most popular reds: Pinot Noir. These wines not only showcase a more elegant side to California, they're also some of the most versatile food-pairing wines that the state has to offer. Compare and contrast how bubbly wines taste when made using traditional and Charmat methods. Then, explore the tastes, aromas, and finishes of a variety of Pino...
5: Big, Bold Reds-Cabernet Sauvignon and Merlot
Learn everything you need to know about Cabernet Sauvignon and Merlot, which make up approximately 42% of the red grape variety plantings in California. How does a Cabernet Sauvignon stand up to a Bordeaux? What should you look for in a Cab/Merlot blend? How does California's terroir affect its Cabs and Merlots? How do you age a Cabernet, and what does the aging process do to the wine's taste?...
6: California's Secret Red Gems
Conclude your tour of California wines with a look at some of its most interesting reds: a red Zinfandel, a Syrah, a Rhone Valley Syrah, a Petite Sirah, and a Grenache. Also, learn more about the recent trend in California winemaking for creating unique red blends from different grape varieties (you'll also get suggestions for making your own personal blends). These particular wines, you'll soon d...
Jennifer Simonetti-Bryan
Working on each of The Great Courses series has been one of most enjoyable and fulfilling projects in my career. While an easy process, the content, video, filming, and editing teams are some of the most professional I've worked with, they are a complete joy to work with.
INSTITUTION
Institute of Masters of Wine
About Jennifer Simonetti-Bryan
Jennifer Simonetti-Bryan is among a small number of people to have received the highest credentials in the wine and spirits industry. She is one of only a few hundred people in the world to have achieved the Master of Wine (M.W.) title from The Institute of Masters of Wine in London, England-the highest and most difficult title to achieve in the industry. She also has a Professional Certificate in Spirits from the Wine & Spirit Education Trust and is a Certified Specialist of Spirits from the Society of Wine Educators. Ms. Simonetti-Bryan has taught courses for the Wine & Spirit Education Trust, has trained thousands of professionals in the wine and spirits industry, and has judged international spirits and wine competitions, including the Ultimate Beverage Challenge in 2010 and 2011. She has also hosted seminars with Food Network stars such as Rachael Ray, Bobby Flay, and Mario Batali. In 2008, she won the Wiesbaden Tasting Trophy from The Institute of Masters of Wine. Ms. Simonetti-Bryan is a frequent guest on television programs, including Fox Business, Fox News, and Bloomberg TV. Additionally, she has been featured in publications such as Fortune, Wine Enthusiast Magazine, and Wine & Spirits Magazine.