Rated

4

out of

5
by
John from Canada
from
You are in charge of your own pain
There is a sign over the door going out of my doctor's clinic. The exact wording may not be correct, but the message as I remember it from six months ago is right to the point: "When you step outside of this door, YOU are in charge of your health." I think that is exactly what Dr. Bruce is telling her audience. I found this course a little too clinical and seeming to just drag along at times which is the only reason I didn't give it a full five stars. For the most part, however, the message and the ideas for managing chronic pain are bang on. What I took away from this course is that chronic pain will rarely go away, but it can be managed to the extent that it is not on your mind and thus no longer felt for periods of time. I know some participants have expressed annoyance at the stance of Dr. Bruce against a reliance on drugs, particularly opioids, but I think her position is right. From questions raised at Hospital Board meetings, doctors have said time and again that they are caught in a bind by patients who just want the quick fix, the pill which will solve all their problems, and are not interested in doing what it takes to look after themselves. Fortunately my own doctor is of a different mindset; doing everything she can to protect my health with only the most essential of drugs, provided I do my share to look after myself. Personally, I think that the suggestions in the final lecture are the best. Dr. Bruce turns it over to a Mayo Clinic physiotherapist to provide a tightly scripted set of exercises that anyone can do with a bit of effort, and a meditative exercise designed to just get one's mind off any pain that is affecting their lives. Even if only for a short period of time.
Date published: 2021-01-26
Rated

3

out of

5
by
FireAuthor
from
Okay as an Introduction to Pain Management
Of all The Great Courses I have previously viewed in CD format, and there have been over two dozen, this is one of my least favorite. It is very basic but I did learn more about how pain is caused, and the importance of sleep, than I previously knew. I have already been through a pain management program, and did not benefit from information provided about this. I have fortunately avoided taking opiods, and have had no M.D. wanting to prescribe them for me anyway, so have no quibble with the instructor's strong stance against them. I do not touch medical marijuana myself, but agree with another reviewer that the pros and cons of this option as a potential source of pain relief should have been discussed in course material. It was not. The instructor, Barbara Bruce, is definitely knowledgeable in the topic. But, as presented, the information provided is not very robust or advanced.
Date published: 2020-09-23
Rated

5

out of

5
by
Joyful Learner
from
Non-Medicinal Pain Relief Possibilities
We all experience pain at times in our lives. This course deals with the long-lasting kind – chronic pain. We learn more about the difference between acute (duration of less than 3 months) and chronic pain (long lasting) in the early lectures, and we learn that a surprisingly large number of people (one in three adults) suffer from chronic pain. We also find out why certain medications that are often used for intense acute pain (particularly opiates) are not recommended for those experiencing chronic pain. Dr Bruce cites a great deal of evidence and strong arguments to support these claims: The use of opiates for chronic pain is inadvisable because the patient will build tolerance to the opiates, will need to increase the dosages, and there will be downward spiraling in effective treatment of the pain, in addition to the risk of addiction. Chronic pain may be dealt with treatment other than medication or with combination treatment, and she has a toolkit of methods to help cope with one's chronic pain. Dr Bruce, a Pain Psychologist, also offers us encouragement and helpful advice in striving to resume one's "before pain" life, not allowing some existing limitations to define who we are. "We" are NOT our "Pain." Some of the treatments discussed are the use of TENS, acupuncture, massage therapy, Tai Chi, meditation, yoga, breath techniques, and guided imagery. Some reviewers have expressed disappointment that Cannabis wasn't mentioned as a possible treatment for chronic pain. Unfortunately, there have not been adequate studies over a period of time re the efficacy and safety of the use of Cannabis in treatment for chronic pain. This course was released in 2017 – It wasn't until the passage of the Farm Bill in Dec, 2018 that the DEA lifted the prohibition on industrial hemp. There continue to be some murky issues re the legal use of Cannabis (not legal in a few states) and re the regulation and contents of the product. One of the concepts that was new to me, addressed in Lecture 3, was "central sensitization," which encompasses a number of ailments, among them being fibro, restless leg syndrome, interstitial cystitis … numerous others. A lot of people will find some of their issues under this umbrella. Dr Bruce introduces us to the SMART system for goal planning, (Specific, Measurable, Attainable, Relevant, Timetable) which she stresses is important and explains why. Lecture 12 is an interactive treat – Specific physical exercises are demonstrated, and then, the last offering is Dr Bruce leading us in guided imagery. (Loved it!) I thoroughly enjoyed this course. I now have a much better understanding of the subject matter after spending only six hours listening to/watching Dr. Bruce. She was well informed and articulate, likable, warm and compassionate. I thought she was a very effective presenter. There were several lectures that were given, in part, by specialists – one to more fully explain the sensation of pain, one who was able to discuss the effects of medications, and one who elaborated on the use of physical therapy / exercise. I chose the video version for this course. There were some awesome graphics early in the course, but then only occasionally after that, and there were the demonstrations of exercises. Most of the course would be fine in audio, however, for those who prefer that medium. The guide book is impressively comprehensive. . Not only do I highly recommend this course to others, I think it is a very important course that can help those who deal with chronic pain, either directly or indirectly. Following the advice given herein could even help to stem the numbers of opiate-related tragedies we currently face in our nation.
Date published: 2020-07-22
Rated

3

out of

5
by
LifeLongLearner73
from
Mixed results
As a person who has suffered severe chronic pain for decades, I had high expectations for this course. Unfortunately, those expectations were not met. Dr. Bruce's presentation was professional, and careful: not quite boring, but not far from it either. I was hoping for new information on the subject, but can't say I encountered much beyond a point or two. I have to qualify that, because I have done much prior research myself, looking for answers to my particular situation. I do recommend this course for people that are new to, or uninformed regarding chronic pain, because there is a lot of good information contained within. If you are knowledgeable about the subject; then maybe not.
Date published: 2020-06-24
Rated

5

out of

5
by
SandyRS
from
A very informative and engaged presentation
Good coVerage and straight talk from a compassionate pro.
Date published: 2019-08-22
Rated

5

out of

5
by
Pat70
from
Dr.Bruce excellent presentation of course material
Date published: 2019-06-06
Rated

4

out of

5
by
Bill D
from
Presents some very helpful information to help my arthritis in the hip joints.
Date published: 2019-04-19
Rated

2

out of

5
by
Dr Glenn
from
Very good presenter, but very basic.
While the course was aptly presented, I was disappointed that progressive and well established methods of pain control were not addressed. To me the six hours that i devoted was a waste of time. I'm a natural health doctor and was curious if the Mayo Clinic had anything new to reveal, but to my dismay this course didn't offer anything of real value. There are many efficacious modalities that work extremely well that are backed by scientific and empirical data that were not mentioned. It's too bad, this could have been a valuable course.
Date published: 2019-04-03
1: Why Pain Matters
One out of every three people suffers from chronic pain-pain that either never goes away or returns again and again. Although pain is a universal experience, there are ways you can manage pain effectively - and live an enjoyable and fulfilling life. Learn from case studies of people who have dealt with chronic pain and how their experiences may help you.<
2: What Is Pain?
The latest neurological research reveals that the brain's physical, emotional, and cognition centers all play significant roles in our perception of pain. The fascinating neurology of pain reveals why the most effective pain-control programs address the body, the mind, and the body-mind interaction.
3: Common Causes of Chronic Pain
Many conditions can lead to chronic pain, but one more recently discovered cause is central sensitization. This syndrome is caused by dysregulation of the spinal cord, the brain's thalamus, hypothalamus, and amygdala, and alterations in how pain is experienced. Central sensitization is thought to be the underlying cause of fibromyalgia, chronic fatigue syndrome, and more.
4: Medication for Chronic Pain: Why and Why Not
What are the short-term benefits and the long-term risks of using anti-inflammatories, analgesics, opioids, antidepressants, anticonvulsants, and other pharmacological treatments for chronic pain? Learn when drugs can be helpful and when it's time to address the bigger goal of successfully managing chronic pain-and managing life-without them.
5: How Exercise Helps with Chronic Pain
Study after study has shown that exercise releases endorphins, improves blood flow to the brain, reduces fatigue, improves sleep quality, and even helps build emotional resilience. But what's the most significant issue in developing an appropriate exercise program for a person with chronic pain? Moderation. Moderation. And more moderation. Learn why.
6: Manage Your Stress to Manage Your Pain
No matter its cause, stress signals your body to release cortisol-its primary fight-or-flight hormone-which increases your perception of pain, causes more stress, and even doubles the symptoms of pain that you experience. Learn how to break this cycle by identifying and reducing the real stressors in your life and adopting new behaviors that reduce stress and pain.
7: Social Support for Pain Management
Medical research consistently shows that people with rich social support networks are healthier in almost every way. But you might be surprised to learn what type of social support doctors have found most helpful for those with chronic pain, and who benefits. Learn how to initiate, develop, and nurture these significant relationships.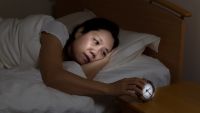 8: How to Sleep When You Have Pain
People with chronic pain are more likely to have sleep problems that impact their daily lives and are three times more likely to be diagnosed with a sleep disorder. Recent research reveals many complex relationships between pain and sleep-and the best ways to get the sleep needed to lessen stress and pain.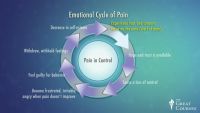 9: The Vicious Cycle of Pain and Mood
Symptoms of chronic pain are rarely stable, leading to good days and bad days - and unpredictable changes in mood. It's impossible to completely disentangle chronic pain from mood, especially since the emotions and pain that you feel travel along the same nerve pathways through your body. But help is available for mood disorders, and you can learn how to minimize their impact on your life.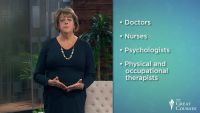 10: Building a Pain Management Team
Do you wish you had one person to lead your health care team? One person to coordinate, explain, and integrate information from your other doctors-to explain all your options and develop the best possible pain-management plan for you? You do. Learn why your primary care physician is almost always best for the job.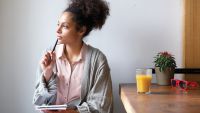 11: Creating a Pain Management Plan
Use everything you've learned in the first 10 lectures of this course to create your own effective pain management plan - one that meets your personal goals and identifies the lifestyle interventions that are most appropriate for you in the areas of exercise, stress reduction, social support, improved sleep, and emotional health.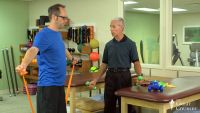 12: Active Sessions: Exercise and Relaxation
Begin two aspects of your pain management plan right now. Let experts gently guide you through physical exercise and meditation practices that will start you on your journey. Learn how to calm your busy mind and improve your chances of directing it where you want it to go-toward relaxation and comfort.
Barbara K. Bruce
Everyone agrees that pain is a universal human experience, but not everyone knows what to do about it.
ALMA MATER
Louisiana State University
About Barbara K. Bruce
Barbara K. Bruce, Ph.D., L.P., is a clinical health psychologist in the Mayo Clinic Department of Psychiatry and Psychology, and Associate Professor of Psychology at the Mayo Clinic College of Science and Medicine, Mayo Clinic. She holds a Ph.D. in Clinical Psychology from Louisiana State University in Baton Rouge, where she also earned her Bachelor's Degree in Psychology. In addition, she holds a Master's Degree in Physiological Psychology from the University of New Orleans.
Dr. Bruce has spent her entire career in the field of pain management. She served as Clinical Director of the Mayo Clinic Pain Rehabilitation Center Program in Rochester, MN, where she also led the development of the Mayo Clinic Pediatric Pain Rehabilitation Program. She is currently located at Mayo Clinic in Jacksonville, FL, where she has developed and currently leads its fibromyalgia and chronic abdominal pain treatment programs.
Dr. Bruce is widely published in scholarly journals addressing issues of pain management, including The Clinical Journal of Pain, Clinical Pediatrics, Mayo Clinic Proceedings, and Journal of Pediatric Psychology. Her research interests include the effective treatment for chronic benign pain and cancer pain, controversial use of maintenance opioid therapy in chronic non-cancer pain, and understanding the role of multidisciplinary psychosocial factors in treatment.