Rated

4

out of

5
by
ConsciousClay
from
Great lectures
The good: - The ideas are presented clearly and in a lively narrative. - The videography never bores and the lectures' setting is stimulating. The bad: - The coursebook could have been better. It's merely a verbatim transcription of what's said in the lectures. As a consequence, the ideas as read don't quite have the same effect as they do when heard as spoken narrative. Also, there are many terms used which lack any explanation. I was forced to look up these terms just so I could understand the basic meaning of the text. Lastly, there are many typos (which is just annoying).
Date published: 2021-02-09
Rated

5

out of

5
by
Susan 2021
from
Engaging, fascinating, worthwhile
Dr. Liulevicius presents the information very clearly and makes it enjoyable to watch and listen to his lectures. I am pleased to have bought this class, it is my first one from The Great Courses. Recommended!
Date published: 2021-02-07
Rated

5

out of

5
by
Maciej
from
Chekhovesque mastepriece
This is top quality style of narration. Visuals are well prepared and esthetically adequate and tasty. The material looks concise at first sight but it happen to be really caloric in terms of knowledge, facts and details. Some says that Chkhov was a master of small form literature. Analogically Professor seems to be a master of small form lectures. Chapeau bas!!!
Date published: 2021-01-30
Rated

5

out of

5
by
Mr Dan
from
Informative
This course provided an incredible amount of information. The professor delivers the information in a clear and interesting manner. Hard to imagine a better presentation.
Date published: 2020-12-31
Rated

5

out of

5
by
BGZRedix
from
Fascinating and Superbly Taught
This is an excellent course in all respects. The subject is fascinating, and of course crucial for an understanding of world history. Professor Liulevicius does a superb job teaching it. He is thoroughly knowledgeable, remarkably organized, and eloquent, and a pleasure to listen to. I had no problem maintaining focus throughout. And it is not at all biased. I took the video, but audio would be fine. The Course Guidebook should have been longer, but is well done for what is there. This may be my shortest review in 10 years. There is little else to say. - If you have any interest in the subject, or in history in general, this course has my highest recommendation.
Date published: 2020-12-16
Rated

5

out of

5
by
gharmjo
from
Marxism: All Work and No Pay?
If all of the college courses were this good, parents would gladly foot the bill. This major work is brilliant, balanced, and compassionate. The few negative reviews that claim "bias" produce no evidence for their position. Marx's worldview was based on economics & I took this course to hear what his economic alternatives were. Certainly, capitalism has built a massive US economy. Yet over the last 30 years, we have three disturbing trends: addictive consumerism that has emptied the population's savings, the rise of billionaires, and the centralization of money. 1. Consumerism impoverishes via creating unnecessary want & destroys savings. 2. The only way to get a billion is to master consumerism with you at the receiving end. This has created a contemptible wealth skew between the ultra-rich and the rest – much like the Tsars in pre-Communist Russia. 3. The expansion of gov't centralizes much of the remaining non-billionaire money. So is Marx's: "From each according to his ability, to each according to his needs" without billionaires or a central gov't (L3) a way out? Marx's ideas are nothing like I hear from self-styled Marxist utopians. L5: "He was emphatically not a liberal." In L4, we see the extent of Marx's single-mindedness as his children died from want while he spent his days in the library, refusing to provide. Hardly the stuff of "…to each according to his needs." His viewpoint was ECONOMIC and his concern was gathering Workers for his economic machine. They and only they were "worthy". He despised the 'lumpenproletariat' ("the poor, unemployed, criminals, and dropouts", L2). Marx and the utopians did agree that law, morality, and ideas were merely evanescent superstructure, violently changeable to suite the Workers' whim. By inverting law as the basis of economic superstructure into Worker economics as the basis for an ever-changing "thought correctness" superstructure, many of its fervent promoters' thoughts would soon be found contemptible (L12 & others). The course first defines 'socialism' (cooperative public control of property) and 'communism' (abolition of ALL private property – L3, Das Kapital). Then he highly develops 3 (of 5) Marxism's self-contradictions: 1. Workers were to be faceless cogs at the base of the world economy, yet Marx and Engels "worked in a disclaimer" for themselves as did Lenin (L9), Stalin (L12), etc; 2. Marxism often uses nationalism instead of destroying it (L12); 3. Marxism has repeatedly evolved (L2) from "the science of revolution", to enforced tradition, to what some identify as a "secular-religion". Lenin's (L12) and other communist's mummies are its cult objects. The second 1/2 of the course concentrates on Lenin. Like Marx, Lenin despised liberalism. He (L7) was enraged over the execution of his brother (for plotting to assassinate Tsar Alexander III). Militant in lifestyle, Lenin was so cold that he would not listen to music for fear of sentimentality. He was a machine with an anti-social personality (Ex.: his inhumane comments on the 1892 Volga region famine, rigid intolerance of other's views, gulags, et al). He was extremely politically clever. He invented the "falsehood is truth" art of PC when his party retained the Bolshevik (meaning "majority") name for themselves while casting off what Lenin termed the Menshevik (meaning "minority") majority party. Given an exhausted Russia, Lenin (wearing wigs) escaped a failed July '17 revolution but, with Trotsky, succeeded to take Petrograd's Winter Palace in October '17. The Mensheviks walked out in protest and it was all over. Unorthodoxically, this "Marxist" state did not wither (L9): it reorganized & centralization increased; the workers did not want unity: the Cheka torture cells required it; good wages did not prevail: starvation did; prisons did not disappear: concentration camps appeared and became gulags, happiness did not reign: 9-14 million died in civil wars and then the Red Terror began. Does this course matter today? Perhaps it is enough to consider that (L8) the ultimately failed Communist Russia began with 8 'religiously devoted' people fanning the flames of "injustice" OR that (L4) The Paris Commune's efforts to choke gov't association with religion & topple statues sound pretty familiar OR that (L5) the "worker" (ie: a faceless economic unit in Marxian economics) could own no property nor have a country NOR could Marx ever spell out how the unit would be paid beyond centralized bureaucratic whim OR that (L7) Russian self-criticism for failing PC ("samokritika") - is required at US university OR that (L12) Russian Communists separated of state & church - then "tolerated it" via persecution OR that (L11) John Reed (author & a founder of American communism) was buried in the Kremlin wall of failed Communist Russia – he, amusingly, hailed from Portland, Oregon. SUMMARY: Are these parallels a sign of our pending salvation from economic inequity? One should strongly consider this course & form an opinion for him/her self. The above is the barest of outlines of this course. L10 on Rosa Luxemburg is alone worth the purchase. As others had said, Liulevicius provides more in these 12 lectures than most in 24. At the end of the course, he promised two additional courses. They certainly would be spectacular.
Date published: 2020-11-24
Rated

5

out of

5
by
Fan8k
from
For customers who want a serious academic presentation of this history, this is your course. But what is so impressive about this course is that it is also a pleasure to listen to. I've listened to this entire course all the way through twice and expect to do so again. This course is perfect, and I am so excited for the release of the next course in the series. (This is part one of a three-part series on the history of communism, all taught by Prof L.) For what it's worth, I have a master's degree in history and, as an undergraduate, presented a research paper on the Bolsheviks.
Date published: 2020-10-24
Rated

5

out of

5
by
Mad Who
from
Excellence
The delivery is spell binding and with the critical element of disinterest. Facts speak for themselves. I am very much awaiting additional lectures. The same is true of 'The History of Eastern Europe'. Which is critical to placing these lectures in fuller historical context. Professor Vejas Gabriel Liulevicius, Ph.D. University of Tennessee Clearly odds are the good prof's family did not go through Elis Island. Wonderful last name. But how many people can actually say it?
Date published: 2020-10-23
1: The Locomotive of History
Come to see Lenin's arrival at Petrograd's Finland Station in April 1917 as one of the most important turning points in modern history: the establishment of a communist regime after decades of theory. Also, preview the themes you'll explore in these lectures, and get solid definitions of terms such as communism and socialism.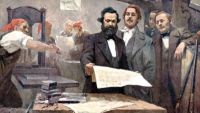 2: Marx and Engels: An Intellectual Partnership
The revolutionary ideas of Karl Marx and Friedrich Engels would rock society—and soon affect the lives of millions of people. Here, explore their body of theory (known as "dialectical materialism") and learn how Marxism offered something different: a tableau of history with starring roles played by the toiling masses and economic forces.
3: The Communist Manifesto and Das Kapital
First, unpack the meaning of the revolutionary messages in The Communist Manifesto and Das Kapital. Then, use a basic vocabulary of Marxist concepts to better understand Marx's model of history and economics. Last, examine how the revolutionary lives of Marx and Engels sought to unify theory with practice.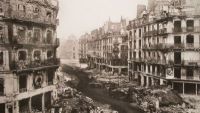 4: The 1871 Paris Commune as a Model of Revolt
Investigate the violent upheaval of the Paris Commune in 1871: a political experiment that lasted a mere 10 weeks. The Paris Commune would make Marx one of the most feared and hated men in the world; although it failed, Marx considered it a living example of the "dictatorship of the proletariat."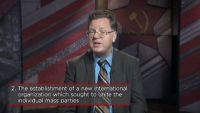 5: Marxism after Marx
In the decades following the death of Marx in 1883, the socialist movement grew—but also became highly factional over arguments about theory and organizational tactics. In this lecture, learn about the rise of political parties in Germany and America, the establishment of the Second International, and the struggle over "revisionism."
6: Revolutionary Russias
Why did a Marxist regime come to power in Russia of all places—especially when Marx considered it an unpromising place for a proletarian revolution? Professor Liulevicius tackles this question and also probes Russia's revolutionary tradition and the ideas of Georgi Plekhanov, the figure who did the most to bring Marx's teachings to Russia.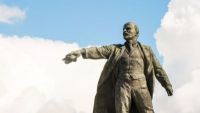 7: The Making of Lenin
Take a detailed look at the life of Lenin, whose ideas and actions propelled him to become the first man to bring communist theory into power in 1917. Here, focus on Lenin's hardness in the face of the 1891¬¬-1892 famine, his manifesto What Is to Be Done?, and the Bolshevik and Menshevik factions.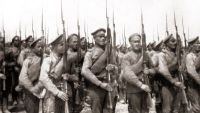 8: World War I as a Revolutionary Opportunity
With the outbreak of the First World War, Lenin—who called war an "accelerator of history"—had the world crisis he could turn to his advantage. Topics here include Marxist debates over the philosophies of defensism vs. defeatism, the arrival of Leon Trotsky and his theory of "permanent revolution," and the widening rift between socialists and communists.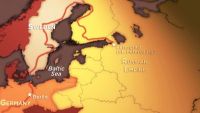 9: Red October: How the Bolsheviks Seized Power
The Bolsheviks seized power in October 1917, a moment that would be celebrated afterward as Red October, or the Great October Socialist Revolution. Here, examine the formula for success behind the Bolshevik takeover, the mythologizing of Red October in film and music, and the dawn of a new secret police force: the Cheka.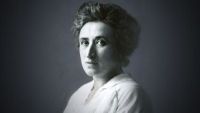 10: Rosa Luxemburg: A Revolutionary Martyr
Spend time with one of the most famous women radicals in history: the Polish-German socialist Rosa Luxemburg. Follow her revolutionary activities throughout Switzerland, Poland, and Germany; her support of spontaneous revolt over centralized conspiracy; her struggles with the ambiguities of revolutionary devotion; and her ultimate martyrdom.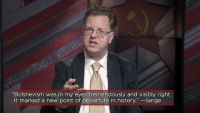 11: The Red Bridge to World Revolution
How does a revolutionary regime build a bridge to world revolution? After a look at the Third International, or "Comintern," created in 1919 to spread the message of global revolution, explore failed attempts at sovietizing Hungary and Bavaria and the Soviet-Polish War of 1920, which dashed remaining hopes for linking up with Germany.
12: Toward a New Communist Civilization
Follow the trajectory of Bolshevik social experiments to inaugurate a new civilization up through the death of Lenin in 1924. You'll learn about Lenin's "monumental propaganda" plan, which changed the appearance of Russia; the nationalist program of "putting down roots"; party recruitment drives and purges; and even the mummification of Lenin's body.
Vejas Gabriel Liulevicius
Modernity is a notoriously slippery concept, because, obviously, what is modern now will soon become the past, as time marches relentlessly forward.
ALMA MATER
University of Pennsylvania
INSTITUTION
University of Tennessee
About Vejas Gabriel Liulevicius
Dr. Vejas Gabriel Liulevicius is Lindsay Young Professor of History and Director of the Center for the Study of War and Society at the University of Tennessee, Knoxville. He earned his B.A. from the University of Chicago and his Ph.D. from the University of Pennsylvania. After receiving his doctorate, Dr. Liulevicius served as a postdoctoral research fellow at the Hoover Institution on War, Revolution, and Peace at Stanford University. Professor Liulevicius has won many awards and honors, including the University of Tennessee's Excellence in Teaching Award and a National Endowment for the Humanities Fellowship. At the university he teaches courses on modern German history, Western civilization, European diplomatic history, Nazi Germany, World War I, war and culture, 20th-century Europe, nationalism, and utopian thought. Dr. Liulevicius has published numerous articles and two books: War Land on the Eastern Front: Culture, National Identity, and German Occupation in World War I and The German Myth of the East, 1800 to the Present.
Professor Liulevicius participated in The Great Courses Professor Chat series. Read the chat to learn more about diplomacy and war