Rated

5

out of

5
by
claudia5
from
Worthwhile Class!
I especially appreciate Dr. Bauer's willingness to share both pros and cons of a wide variety of wellness practices and complementary treatments. His presentation was focused, accessible, and enjoyable.
Date published: 2021-05-02
Rated

1

out of

5
by
KHunter
from
Great talk, but no go.
I am an integrative medicine doctor, and this gives a great overview, but the lecturer is an MD (medical dr- allopathic). It clearly shows that the dr actually doesn't even practice what he lectures on. His mere size and inflammatory look says it all. How can you passionately teach something and not practice it? The course is a disappointment as it gives only a very broad overview (doesn't even really touch on the subjects), just explains around it. I signed up thinking this is wonderful. After reviewing 2 courses I am ready to cancel my membership.
Date published: 2021-02-18
Rated

5

out of

5
by
Gaia
from
A great course!
I think it's fantastic that clinics like the Mayo clinic are taking such a strong interest in complementary therapies. It's great to see science catching up with ancient medical techniques by carrying out proper clinical, and much needed, trials. I really enjoyed this course. Very informative. An excellent resource to quote from if your doctor is still sceptical about certain complementary therapies, as sadly many still are, and hasn't bothered to do any research.
Date published: 2020-05-29
Rated

4

out of

5
by
Knowledge Hound
from
Not a Great Use of Time
I have completed well over 100 of the Great Courses. I almost always come away feeling that the time invested in watching them was well worth while. Not so with this course. Dr. Bauer is personable and easy to listen to, and he is certainly well informed about the various aspects of supplementary treatments and activities. He does an admirable job of explaining what can be undertaken to improve one's health, and encourages consultation with your primary health care provider in many cases. Research findings are presented to support the activities, showing the benefits of them. Unfortunately, there is a lot of repetition in his discourse, as well as in the images that are used. The course also seems to have a secondary agenda of laying accolades on the Mayo Clinic Integrative Medicine and Health unit, which isn't particularly useful when one doesn't live anywhere near it. That said, though, it does provide a good foundation for the ideas he presents. I recommend the course because of the breadth of information it provides, but caution the viewer that for many there may not be a strong correlation between the time spent watching and the benefits from it. As a final comment, Kanopy streaming service offers about 100 Great Courses through our library, which is how I watched this course. My compliments to The Great Courses for supporting this service!
Date published: 2019-08-07
Rated

5

out of

5
by
Betty18
from
Very accessible and motivational health informatio
Much of what is on this program is very basic information; however, the presenter is upbeat in his delivery and encourages the listener to consider the interconnectedness of aspects of health
Date published: 2019-04-11
Rated

5

out of

5
by
LisaL97
from
Relevant content
I have always been interested in learning more about I refractive medicine and this course did not disappoint! I learned a tremendous amount, took notes and actually tried some new things, like meditation. And it helped! I enjoyed the easy manner of Dr. Bauer. He was a great lecturer. Loved this course.
Date published: 2018-09-16
Rated

1

out of

5
by
MDIC
from
Not much science
The bulk of this program is the author explaining why you should involve your western doctor in any integrative medicine. I haven't found many western doctors open to this. There is a much better alternative course with a great deal more science.
Date published: 2018-03-08
Rated

5

out of

5
by
Tiger
from
new options for healthy living
This is a brief introduction to Complementary or Integrative Medicine. Basically, it's all about creating wellness and relaxing the mind/body/spirit. If you ask me, it's short and interesting, sprinkled with practical advice. Keep in mind that it's more of a gentle introduction rather than a hefty, in-depth survey. Nevertheless, it was an enjoyable 12-lecture tour. I'm not exactly a touchy-feely, spiritual kind of person, so I'm not entirely sold on a number of approaches introduced here, e.g. hypnotherapy. But I am looking to live a healthier, less stressful life. And all of these approaches to healthy living build a foundation through NESS (nutrition, exercise, stress management, social networking). That's the ultimate focus here. While a few topics were not exactly new because I learned about them in other TGC courses, I did in fact pick up a few things along the way. What works? For me, Guided Imagery and Progressive Muscle Relaxation worked wonders. I liked that all of the therapies and interventions were noted with references to studies regarding their effectiveness (or when lacking or just showing promise). At least all of these topics provide a solid baseline for common knowledge when you read about them in the news or hear others talking about various herbs and supplements, etc. I'll look into following up on works cited in the Bibliography. Looks comprehensive. The set was sharp and I really enjoyed the course with Dr Bauer. He's easygoing and trustworthy. And he didn't walk around too much.
Date published: 2018-01-23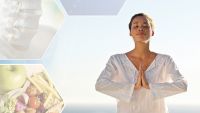 1: Complementary and Integrative Medicine
Explore the history of alternative approaches to care that have evolved into integrative therapies still in use today. The discussion begins with research investigating how nutrition, exercise, stress management, and social support (NESS) positively affected men diagnosed with prostate cancer. You'll understand why some doctors may still have questions about integrative practices, while others fir...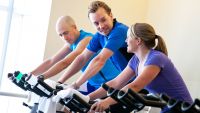 2: Making the Case for Integrative Medicine
Review the science behind the benefits of healthy habits, including eating well, exercising regularly, and getting enough sleep. Discover the multitude of positive impacts these habits can have on your mind, body, and overall wellness. Get tips to easily integrate simple changes into your daily routines....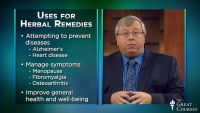 3: Herbal Supplements
Delve into the world of herbal supplements to understand the pros and cons of adding them to your health-care regimen. Get a handle on why no herbal supplement is necessarily "good" or "bad," and learn why it is so important to use supplements responsibly, with your doctor's input and guidance....
4: Supplements in Practice
Take a deeper dive into some of the most common supplements, and find out which ones Dr. Bauer recommends and uses in his own practice. Understand why he'll sometimes suggest treatments even when they haven't been definitively proven to be widely effective, or have produced mixed results....
5: Mind-Body Medicine
Examine the phenomenon of the mind-body connection to see how you can positively influence your mind in order to improve your body. This area of research is opening the door to new ways of thinking about and approaching various healing techniques. Dr. Bauer shares the latest findings and examples....
6: Guided Imagery, Hypnosis, and Spirituality
Focusing your mind has been known to help alleviate pain, symptoms of illness, and side effects of medications, and even to aid in changing negative behaviors. Dr. Bauer takes you through three practices-guided imagery, hypnotherapy, and spirituality-to demonstrate how these methods can be used in conjunction with Western medicine....
7: Practicing Meditation
Taking the mindful approach a step further, Dr. Bauer provides you with an insightful examination of meditation. In addition to reviewing the multitude of benefits that meditation can provide as both a coping strategy and a preventive measure, Dr. Bauer walks you through a number of steps you can take to help establish a successful meditation session so you can make the most of this practice....
8: Moving Meditation: Yoga, Tai Chi, and Qi Gong
Often grouped together with other mindful practices, Dr. Bauer dedicates an entire lecture to moving meditation, including yoga, tai chi, and qi gong. Although these methods have existed for thousands of years, the scientific benefits of integrating these practices into modern Western healing have just recently begun to emerge. Dr. Bauer reviews this research and provides examples of how these tec...
9: Relaxation Therapies
Superficially, relaxation therapies seem easy, but Dr. Bauer points out that to really get the maximum health benefits, you have to fully immerse yourself in these practices, and doing so can be challenging at first. He guides you through the process, noting the many mental and physical advantages that come with true relaxation. Once you've mastered it, relaxation will become second nature....
10: Effective Acupuncture
"Does acupuncture work?" is a question that's often met with controversy. Dr. Bauer discusses scientific evidence that demonstrates both the effectiveness of this technique and the medical conditions it has been known to help alleviate. He also provides valuable tips to help you prepare yourself and make the most out of each acupuncture session....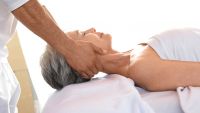 11: Massage Therapy and Spinal Manipulation
Many people appreciate a good massage, yet few really grasp the science behind how effectively it can help with healing. Based on ancient principals such as acupressure, Dr. Bauer illustrates how this practice is more than just a back rub and, when done properly, can have long-lasting effects that go beyond the session....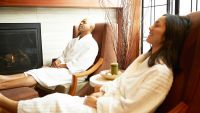 12: Living Well
Throughout the course, Dr. Bauer offers suggestions on how to approach the topic of integrative medicine with your doctor. He also touches on new integrative strategies that are being researched. By the end of this lecture, you'll be equipped with a variety of options for how to create a comprehensive wellness program that can positively affect your mental and physical health for years to come....
Brent A. Bauer
There has been a shift of focus toward wellness and preventative medicine in medicine today, and this is where complementary practices can play a huge role.
ALMA MATER
Mayo Graduate School of Medicine, Mayo Clinic College of Medicine
INSTITUTION
Director of the Mayo Clinic Complementary and Integrative Medicine Program
About Brent A. Bauer
Brent A. Bauer, M.D., is board-certified in internal medicine, a Professor of Medicine, and the director of the Complementary and Integrative Medicine Program at Mayo Clinic, where he has been on staff for 24 years. His main research interest has been the scientific evaluation of integrative medicine therapies, which patients and consumers are using with increasing frequency. Dr. Bauer's work is at the forefront of the emerging field of integrative medicine, which combines the best of conventional medicine with the best of evidence-based complementary therapies. Dr. Bauer has written several book chapters and more than 100 papers on integrative therapies, and he is the medical editor of Mayo Clinic Book of Alternative Medicine. He is a member of numerous scientific review panels and is currently collaborating on more than 20 studies being conducted at Mayo Clinic. He is the medical director of Rejuvenate, the first spa at Mayo Clinic, and of the Well Living Lab, a collaboration between Delos and the Mayo Clinic Center for Innovation.