Rated

2

out of

5
by
Ana Michel
from
Boring with little value past the common sense
As some other reviewers mentioned, this should be titled Emergency Management. For an ordinary person there is little of value in watching the whole course. I fell asleep during most of the lectures, even those on fires and earthquakes. I learned almost nothing new, and I don't know much about what to do in a disaster besides the common knowledge. Most of the advice was along the lines of "Hopefully you have your go-bag packed - evacuate.
Date published: 2021-02-15
Rated

1

out of

5
by
MasterYH
from
Very boring presentation of common sense
I have watched 80+ great courses and this is a remarkably lackluster presentation. This course would be improved if it had more survival skills like how to purify water, start fire, build emergency shelter, etc. and reduce coverage of boring materials like disaster agencies like FEMA, and all the other responder related jargons. Only lifesaving skill given due consideration was CPR and Heimlich maneuver, which was disappointing. Active Shooting lecture was a downer too. I was hoping to learn so much more. The presenter is a Criminal Justice professor and teaches one course on "emergency management", and that's what the content is mostly about. This course is better titled "Emergency Management: Overview of the Disaster Response System in the USA." But that would be boring, wouldn't it? The marketing department named the course sexy, but the content doesn't really match up to its current title.
Date published: 2021-01-12
Rated

4

out of

5
by
Ralph56
from
Good overview of emergency preparedness
Good presentation of considerations necessary to prepare for a variety of disasters.
Date published: 2020-12-08
Rated

4

out of

5
by
Ruodrik
from
SOLID COURSE
I thought this was a good review and the professor did provide a lot of useful info. There could have been a little more in how to prepare.
Date published: 2020-11-05
Rated

3

out of

5
by
Cousindrew
from
Solid, If Unremarkable, Course
Prof. Owen's offers through this course an exhaustive primer on what to do in a long list of disaster scenarios. Much of this information is already well-known, either through governmental or media sources or is simple common sense, but there is also relevant, important advice that is less well-known, and which makes the course worthwhile. For my purposes, the first ten lectures, which focus on what to do in specific disaster situations, were far more useful than the last four, which explored the disaster response infrastructure at the local, state, and federal level. This latter information is certainly important, but two hours was more than enough on this subject matter. Prof. Owen has a steady, earnest way that makes him a generally effective (although certainly not dynamic) lecturer. All in all, I found the course of value, but I was glad when I reached the end of the final lecture.
Date published: 2020-11-01
Rated

5

out of

5
by
CMLN
from
Detailed and thorough
I had little knowledge of disaster preparedness, I just wanted to keep my family safe. This is very detailed and informative. I can now tailor our plan to us and our geographic and urban location. I highly recommend this course.
Date published: 2020-09-07
Rated

5

out of

5
by
AndyFM
from
Excellent and I highly endorse this course
I live in the San Francisco Bay Area of California. I have been on the Emergency Response Team (ERT) at work for 15 years, CERT in my community for over 8 years. I am also actively involved in emergency communications as a volunteer (ARES/RACES) for both the city and county for over 8 years. In California we are at risk for Earthquakes, Wildfire and floods to mention a few. This course provided training that was consistent with the CERT, ERT and FEMA training I have received over the years. This course provided additional background that I have not received in training elsewhere. Case in point. This class discusses putting together a "Disaster Planning List" based on City and County "THIRA Hazard Lists". I only learned this as a result of this course and was able to better prepare for emergencies as a result. I highly endorse this course.
Date published: 2020-08-27
Rated

1

out of

5
by
Charlotte2020
from
Useless!
This course is absolutelly useless. The professor is just listing disasters and telling (in a very boring manner) how horrible they were. Zero valuble information on how to prepare for any crisis. Do not waste your money! The course is really bad and the professor is extremely boring. Who knows why a person without any suitable background is teaching a course like this one.
Date published: 2020-06-15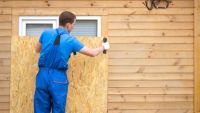 1: How Prepared Are You for a Disaster?
Welcome to your journey of preparedness! Begin your course with a self-assessment. Explore the different types of disasters and reflect on your baseline. Do you know the hazards around you on a regular basis? Do you have plans for shelter or evacuation? What about communication?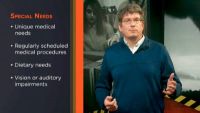 2: Developing a Preparedness Plan
After reviewing a few basic concepts—such as the difference between an emergency, a disaster, and a catastrophe—Professor Owen walks you through the fundamentals of a good preparedness plan. From identifying risks around you to building physical and digital "go kits," you are on your way.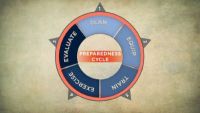 3: Identifying Hazards and Responses
Prevent, protect, mitigate, respond, recover: This simple framework is a way of thinking, designed around FEMA's National Preparedness Goal, a recipe for identifying and preparing for potential hazards. From here, the next step is to equip yourself and establish a few practices that will serve you if—or when—disaster strikes.
4: Making Decisions in a Disaster
Decision-making is a critical component of surviving a disaster. In an emergency situation, your mind won't operate like it does in day-to-day life, which is why preparation and planning are so critical. Here, learn to size up emergency situations, guard against "normalcy bias," and act appropriately under stressful circumstances.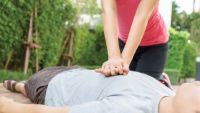 5: Essential Lifesaving Skills
Knowing the basics of CPR, first aid, fire extinguishers, and more, might one day save a life—yours or that of someone around you. Take a look at some of the practical skills you would be wise to develop, from operating an AED to shutting off utilities. See where you should look for more comprehensive hands-on training.
6: What to Do in a Fire
A fire is one of the most common disasters you might encounter, and one for which you can readily prepare. Learn the basics of fire safety, from developing a home fire safety plan to specific things you can do to reduce your risk of fire in the home. This lecture also shows you the fundamentals of how fires work, including flashovers and backdrafts.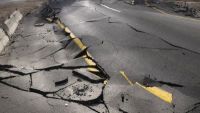 7: When the Earth Shakes or Opens
Depending on where you live, earthquakes may pose a serious threat to your life or property, and what makes them so frightening is they can strike without warning. Learn how best to stay safe during and after an earthquake. Then consider two other geologic hazards—volcanos and sinkholes.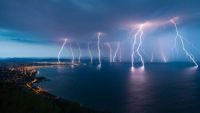 8: Surviving Hurricanes and Other Storms
Take a crash course in some of the more common weather hazards, from hurricanes and tornadoes to floods and blizzards. We will all experience extreme weather at some point, and this lecture arms you with information about the dynamics of weather systems as well as precautionary measures you can and should take.
9: Coping in an Active Shooter Situation
We might associate the word "disaster" with accidents or environmental hazards, but it can also include human-created activity, particularly violence. Active shooter situations are all too common, so preparation is crucial. Here, you will learn about situational awareness and the "run, fight, hide" response.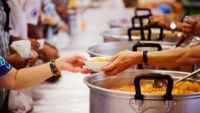 10: Helping Others in a Disaster
Shift your attention from specific types of disasters to the way communities respond. As you will find out in this lecture, one "emergent behavior" following a disaster is a sense of community bonding and altruism. Examine a few of the ways you can help after a disaster, from volunteering to donations.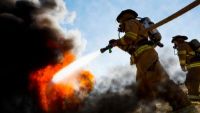 11: First Responders and How They Work
In this first lecture of three lectures on community infrastructure, you will review some of the public safety issues typical to many places, as well as how first responders operate within the community. Popular media often mischaracterize the roles of police, firefighters, and emergency medical services, so take a real-world look at what these organizations do in urgent situations.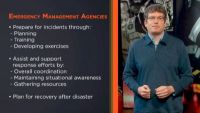 12: The First Responders Many Never See
Police and firefighters may be on the visible front lines of a disaster scene, but communities require numerous individuals and agencies in order to respond effectively and recover. From scientists researching risks to public works departments or public health officials coordinating recovery, uncover society's hidden responders.
13: How Disaster Response Is Coordinated
Delve into the fascinating world of incident command. In the wake of 9/11 and Hurricane Katrina, federal government officials saw the need for coordination among many players in an emergency. The Incident Command System (ICS) is a set of common languages and procedures that can help us all do our best during and after a disaster.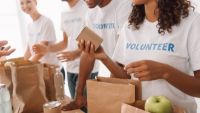 14: The Challenges of Disaster Recovery
When disasters strike, urgency pervades as individuals, emergency personnel, and local governments work to respond. But what happens after the crisis has passed? In this final lecture, consider the short- and long-term effects a disaster may have for individuals and communities.
Stephen Owen
I will show you the essentials of disaster preparedness as we draw lessons from calamities that have affected big cities and small towns across the United States.
ALMA MATER
University of Missouri–St. Louis
INSTITUTION
Radford University
About Stephen Owen
Stephen Owen is a Professor of Criminal Justice at Radford University. He earned his PhD in Political Science from the University of Missouri–St. Louis (UMSL). He also holds a BS in Criminal Justice from Southeast Missouri State University and an MA in Political Science from UMSL. His studies focused on the links between criminal justice, public policy, public administration, and urban affairs. Professor Owen has also collaborated with the professional emergency management community, including as chair of the New River Valley Regional Local Emergency Planning Committee, a member of the board of directors for the Virginia Emergency Management Association, and a planning team member for the Federal Emergency Management Agency's National Tabletop Exercise for Institutions of Higher Education.
Professor Owen has published on a variety of topics related to criminal justice, including institutional corrections, interpersonal violence, criminal justice education, law and sexuality, and law enforcement policy issues. Most recently, his work has focused on issues related to emergency management, with a particular focus on the public safety community's response to active shooter incidents.
Professor Owen has received the Radford University Foundation's Distinguished Creative Scholar Award and Distinguished Service Award as well as Radford University's College of Humanities and Behavioral Sciences Distinguished Teaching Award. In addition, he was recognized by his undergraduate alma mater, Southeast Missouri State University, with a Young Alumni Merit Award. At Radford University, Professor Owen regularly teaches the course Emergency Management. He has also developed unique course offerings, including Active Harmer Incidents in the United States and Investigating the Kennedy Assassination.
Professor Owen is coauthor of Foundations of Criminal Justice and has authored or coauthored more than 80 book chapters, articles, proceedings, encyclopedia entries, and reviews.