Rated

1

out of

5
by
Anonymous
from
One of the Worst
After the few lectures, I found myself yelling at the teacher for her incercity and constant repitition. I find this teacher intolerable and her presentation style unprofessional.
Date published: 2021-05-08
Rated

5

out of

5
by
Karen S
from
Written Communications: Being Head and Understood
I found this course very valuable. The trainer is easy to understand and covered the topic with great expertise.
Date published: 2020-10-26
Rated

5

out of

5
by
EngineerinVA
from
Excellent
Although the aim of this course is to improve written communications (e. g., memos, email, reports) in a business context, it actually generalizes well and is helpful for any form of writing including poetry and song lyrics. The course traverses three general topics: prescriptive grammar (Lectures 2-6); Analysis, Crafting the Document, and Editing the Document (ACE) Framework (Lectures 7-9); and putting these principles to use (Lectures 10-12). DO NOT BE PUT OFF BY LECTURE 1, which came across to me like a bad infomercial; the rest of the course is well worth it. Dr. Friederichs has an easy-to-listen-to style. It was rather refreshing that she did not use one football illustration, although she did use illustrations about fashion, decorating a house, and shoes. I used the video version but audio-only (e. g., while jogging) was just fine.
Date published: 2020-10-08
Rated

4

out of

5
by
keltickottage
from
Excellent Course
I was surprised that the focus of this course is emails, memos, and business reports. I would have appreciated it being more stressed in the description. However, I'm glad I did take the course! The information applies to many types of writing and Prof. Friederichs presents it in a cheerful, easy-to-understand format. I would definitely recommend this course in business writing.
Date published: 2020-10-01
Rated

4

out of

5
by
TV host
from
The director needs to re-do the filming...
Whoever the director of filming was needs to be red-flagged in that the professor doesn't follow the camera when the camera changes to another camera--major no-no and major distraction in the presentation. How did they miss that?
Date published: 2020-09-10
Rated

4

out of

5
by
Camille
from
Practical and Useful
Straightforward and practical in this approach to impactful business writing. Useful to return to periodically for a refresher course
Date published: 2020-09-09
Rated

5

out of

5
by
RMPV
from
If you take it, you'll make it.
I'm glad I've bought this course: it's engaging as much as it's insightful. Driven by self-development goals, I'm always on the lookout for courses on writing and communication, a field so crucial for both professionals and academics. After completing the course, I gained a much deeper understanding of the nuts and bolts of written communication. This is a truly multifaceted course. It brims with valuable and commonsensical guidelines on a wide range of topics: grammar, punctuation, voice, to name a few. Owing to this course, those who are good at written communication may fill in their knowledge gaps, while those who are not so good can dramatically improve it. Additionally, I wish the course had highlighted some discourse or pragmatics issues (e.g. Grice's maxims, Austin's speech act theory); however, its 12-lecture format, understandably, dictates some space restrictions. Dr. Friederichs is an enthusiastic and knowledgeable expert, who provides excellent explanations and gets to the point. If available, I'd take more of her courses. I strongly recommend the course and intend to revisit it in the future.
Date published: 2020-08-31
Rated

5

out of

5
by
syeda
from
Excellent course!
I found the material covered in this course very helpful. I wish she covered the use of preposition in detail as I struggle with it. I would love to see more courses by Dr. Friederichs :)
Date published: 2020-08-30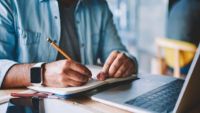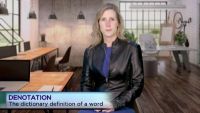 3: The Importance of Word Choice
Continuing the discussion of language and words, Professor Friederichs reviews the two levels of meaning that every word has: denotation and connotation. She provides a framework called "The Four C's" to help you select the right word, so your message is correct, concrete, clear, and contextually appropriate.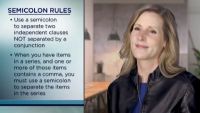 4: Mastering Punctuation
Proper punctuation may seem challenging, but as Professor Friederichs notes, it can make or break your professional message. She provides clarity for the most misunderstood rules of punctuation, including issues around commas, semicolons, quotation marks, and dashes, as applied to Edited Standard American English (ESAE).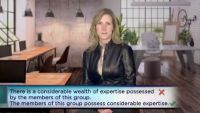 6: Mastering Verb and Adverb Grammar
Grammar can also help determine the mood of your communication. Professor Friederichs demonstrates how as she covers verb usage, including passive and active voice, tense, and adverbs. You'll see how mastering these seemingly small components can have a big impact on the success of your message.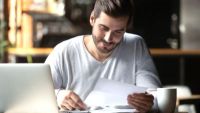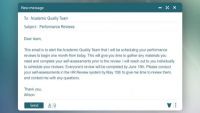 8: Craft: Building the Bones of Your Document
Examine the best practices for drafting a document as Professor Friederichs introduces additional checklists to help you transcribe your purpose statement, craft the body of your message, and draft your conclusion. She provides a helpful toolkit of eight best practices that will help you craft a well-written draft.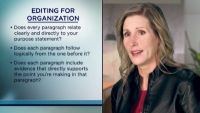 9: Edit: Perfecting Your Prose
Learn how the editing step of the ACE process does not mean proofreading, but instead ensuring you are analyzing your document to confirm it says what you want it to say, in a structured, clear, and concise manner. A checklist for editing helps you review your document for organization, clarity, proper word choice, grammar, and punctuation.
10: Applying the Analyze-Craft-Edit Process
Using two common, real-life examples, Professor Friederichs demonstrates ways to practice applying the ACE process. As she takes you through the construction of business memos and newsletter articles, you'll put all your previous lessons into practice.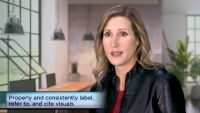 11: Developing Your Professional Voice
As you move closer to mastering the fundamentals of professional communications, Professor Friederichs provides ways to help you develop your professional writing voice. She provides a list of ideas that can help you achieve consistency in your writing, as well as activities to help you utilize the tools and practice the skills you've gained.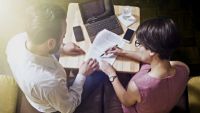 12: Building Relationships through Writing
Professor Friederichs demonstrates how you can build strong relationships through your communication—including the importance of your responses to another person's writing. You'll learn how to build strong professional relationships by being a good listener and utilizing a collaborative approach in writing.
Allison Friederichs
I'll show you how impactful communication isn't about you, it's about your reader.
ALMA MATER
University of Denver
INSTITUTION
University of Denver
About Allison Friederichs
Allison Friederichs is an Associate Teaching Professor and the Associate Dean for Academic Affairs at the University of Denver, University College. She earned her PhD in Communication Studies from the University of Denver. Dr. Friederichs has taught communications courses for more than 20 years and has earned the University College's Master Teacher designation for continued professional development.
In the academic sector, Dr. Friederichs serves as a curriculum design consultant. She delivers keynote presentations and workshops on how the adult brain learns, brain-based learning for teaching and curriculum development, and brain-based learning for improved communication. Her keynote, workshop, and curriculum design clients have included the University of the Pacific, the Montana University System, the Association for Graduate Enrollment Management (NAGAP), and the University Professional and Continuing Education Association (UPCEA). Dr. Friederichs has also been published in academic and trade publications, including UNBOUND, TD magazine, and The Chronicle of Higher Education. 
In addition to her role in academia, Dr. Friederichs provides training to private-sector companies, government agencies, and nonprofit organizations on how the adult brain learns, focusing on training, business writing, and communication skills. Her current and former clients include the Denver Public Library, Pinnacol Assurance, American Innovations, the US Department of Housing and Urban Development, and the government of Douglas County, Colorado. Dr. Friederichs also served her community through her position on the board of directors for Freedom Service Dogs of America.