Rated

5

out of

5
by
BaeJoe
from
Yoga Begins with Breathing
Practical course. Easy to follow the instructor! I did not realize how breathing adds to our ability to handle life in general. The core to addressing life is learning how to breath and breathing takes the negativity out of life. UI will learn this course.
Date published: 2021-04-04
Rated

4

out of

5
by
eburke
from
Learning Yoga
I like the course.There are explanations and exercises that are beneficial to all.
Date published: 2021-01-06
Rated

5

out of

5
by
Ruodrik
from
GREAT INTRO TO YOGA
I had at many times tried yoga and I was familiar with a lot of the practice but I found this to be a great explanation of yoga. The classes where well taught and the the different practices were useful. Highly recommended to any one with an interest in yoga and want more info that you just can't get at the gym or online.
Date published: 2020-10-27
Rated

5

out of

5
by
Mmmkay
from
Heidi is a true yoga professional
Throughout these courses, Heidi shares professional level knowledge about the practice of yoga. In my experience with yoga classes of all types, this information is an integral part of a well developed practice. The why's and how's presented are done with respect to many types of yoga practice and along with practice of new techniques, we felt educated in a way that made sense. Five stars.
Date published: 2020-10-13
Rated

5

out of

5
by
Kitty J
from
A Commitment to a Healthy Mind & Body
This course is well - paced. It is even better than I imagined it could be. The focus on breathing is amazing and so necessary during the current days of a pandemic. I love that the course has no judgement of the participants... just encouragement to healthy habits. Just do it - it fulfills intent like magic! The instructor is brilliant in demonstration and explanation.
Date published: 2020-09-06
Rated

4

out of

5
by
Larsandy
from
This is an excellent course
I have done yoga for years but am not an expert. This course explained much of the rational for Western Yoga. The instructor is very good but I would not recommend this as a course for someone who wanted an aggressive fitness program.
Date published: 2020-07-23
Rated

4

out of

5
by
davidcjones45
from
Great Sampler
I found the course to be an excellent survey of secular yoga practices with enough techniques and detail that my special needs daughter has been able to perfrom some of the techniques to her benefit.
Date published: 2020-05-30
Rated

5

out of

5
by
Farid
from
Excellent presentation Detailed and very informative
Date published: 2020-04-29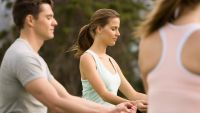 1: Western Yoga
Explore the roots of hatha yoga, the form of yoga widely practiced in the West. Focus on the three principles of hatha yoga-breath exercises, physical postures (called asanas), and meditation-which promote a healthy mind and body. Get started with some simple yoga exercises....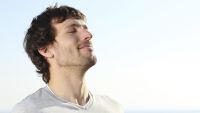 2: Yoga Begins with the Breath
The tension we accumulate every day tightens the muscles in the upper body, making it hard to breathe. Practice a mini yoga class that highlights mindful breathing to relieve this stress. Then add three new asanas to your yoga routine: warrior 2, bound angle, and downward facing dog.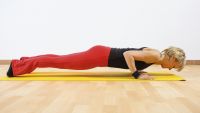 3: Yoga and Pain Relief
Consider some key tools used in yoga to address physical pain: attention to breath and sensation, release of chronic muscle contractions, and healthier movement patterns. Practice asanas for each of these pain reduction techniques-including a chest opener, yoga pushup, plank, and staff pose.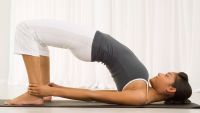 4: Yoga for a Healthy Heart
Yoga can lead to a healthier heart by providing a transition from a more sedentary lifestyle to a more active one. Trace the steps that will help you gradually build your yoga practice. Learn two new breathing exercises together with asanas that include warrior 1, knee-to-chest, and bridge.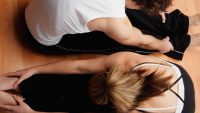 5: Yoga and Addictive Behavior
Discover how yoga and attention to the body's sensations can aid in breaking the vicious cycle of addictive behaviors. Perform patterned breathing, side bends, cat/cow, downward dog, lunges, forward fold, and reclined twist. End with savasana, the traditional closing posture in a yoga practice.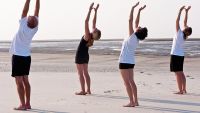 6: Yoga for Depression and Anxiety
Examine how mindful, moving yoga can help interrupt the physical and psychological habits that lead to depression. Focus on sun salutations, a series of movements and poses linked by one breath per move. Perform the classic sun salutation, and then Surya namaskar A and B.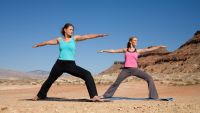 7: Iyengar Yoga
In the first of five lectures on different styles of yoga, experience a beginner sequence of Iyengar yoga. Named for pioneer yoga teacher B. K. S. Iyengar, this practice makes extensive use of props. Practice nine essential asanas, with optional props such as a wall, chair, strap, and blocks....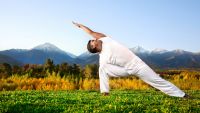 10: Anusara Yoga
Explore the spiritual dimension of yoga through an Anusara practice, which combines the Iyengar system of alignment with elements of Hindu spirituality. After a Sanskrit invocation, follow a sequence of asanas that emphasizes awareness of energy flow and muscle action in your body.
11: Forrest Yoga
Developed by American yoga teacher Ana Forrest, Forrest yoga is known for helping people deal with emotional issues, trauma, and addiction by creating a calm and untroubled internal state. Discover a new way of tuning into your feelings, using many techniques and postures you have already learned.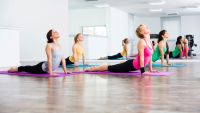 12: Everyday Yoga
Draw on the poses and routines presented in the course to develop a personalized yoga routine that will work for you in the everyday realities of 21st-century life. Keep sight of three principles: Breathe deliberately, move in non-habitual ways, and pursue mindful awareness....
Heidi Sormaz
Yoga can have a transformative effect on your body and mind, helping you move from disease to ease in the ways that you breathe, move, and think.
ALMA MATER
Yale University
INSTITUTION
Certified Yoga Instructor
About Heidi Sormaz
Dr. Heidi E. Sormaz is the founder, owner, and director of Fresh Yoga LLC in New Haven, Connecticut. She earned her M.S. and Ph.D. in Psychology from Yale University and was a postdoctoral fellow at Yale and the University of California, Berkeley. She taught psychology at Yale, San Francisco State University, and Albertus Magnus College. Dr. Sormaz obtained the highest teaching credentials from both Forrest Yoga and Yoga Alliance.
In her academic work, Dr. Sormaz is an expert on the influence of arousal and attention on performance, the effects of anxiety on thinking, stress management, and performance in pressure situations. Her publications include the book Performance under Pressure: Managing Stress in the Workplace, published by HRD Press, and the article "Meditation Can Reduce Habitual Responding," published in Alternative Therapies in Health and Medicine. Dr. Sormaz was awarded the Flora Stone Mather Alumnae Award from Case Western Reserve University and the Wilhelm Wundt Award at the Northeast Ohio Undergraduate Psychology Research Conference.
In addition to teaching yoga in her own studio, she has presented workshops and teacher trainings at conferences and studios across the United States, including Kripalu and the Esalen Institute. Yoga Journal featured Dr. Sormaz on its list of "teachers who are shaping yoga's future" from across America.