Rated

1

out of

5
by
Dragontraveler
from
Title is misleading
If you want to learn how to design a container, then this course might be what you want. If you want to learn how to grow, and not kill, the plants in your container, this course does not help you. You can tell the instructor is used to doing short spots on news programs. Just general talking points, no details.
Date published: 2020-08-22
Rated

5

out of

5
by
Marella
from
True to it's word.
I bought this to help me gain more knowledge about container gardening and I did.
Date published: 2020-07-30
Rated

4

out of

5
by
COVID gardener
from
Many ideas for the craft oriented gardener.
Interesting ideas but not really my aesthetic. Would like more tropical hardy, natives.
Date published: 2020-07-07
Rated

3

out of

5
by
Lorelei
from
Great tips, little info in guidebook
Enjoyed the tips and appreciated that she included the plants she discussed in each lesson in the course guidebook however I wish she would have included some of the tips as well. Felt I had to take a lot of notes. I will watch the lessons again but sometimes I just want to have a quick look at a guide and not devote so much time to the lessons again.
Date published: 2020-06-23
Rated

4

out of

5
by
aspiring gardener
from
Need to learn the basics?
This course is a good primer for those of us who need to learn the basics of container gardening--everything from the pots to use, the soil to fill them with, the flowers to choose, and the way to arrange them and care for them. My only reservation is that the information in the course guide about the plants is not helpful, especially because during each lesson the instructor mentions so many that I couldn't keep up with her to make my own list of the plants that would suit my zone and garden.
Date published: 2020-02-23
Rated

2

out of

5
by
starflower2211
from
Not much info on how to succeed
Super disappointed. As someone who wants to garden, but can't seem to get anything to grow; I was hoping for detailed instruction on how to prepare containers, soil, fertilizer, etc. No, not here, this course seems all about design. How to make everything look pretty. Each lecture seemed to be repeating the same design info. Just a total waste of money as far as figuring out how to keep vegetables alive and growing. Lots of design info if that's what you are looking for then this course is for you.
Date published: 2019-03-10
Rated

3

out of

5
by
JP Gardens
from
Not what I expected. It is great if you are looking to set up a flower garden. I was looking for information on types of soil and such.
Date published: 2019-02-06
Rated

3

out of

5
by
ellie2
from
Average
A bit disappointed with this one. Not a whole lot of new information or ways to do things that I already did not know. But was pleased with the list of newer plants for me to try out. Would recommend this for beginners or people who know nothing about gardening
Date published: 2018-11-03
1: Designs in a Pot-Thrillers, Spillers, Fillers
There's a lot to container gardening, but this session gives you the perfect starting point for creating your own wonderful gardens. Start with a detailed look at the varieties of containers out there (from improved plastics to concrete to self-watering) and how to find the right soil mix-or even make your own. Then, discover one of the keys to designing a powerful container garden-the "thriller, ...
2: Create a New Space-Edibles and Ornamentals
Patios, small decks, fire escapes-whatever your space constraints, there are a wealth of container gardening ideas and designs you can enjoy. Taking you through several seasons, this lesson shows you how to take advantage of small spaces to blend ornamentals and edibles (such as tomatoes and blueberries) and come up with creative solutions for everyday gardening challenges, including color balance...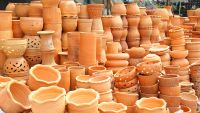 3: Unusual Pots, Vertical Spaces, Shade Design
Ms. Myers shows you how to start thinking outside the traditional container with some unique ideas for making garden containers from a range of found or recycled items, including buckets, shoes, and teapots. Also, learn how to better choose specific plants and containers to decorate walls or fences that can be stubborn to plant around; find out what edible and decorative plants grow best in areas ...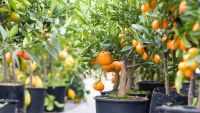 4: Grasses to Trees-Big Plants in Containers
Large plants in large containers can offer perplexing design challenges when it comes to space, color, plant care, and privacy. Which trees, shrubs, and large ornamental grasses are right for your space? What are some tricks to designing with them and maintaining their health throughout the seasons? How can you effectively use large containers to screen bad views, create a focal point, provide a v...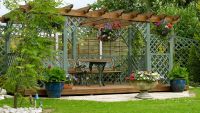 5: Outdoor Living Areas and Special Features
Start by learning how to approach outdoor seating and lounging areas from the gardener's perspective and discover how to mix and match containers and plants to create the mood you want. Then, find out some tried-and-true ways to solve the pesky problems of common pests and plagues (from aphids to mosquitos to plant rot). Finally, dabble in the creation of eye-catching theme gardens, such as a trop...
6: Cool-Season Changes and Indoor Gardens
It's never too soon to start thinking about container gardening in cool-season weather. Here, Ms. Myers offers fantastic ideas for adding fall color to your outdoor container gardens and for taking care of your gardens during autumn and winter. She also shows you how to move your plants indoors or plant new indoor container gardens so you can enjoy your plants all year long. Plus, you'll also find...
Melinda Myers
We started just like you with common problems faced by many gardeners. We want to design a garden that works for you and your dream for something better.
ALMA MATER
University of Wisconsin, Madison
INSTITUTION
Horticulturist and Certified Arborist
About Melinda Myers
Melinda Myers is a horticulturist, certified arborist, gardening expert, television/radio host, columnist, and author with more than 30 years of horticulture experience. She earned her B.S. in Horticulture from The Ohio State University and her M.S. in Horticulture from the University of Wisconsin, Madison. Before launching her own business in 2006, she was a tenured associate professor at the University of Wisconsin Extension Service and a tenured horticulture instructor at Milwaukee Area Technical College. Her numerous awards include two Garden Media Awards from the Garden Writers Association, the Garden Communicator of the Year Award from the American Nursery & Landscape Association, the Gold Leaf Award from the International Society of Arboriculture, the Perennial Plant Association Garden Media Promoter Award, and the American Horticultural Society's B. Y. Morrison Communication Award for effective and inspirational communication. Ms. Myers is the author and coauthor of more than 20 gardening books, including Can't Miss Small Space Gardening and Birds & Blooms' Ultimate Gardening Guide. She is also a columnist and contributing editor for Birds & Blooms magazine, the Milwaukee Journal Sentinel, Gardening How-To, and Wisconsin Gardening. A seasoned media presence, Ms. Myers hosts the nationally syndicated Melinda's Garden Moment and appears regularly on various national and local shows. For more than 20 years, she hosted The Plant Doctor radio program, seven seasons of Great Lakes Gardener on PBS, and the nationally syndicated YardWorks!