Rated

3

out of

5
by
logicalpositiv
from
good startup
Good startup but didn't fulfill my desire of knowing more
Date published: 2021-05-10
Rated

5

out of

5
by
Mikeium
from
Great Starting Point for Beginners
I timed this course to have it completed as I am starting my garden. I have had container gardens in the past. All I can say is that something had to change, thus me taking this course. The lectures that contributed to me rating this course as high as I did were: "Starting Plants from Seeds", "Small Fruit Cultivation and Care", "Growing Fruit Tress", and "Composting and Vermicomposting". The first three will be used withing the next few days. As for composting, I have heard a lot about this but had no idea as to how to implement it. Based on the information presented on composting I will be looking at how to add it to this year's garden over the next few weeks. My only issue was with Lasagna Gardening and the use of newspaper. In another lecture she says to beware of using chemically treated wood which I understand to include Pressure Treated Pine. I agree with her concerns completely about the use of these products and the chemicals released in the garden. Now back to my first sentence. It is not the paper I have an issue with; it is the inks. Most paper inks are currently using soybean oil which is biodegradable. The colorants in the ink are the problem. The most commonly used colorants are carbon black, titanium, cadmium, and chromium. After sending time over lunch trying to decide weather to rate this course a 4 or 5. I decided not to let one issue mar an otherwise excellent course.
Date published: 2021-03-31
Rated

3

out of

5
by
Jean d1
from
Packed with practical info
This course is packed full of the basics behind planting methods for a variety of growing conditions. I personally would have preferred more science-based information included in the content, but it is clearly evident that this lecturer pulls from a lifetime of personal success in growing food year-round. The lecturer has a hands-on approach full of walk-through examples to help show viewers how to plant, cultivate, harvest, and troubleshoot for their vegetable gardening. One example walk-through moves very swiftly into another example.
Date published: 2021-02-28
Rated

5

out of

5
by
Brazil Tony
from
How to Grow anything food gardening for everyone.
How to Grow anything food gardening for everyone is an excellent course. The course covers the basics of gardening and provides lots of tips. Recommended
Date published: 2021-01-14
Rated

5

out of

5
by
guyvon
from
Gardening
Good information. Made me want to learn more about gardening.
Date published: 2021-01-13
Rated

3

out of

5
by
Gnos Grajab
from
Now what I was looking for
Series is fine for what it is, but wasn't what I was looking for. I was looking for something that would inform me on how to grow food in a garden. This video is mainly about adding edibles to ornamental gardens. Title is, IMO, quite misleading. I found the information in this series mostly useless.
Date published: 2020-12-16
Rated

4

out of

5
by
Thankful2Study
from
Fun to pick up a new hobby
This pandemic has gotten me to take up new hobbies. While I do not have a garden at all, this course got me to see how I might be able to set one up for myself once I get a backyard of my own. The professor has a lot of first-hand knowledge and experience on how to garden, so I have a wealth of information to draw upon when I start my own garden. The best feature for me was how to set up your own backyard garden. It certainly seems like a lot of hard and back-breaking work. But in the end, it is worth the effort.
Date published: 2020-09-27
Rated

5

out of

5
by
Herbert
from
Great for beginner/intermediate gardeners
I enjoy the presenter's laid back speaking style, wealth of basic information, and visual examples that fortify the learning experience.
Date published: 2020-07-19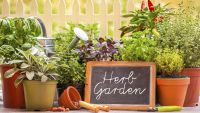 1: Jump-Start Your Edible Garden
Get started right away! From sprouts and micro-greens to windowsill herb gardens and other edible container gardens, you can begin growing your own delicious foods any time of year. Discover the many benefits of growing your own fresh food, and learn what supplies you'll need and how to arrange your plants.
2: Planning for Gardening Success
Scope out your growing space. In this lesson, a wealth of inspiring ideas will show you what's possible, whether you have a spacious suburban backyard or a city apartment. A few basic tips on spacing and designing your edible landscape will set you up for a successful growing season.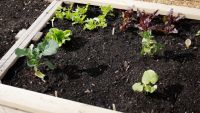 3: Building Your Garden Foundation
Every successful garden begins with a good foundation. Here, you'll find out what makes an ideal soil composition, and you'll learn several techniques for quickly repairing your soil and preparing your garden bed. The instructor's own garden provides a case study you will follow throughout the course.
4: Starting Plants from Seeds
One of the best ways to extend your growing season is to start plants from seed indoors. Explore the materials and techniques for starting such common plants as tomatoes, peppers, melons, cabbage, and more from seeds. Tips for watering, lighting, and transplanting will ensure a successful migration to your outdoor garden.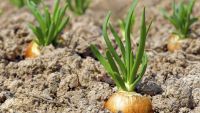 5: Planting Vegetables and Herbs
Whether you start from seeds or buy young plants from your local nursery, vegetables and herbs are easy projects the whole family will love. See how to prep the soil and plant seeds for onions, corn, carrots, potatoes, and more. Then turn to transplanting and growing different types of tomatoes, peppers, and squash.
6: Low-Maintenance Garden Tips
Consider ways to reduce your maintenance time and increase the success of your garden, no matter how busy your life may be. This lesson offers a blueprint for "low input" gardening, revealing time-saving strategies like proper weeding techniques, mulching for weed control and water conservation, and more.
7: Small Fruit Cultivation and Care
For some gardeners, the shift from growing vegetables and herbs to growing fruits may be overwhelming, but in fact, the same basic maintenance and care principles apply: plant selection, soil prep, and pruning. To boost your confidence, this lesson provides some easy guidelines for growing small fruits, including strawberries, raspberries, blueberries, grapes, and more.
8: Growing Fruit Trees
Once you've tackled vegetables and small fruits, moving to large fruit trees can be an exciting step. Because there are so many varieties available, from apples and peaches to pears and plums, Ms. Myers gives you some general guidelines for selecting and planting trees, as well as invaluable guidance on training and pruning your plants for greatest productivity.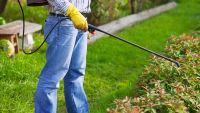 9: Eco-Friendly Pest Management
When you grow your own food, you'll likely tolerate a few more imperfections than you would with food from the grocery store. But you'll still want to mitigate the harm from pests and diseases. Here, you'll look at many of the most common pests and how to manage them in order to maximize your garden's productivity.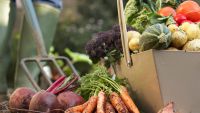 10: Food Harvesting Tips and Tricks
All parts of gardening can be fun, but nothing beats harvesting the fruits of your labor. To boost your garden's output, there are a few harvesting tricks you may want to consider. After reflecting on some differences between fruits and vegetables, learn about when to harvest many of the most common plants in the garden.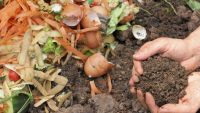 11: Composting and Vermicomposting
Plants come with a good bit of debris, including weeds and leaves and overripe fruit. Composting is a great way to turn those scraps back into organic matter for your garden. After going over the basic process-which is much easier than you might think-Ms. Myers builds a worm composter right in the studio.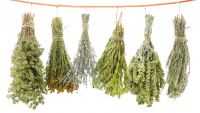 12: Extending the Growing Season
No matter what part of the country you live in, the growing season inevitably will come to an end. To squeeze out a bit more yield from your garden, delve into several ways to protect your plants from frost. Explore cold frames, hot beds, greenhouses, and more, and then shift your attention to preserving your herbs over the winter.
Melinda Myers
We started just like you with common problems faced by many gardeners. We want to design a garden that works for you and your dream for something better.
ALMA MATER
University of Wisconsin, Madison
INSTITUTION
Horticulturist and Certified Arborist
About Melinda Myers
Melinda Myers is a horticulturist, certified arborist, gardening expert, television/radio host, columnist, and author with more than 30 years of horticulture experience. She earned her B.S. in Horticulture from The Ohio State University and her M.S. in Horticulture from the University of Wisconsin, Madison. Before launching her own business in 2006, she was a tenured associate professor at the University of Wisconsin Extension Service and a tenured horticulture instructor at Milwaukee Area Technical College. Her numerous awards include two Garden Media Awards from the Garden Writers Association, the Garden Communicator of the Year Award from the American Nursery & Landscape Association, the Gold Leaf Award from the International Society of Arboriculture, the Perennial Plant Association Garden Media Promoter Award, and the American Horticultural Society's B. Y. Morrison Communication Award for effective and inspirational communication. Ms. Myers is the author and coauthor of more than 20 gardening books, including Can't Miss Small Space Gardening and Birds & Blooms' Ultimate Gardening Guide. She is also a columnist and contributing editor for Birds & Blooms magazine, the Milwaukee Journal Sentinel, Gardening How-To, and Wisconsin Gardening. A seasoned media presence, Ms. Myers hosts the nationally syndicated Melinda's Garden Moment and appears regularly on various national and local shows. For more than 20 years, she hosted The Plant Doctor radio program, seven seasons of Great Lakes Gardener on PBS, and the nationally syndicated YardWorks!