1: The Political Scene, 2001–2016
Professor Allitt investigates the good and the bad of the first decade-and-a-half of the 21st century. From examining the events surrounding—and ramifications of—9/11 through the polarizing election of 2016, he surveys a turbulent fifteen-year span which brought to America huge shifts in technology, politics, social reforms, economics, and more. This period laid the groundwork for a culture that currently feels more divided than it has since the Civil War.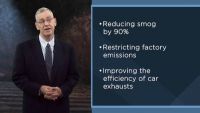 2: Cultural Trends, 2001–2016
The last fifteen years have introduced new or significant evolutions in our views—leading to major shifts in our traditional political and social perspectives. Professor Allitt delves into issues such as immigration, wealth inequity, racism, religious intolerance, environmental concerns, gay rights, advancements in technology and innovations, and more, highlighting the turning points which have defined our modern culture.
Patrick N. Allitt
Nostalgia is the enemy of history. 'Downton Abbey' is great fun but it's not history. If seeing or reading something historical makes you feel warm and cosy, it's probably very inaccurate.
ALMA MATER
University of California, Berkeley
INSTITUTION
Emory University
About Patrick N. Allitt
Dr. Patrick N. Allitt is Cahoon Family Professor of American History at Emory University, where he has taught since 1988. The holder of a doctorate in history from the University of California, Berkeley, Professor Allitt-an Oxford University graduate-has also taught American religious history at Harvard Divinity School, where he was a Henry Luce Postdoctoral Fellow. He was the Director of Emory College's Center for Teaching and Curriculum from 2004 to 2009, where he looked for ways to improve teaching. In this critical administrative position, he led workshops on a wide variety of teaching-related problems, visited dozens of other professors' classes, and provided one-on-one consultation to teachers to help them overcome particular pedagogical problems. Professor Allitt was honored with Emory's Excellence in Teaching Award and in 2000 was appointed to the N.E.H./Arthur Blank Professorship of Teaching in the Humanities. A widely published and award-winning author, Professor Allitt has written several books, including The Conservatives: Ideas and Personalities throughout American History; Catholic Intellectuals and Conservative Politics in America, 1950-1985; Catholic Converts: British and American Intellectuals Turn to Rome; and Religion in America since 1945: A History. He is also author of I'm the Teacher, You're the Student: A Semester in the University Classroom, a memoir about one semester in his life as a university professor. In addition, he is the editor of Major Problems in American Religious History. He has written numerous articles and reviews for academic and popular journals, including The New York Times Book Review.