Rated

4

out of

5
by
dbelanger
from
Admittedly, 'way over my head
I've taken dozens of Great Courses on various subjects over the past decades and received an excellent education from most of them. However, I do not have enough background in science to benefit very much from these lectures. Dr. Helmuth does, however, cite theories (such as eternity flowing not only into the future but also into the past) which have occurred to my unscientific mind during my studies of religions and interest in cosmology. I am saying "yes" to recommending to a friend, even though most of my friends know no more about the subject than I do, simply because some knowledge can filter through the complex material which can be stimulating even to the novice.
Date published: 2021-04-15
Rated

5

out of

5
by
LeColonel
from
Excellent Focused Course
As a PhD physicist who also majored in philosophy, I found this course to be a wonderful intellectual sojourn. The speaker was very effective and clearly knows her stuff. The myriad of ways to address the matter of time was rich and fulfilling. As a lifelong learner I thorough enjoyed my time wrapped up in these lectures. This is the kind of course that keeps me a fan of The Great Courses and The Great Courses Plus.
Date published: 2021-04-14
Rated

5

out of

5
by
Pali
from
Mind expanding intro to the subject
I am watching with my Great Courses Plus subscription and find the material fascinating. I have no real knowledge of the subject so this basic overview is perfect for me.
Date published: 2021-04-12
Rated

5

out of

5
by
Baudelaire
from
Fascinating
I didn't know that they've gone this far with understanding time.
Date published: 2021-04-10
Rated

5

out of

5
by
Ecclesiastes
from
Difficult but, perhaps, worth the effort
I was tempted to give this course only a single star but, upon reflection, I've decided to rate it more highly. Here are the problems with the course: (1) Dr. Helmuth does not teach; she narrates. The course does not have the feel of a class. It has more the feel of an episode of "Cosmos." It is clear from her presentation that Dr. Helmuth is reading a script, not teaching from the heart. (2) The course is over-produced. Chock full of animations, charts, and diagrams, "Examining the Big Questions of Time" becomes more confusing than it need be. I found trying to look at and understand the visual material while, at the same time, trying to pay attention to Dr. Helmuth's patter to be a bit mind scrambling. Placing Dr. Helmuth in a beam of light so that her face was typically half in shadow may make things seem more dramatic but I don't really want that from the Teaching Company. (3) Much of the course is hard. Particularly hard were Dr. Helmuth's discussions of string theory, loop quantum gravity, and her discussion of various pre-Big Bang scenarios. I've watched a number of science courses from the Teaching Company and they typically move one slowly and gradually through challenging concepts. That is not the case here. All that being said, I did learn some new things and I did appreciate Dr. Helmuth's elaboration of concepts I was already familiar with. I think I learned something from taking this course but I wish the material had been presented in a more teacherly manner. I do plan on rewatching all the lectures and I guess this means I found the course worthwhile in spite of itself. I'll be interested in reading what others think.
Date published: 2021-04-10
Rated

5

out of

5
by
brian6071b2
from
Enjoyable, with a caveat
I have some philosophical problems with the presentation, but for entirely different reasons than the other reviewers. Dr. Helmuth says that scientists are nonplussed by the vast improbability of our universe as seen in the value of physical constants such as light speed, which, if changed very slightly, would lead to a world where human beings could not exist. But I submit that Ms. Helmuth is only nonplussed because scientists have for centuries now refused as a matter of principle to see any teleology in the universe whatsoever. Only when teleology is reflexively considered to be verboten would we be nonplussed by a world that seems custom-made for humanity. Of course, it would not be scientific to conclude from such seeming customization that our universe was THEREFORE necessarily created by some teleological process, but neither is it scientific to assume dogmatically that such creation is impossible and therefore "off the table," as scientists today routinely do -- meanwhile considering that debatable atheistic dogma to be so obvious that they feel no need to mention their anti-teleological presuppositions even in the interests of full scientific disclosure. When scientists look at the Goldilocks universe and profess bafflement at the pro-human nature of the same, they should at least be honest and admit that their bafflement is explicable only on the assumption that the universe is a meaningless collection of natural effects, much like Newton's clockwork universe might appear to be, with modern allowances made only for a quantum physics in which consciousness plays no necessary role. Otherwise, their lectures seem to contain non-sequiturs: first they say that they see great order in the universe -- and then go on to imply that this pro-human order is illusory and that it needs to be explained away, even if it means proposing almost an infinite amount of other universes to accomplish that feat. If they're going to ignore the most obvious explanation -- namely that some form of teleology might be at play here -- then they should say as much in order to keep the debate honest. Instead we have to infer their atheistic presuppositions based on their hands-off attitude toward teleology. "Science by definition," they seem to believe, "must only consider non-teleological causes," but they should state this explicitly, so that those who have a philosophical problem with that qualification can debate what is after all a highly debatable stipulation. Scientists like to conflate a philosophical interest in teleology with religious fundamentalism, thereby intimidating critics and passing them off as scientistic Neanderthals, but surely it's possible for an enemy of church dogma to believe that there might be a purpose "behind it all," especially when even the opponents of teleology freely confess their own bafflement at the human-friendly nature of the universe. Finally, a heads-up. If you want a fair assessment of Dr. Helmuth's work, the last place you should go is Wikipedia, as suggested by a previous reviewer of this series. There is a full-time posse of atheistic scientists who regularly patrol Wikipedia pages to ensure that anyone who even "winks" at the mere possibility of "teleology" is libeled as being "scientistic." If they can further identify the offender as a "liberal" after a few Google searches, they'll really "pour it on." For many, that's literally their full-time job: keeping science atheistic, one scientist at a time. So if you want to be fair to a scientist, consult their own work and form your own views about them: do not rely on Wikipedia to give you some kind of informed viewpoint on what these scientists are about. That is not what Wikipedia is designed to do. Conclusion: A thought-provoking course, but problematic for the same reason that much of modern cosmology is problematic.
Date published: 2021-04-10
Rated

5

out of

5
by
Florida Pat
from
Thought provoking course with a great narrator
I'm thankful for courses that provoke lots of thought and provide intellectual rigor. This course was all of that and the professor was fantastic.
Date published: 2021-04-10
Rated

5

out of

5
by
jayhamlin
from
Great subject and well presented
I enjoyed the lectures, which made me think deeper about the subject of time. I like that many different angles were presented some topics retouched (such as the twin paradox) to help launch a new line of thought. These lectures provide a good launch point some of the more modern theroies.
Date published: 2021-04-05
1: A Matter of Time
While most of us measure time in hours or days as we plan our activities, these units are not nearly small enough—nor large enough—for those who work at the edges of discovery. Explore how some scientists use attoseconds and others use billion-year increments to study the often baffling revelations of spacetime.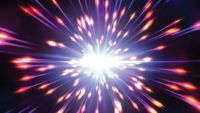 2: The Myth of the Beginning of Time
Just a few decades ago, scientists were absolute in their determination that time began with the Big Bang. But that's all been turned on its head with the rise of string theory and other fascinating developments in theoretical physics. Learn how those advances brought the pre-Bang universe to the forefront of cosmology.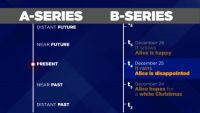 3: That Mysterious Flow
Right now, you are reading these words. True enough, right? But all that certainty erodes when we look at the concept of "now" through the lens of modern physics. Although we perceive "now" as being unique—our present moment always seeming to separate the knowable past from the unknowable future—you'll learn why "now" slips from our grasp when we try to actually define it.
4: Is Time an Illusion?
While we've all heard that time is money, the two terms might turn out to be more similar than we ever knew. Could time, like money, be just an invented convenience with no fundamental existence in the natural world? Discover the many ways in which philosophers have helped physicists grapple with this question—and the answers they've come to so far.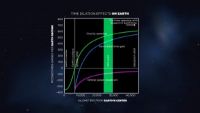 5: Time Travel and the Twin Paradox
In a thought experiment called the twin paradox, Einstein illustrated that two observers moving at different speeds would experience different durations between the same two events. See how this time dilation has been proven and measured since Einstein's life, and why your GPS wouldn't work without accounting for it. Time travel, anyone?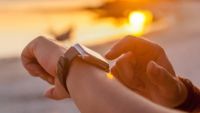 6: A Chronicle of Timekeeping
From the ancient Egyptians to the 13th-century inventors of the mechanical clock to the atomic clocks of the last century, people keep striving to measure time more accurately. Understand why accuracy in timekeeping was important for the agriculturists of the Nile and why it still matters for those of us today who use navigation systems, cell phones, and electricity from the power grid.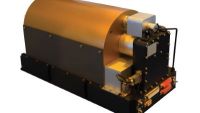 7: Atomic Clocks
Modern timekeeping has allowed us to measure differences in the passage of time as affected by motion and gravity to such a degree that relatively itself can now be measured in the lab. Learn about the development and precision of atomic clocks—and the myriad ways they benefit us—and about the optical clocks that can keep time to within one second in roughly 3.7 billion years.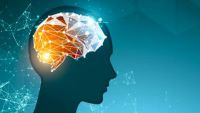 8: Times of Our Lives
Our circadian rhythm is hardwired into every cell in our bodies. Even under constant lighting, human cells in a petri dish will continue to follow 24-hour cycles of gene activity, hormone secretion, and energy production. Explore neurologists' latest thinking about the brain's internal timekeeping systems, and how those systems affect our health.
9: Remembering When
While our internal clocks regulate our physical processes, our mind has a clock of its own. Explore what scientists mean by "mind time," and how we organize our thoughts about events in the passage of time. Uncover how mind time is linked to our ability to make and store memories, and reveal the interesting differences between anterograde and retrograde amnesia.
10: Inconstant Constants
Almost all our scientific knowledge is possible because we rely on a few very basic constants—such as the velocity of light and the mass of the electron. Discover how string theory brings the possibility of a vast number of other worlds with different self-consistent laws and constants, and whether or not those worlds could possibly include biological entities like ourselves.
11: Atoms of Space and Time
In the field of quantum mechanics, physicists have suggested for almost a century that light is made of energy packets that can behave like both a particle and a wave, a phenomenon known as photons. But could gravity also be made of discrete packets—gravitons? Explore the concept of loop quantum gravity and learn how physicists use spin networks to gain a deeper understanding of our universe.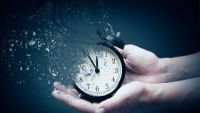 12: Could Time End?
As we experience life, time never ends. Even after death, our molecules will be recycled, and both time and matter will continue. But if time can slow down and speed up—as Einstein predicted, and later confirmed by observation—could it also end? Explore what the equations of modern physics tell us about the possibility of an end with no rebirth.
Laura Helmuth
Time defines us; it frames our experiences. We can't live or understand our lives without it.
ALMA MATER
University of California, Berkeley
INSTITUTION
Scientific American
About Laura Helmuth
Laura Helmuth is the editor in chief of Scientific American. She earned a PhD in Cognitive Neuroscience from the University of California, Berkeley, and a graduate certificate in Science Communication from the University of California, Santa Cruz.
Laura has served as the health, science, and environment editor for The Washington Post; director of digital news for National Geographic Partners; science and health editor for Slate; science editor for Smithsonian Magazine; and editor for Science. She is currently on the advisory boards for Spectrum, an autism news website, and SciLine, an organization that helps journalists find the best scientific sources. She also serves on the board of directors for High Country News, a magazine that covers the American West. She is a member of the National Academies of Sciences, Engineering, and Medicine's Standing Committee on Advancing Science Communication and was previously president of the National Association of Science Writers.