Rated

5

out of

5
by
DaGeek
from
Great Prof - lot of material for 12 lessons
I'm a Born Again Agnostic… I was raised Southern Baptist, but never felt comfortable there. After much study I am comfortably agnostic. My wife is 99% Eastern European Jew (DNA test) who occasionally goes to a reformed synagogue. We paid for an annual subscription to the Great Courses and thought resurveying the world religions would be interesting. I will admit I was expecting something like Judaism for Dummies. That is not this course. While he does get in some of the nuts and bolts of the Jewish practice, this is more a survey of the history and philosophy of Judaism. I knew Judaism was diverse, just did not know how diverse. I saw one reviewer called the professor eccentric which is a very fair description. He is also very knowledgeable and very passionate about his subject. We both really enjoyed his presentations. Twelve 30 minute classes was not really enough time to do the subject justice, but – dang – if he did not try his hardest. However, several millennium of history was a lot to cover. Definitely worth our time.
Date published: 2021-03-25
Rated

4

out of

5
by
Saul R
from
Judaism On One Foot
Professor Gafni has undertaken to present 3500 years of Jewish history, philosophy and practice in six hours of lectures. To do so, he necessarily has to paint concepts with a very broad brush. For those with limited exposure to Judaism, the overview will be helpful. It is presented without a predetermined slant toward any single perspective of modern Jewish practice.
Date published: 2019-01-29
Rated

4

out of

5
by
ServantLeader
from
Good primer. Lacks visuals.
Engaging presentations and content, but this course was created without many visual aids. Perhaps it would be possible for The Great Courses to edit in better maps, charts, artwork and photos to make the video version more valuable. Otherwise, order the audio version.
Date published: 2016-12-18
Rated

5

out of

5
by
MarleysGhost
from
Excellent Survey for Those of Us Who Know Little
video download version As many have commented, this is a very good starter course. For me, it was very instructive and helpful, as I had formulated many ideas of Judaism based on only my limited interactions with Jews and a few Jewish communities. And of course some reading. The history filled out many of my educational gaps, but I found more interesting the discussion by professor Gafni revolving on whether or not Judaism was a religion or an ethnicity fascinating. I was also enlightened by the discussion of the types of Judaism, not only of today, but over the years. For example, my ideas of what constituted orthodox, conservative, reformed, etc. have now been corrected, and for the better. Dr. Gafni is a most enthusiastic and active presenter (one reviewer does take note of his 'pacing'), something that I found helpful. Further, I must take exception to the review that comments that he talks non-stop. I found plenty of places where the professor paused for significant amounts of time, and I never felt that his pace was too fast. My curiosity has been heightened and I would like a more in-depth course. In the meantime, I'll try professor Gafni's other course. Recommended
Date published: 2016-02-22
Rated

5

out of

5
by
OaklandTed
from
Nice course for basics
The course is taught by Isaiah M Gafni PhD who has a first hand knowledge of the subject. He is a professor of Jewish Studies at the Hebrew University of Jerusalem, you can't get any clor to ground zero than that. He also has a second course titled 'Beginnings of Judaism' which is also very interesting. Within the time allotted he covers quite a bit of information and does so in a manner that makes the time fly. It is not hard to follow what is being said, and the course book helps to follow along. And no he doesn't have a Jewish accent, such a business if he did..
Date published: 2015-01-12
Rated

2

out of

5
by
Azeena
from
The professor never takes a breath
Perhaps the professor of this course thought that he could squeeze more information into this lecture if he rushed through, I don't know. I felt like I was listening to one long run on sentence. There was no breaks in his speaking. No time to digest what he was saying. This course was also disappointing, because I really did not get a sense of the religion. He spent so much time trying to explain why there are different interpretations, I never really got a sense of the whole, just parts. He needed to slow down, even if that meant cutting out information he felt was important. I felt like I was drowning in a sea of information and there was no time for me to come up for air.
Date published: 2014-08-23
Rated

5

out of

5
by
Marvmax1
from
Great Introduction to Judaism
This was an awesome course. This was the first course I've heard from Dr. Gafni, but it will not be my last because after hearing this course I searched for more lectures by Dr. Gafni and found that he has one more set. Consider me sold. I learned something during every lecture. That usually happens, but with Dr. Gafni it seemed enlightening to me. He obviously loves the topic and presented it well. Highly recommended.
Date published: 2014-02-21
Rated

4

out of

5
by
MurphtheSurf3
from
Real Scholarship, Wonderfully Eccentric Prof
I belong to a group of retired people who take great courses together. We have studied, art, history, music and now religion. This time around we decided to do ALL of the Worlds Great Religions: Judaism, Christianity, Islam, Hinduism and Buddhism. I am going to leave our overall rating for each course in each of the five reviews I am writing here. Our final order as it turned out is the same order in which we viewed the courses: Judaism (4 Stars), Christianity (3 Stars), Hinduism (3 Stars), Hinduism (1 Star), Buddhism (No Stars), Professor Gafni was by far the best of the group. A practitioner of the faith he represents and presents he is both a fervent believer and a scholar. He is also a lot of fun. We liked him. We enjoyed him. What Isaiah do this week- wonderful stories from Rabbinical tradition which caused us to laugh and to ponder. He provides an excellent analysis about the nature of the literature, about how the People of the Book came together, about the enduring themes. There were times when the complexity of the material muddled his presentation but overall he managed to provide us with a lot to think about. As a group we were very familiar with Judaism and Christianity and we believed his challenge was to bring us something new. He did. Again and again. So bravo. One other point. The Professor did not seem to use notes. He kept interacting with his viewing audience and his energy was catching. After each of the lectures we have an informal discussion. Of the five courses it was in his courses that our discussion went the longest. Improvement needed: Please Great Course, more visuals. We need to see as well as hear. Images, carefully selected, say a lot.
Date published: 2014-02-15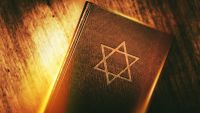 1: What is Judaism?
The goal of this course is to present Judaism as it is perceived by its adherents and practitioners. This opening lecture attempts a definition, or essence, of Judaism. The beliefs, practices, attitudes, and institutions of Jews through the ages evince a striking diversity, yet all would ascribe to a common heritage....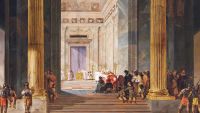 2: The Stages of History
This lecture begins delineating the stages of Jewish history and the evolving nature of Judaism. The major portion of this lecture addresses the earliest and formative stages of Judaism, those that serve as historical frames of reference for much of Jewish ritual and behavior and, in certain cases, as a model for a future restorative process....
3: The Jewish Library
The aim of this lecture is to describe the literary works, beginning with the Bible, that fashioned and constantly directed Jewish behavior. Other writings to be discussed include the Mishna and Talmud; midrashic commentaries and homiletic expansions of the Bible; and the phenomenon of responsa literature....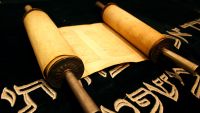 4: The Emergence of Rabbinic Judaism
If the faith and behavior prescribed by Judaism are derived from the Bible, why is the Judaism we encounter today so different from the biblical representation of that religious tradition? The answer will lead us to a discussion of the origins and tenets of rabbinic Judaism and the paths of Jewish religious expression....
5: Jewish Worship-Prayer and the Synagogue
This is the first of three lectures that sets out to describe the ways Judaism manifests itself in the lives of its adherents. This lecture addresses the emergence of prayer as a major means of religious worship. What do Jewish prayers contain? When are they conducted? In what language? Attendant to this discussion is a history of the synagogue, its design, and functions....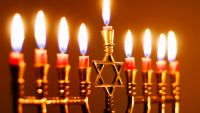 6: The Calendar-A Communal Life-Cycle
Judaism has a fixed calendar, accepted by all groups practicing Judaism, that determines holidays and is the most important unifying factor in a frequently fragmented community. After presenting the fundamentals of reckoning the Jewish calendar, this lecture goes through the year, stressing what, how, and why Jews celebrate....
7: Individual Life-Cycles
Judaism finds expression at all major stages of an individual's life. This lecture presents the major rituals and rites of passage that accompany boys and girls, men and women, from birth to death. In this lecture we look at questions about gender-specific obligations and distinctions in historical Judaism and recent changes in branches of the Jewish community....
8: God and Man; God and Community
As with so many aspects of Judaism, the perception of the deity cannot be reduced to one accepted creed. This lecture touches on issues of Judaism that have appeared throughout history: knowledge of God; God as creator or the God of Israel; free will, fate, and determinism; reward and punishment; and the afterlife....
9: Philosophers and Mystics
The first part of this lecture discusses Jewish philosophers of a variety of ages and cultural environments. The second portion is devoted to the mystical branch of Jewish thought, Kabbalah. The profound impact of the latter would be felt with the appearance of new forms of religious and communal organizations, with one major example being the appearance of Hasidism....
11: Common Judaism-or a Plurality of Judaisms?
That there are many representations of Judaism has been a constant factor throughout its history. With the element of faith, Judaism also represents an ethnic community, which adds cohesiveness based on nonspiritual foundations. This brings us to a brief discussion of denominations in Judaism today and the current challenge to unity....
12: Judaism and "Others"
The biblical notion of the "election" of Israel by God has been a source of constantly changing interpretation. The idea of a universal salvation through adherence to Judaism is clearly absent. The ethnic component of Judaism did not represent an impenetrable barrier, and converts were happily accepted. This discussion brings us full circle, again addressing the questions raised in the f...
Isaiah M. Gafni
I've taught students about ancient Judaism for more than 40 years at the Hebrew University in Jerusalem.
ALMA MATER
Hebrew University, Jerusalem
INSTITUTION
Hebrew University, Jerusalem
About Isaiah M. Gafni
Dr. Isaiah M. Gafni is the Sol Rosenbloom Professor of Jewish History at The Hebrew University of Jerusalem, where he earned his Ph.D. and has taught for more than 40 years. He was formerly the Director of the Mandel Center of Jewish Studies at the university and also previously served as Director of Graduate Studies at the university's Rothberg International School. He has been a visiting professor at numerous American universities, including Harvard, Yale, and Brown. Professor Gafni has written extensively on a broad range of topics relating to the social, religious, and cultural history of the Jews in late antiquity, including more than 100 entries in the Encyclopaedia Judaica. Professor Gafni was honored as the Louis Jacobs Fellow in Rabbinic Thought at Oxford University in 1994 and received Hebrew University's Michael Milken Prize for exceptional teaching. Professor Gafni has written or edited more than 15 books on aspects of Jewish history, including Land, Center and Diaspora: Jewish Constructs in Late Antiquity. His book The Jews of Talmudic Babylonia: A Social and Cultural History was honored with the 1992 Holon Prize in Jewish Studies.