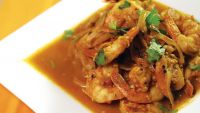 1: India-Heart of the Spice World
Journey to India, which produces 50 percent of the spices consumed around the globe, and learn how to work with cumin, coriander, paprika, masalas, and other unique tastes from this cuisine of spice. Recipes include basmati rice with cardamom and cloves, chili tamarind shrimp, and a sweet chai tea.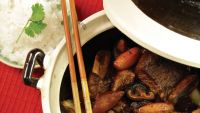 2: China-From Peppercorns to Tea
Learn how to tap into the essence of two distinct Chinese spices: Sichuan peppercorns and tea. As Chef Briwa shows you how to make noodles in Sichuan pepper oil, browned short ribs, tea-smoked quail, and more, you'll discover depths of flavor you won't find in the takeout food we're all familiar with.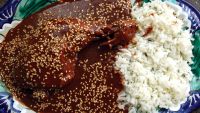 3: Mexico-Chiles for Every Palate
First, explore the differences between common chiles such as jalapenos, guajillos, and poblanos-and how each can add a unique (and spicy) twist to Mexican dishes. Then, follow the step-by-step process of making the perfect mole that incorporates roasted chiles and spices ranging from Mexican oregano to chocolate.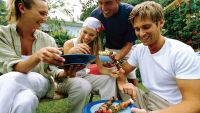 4: Mediterranean Spices-Exotic Blends
Find out why spices help make Mediterranean cuisine so rich and exciting. Some of the many diverse spices you'll learn about here: ras el hanout, a complex spice mix from Morocco; charmoula, a thick vinaigrette from North Africa; za'atar, the Egyptian blend of thyme, sesame, and sumac; and even preserved lemons.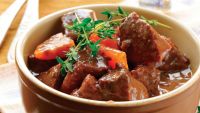 5: Treasured Spices in Northern Europe
Travel now to northern Europe, where you'll get a tasty introduction to some of the many commonplace and exotic spices from Hungary, Spain, and other European countries. Hungarian paprika, Spanish pimenton, caraway, juniper-these and other ingredients, you'll learn, are the key to unforgettable dishes ranging from goulash to mulled wine.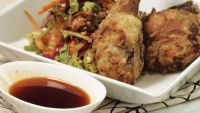 6: New American Cuisine-The Global Kitchen
Embrace everything you've learned about cooking with spices by taking a classic American dish-fried chicken-and using spices to give it unique cultural twists. You'll see how a mastery of spices is the key to creating Indian, Latin American, Chinese, and Mediterranean chicken dishes, each with its own captivating flavors and aromas.
Bill Briwa
Don't waste any time wishing you were a better taster. Put your effort into becoming a better taster through focused attention and curiosity every time you prepare, season, and eat food. This skill set is really foundational.
ALMA MATER
The Culinary Institute of America
INSTITUTION
The Culinary Institute of America
About Bill Briwa
A popular chef-instructor at the Culinary Institute of America (CIA), Bill Briwa has worked in the hospitality business as a professional chef and culinary instructor for experts and laypeople around the world for more than 30 years. He was the resident chef for The Hess Collection Winery in the Napa Valley, California; the executive chef for The Wine Spectator Restaurant at the CIA at Greystone; and an officer on the board of the St. Helena Farmers' Market. Over the past 15 years, Chef Briwa has devoted himself full time to teaching audiences around the world about cooking, flavor dynamics, gastronomy, and food and wine pairing. As a member of the Industry Services Group at the CIA, he works closely with a range of corporate clients to help them realize their culinary goals. Chef Briwa has been a speaker, presenter, and judge at numerous professional conferences, gatherings, and competitions in the culinary world, including the annual International Association of Culinary Professionals Conference and the National Restaurant Association Show in Chicago, Illinois. His writing on food and wine has been featured in industry journals and publications, including Fine Cooking, Mise en Place, and Practical Winery &Vineyard Journal.
Chef Briwa participated in The Great Courses Professor Chat series. Read the chat to learn more about cooking