The Everyday Gourmet: How to Master Outdoor Cooking
Taught By Multiple Professors
Rated

5

out of

5
by
logicalpositiv
from
Awesome
I loved this course of grilling that covered from American to world styles of grilling
Date published: 2021-05-10
Rated

2

out of

5
by
TonyB
from
Not enough detail to be instructional
As others have said, the chefs are amazing and I'd really love to try the food they present in the course. However, I was hoping for more basic information on how to be successful with the grill. That's just not in there. Most of the course is spent watching a chef make a recipe with commentary. Interesting to be sure, but not with enough detail that I could pull it off at home. Example: There is an episode about grilling a turkey. That sounded great and I enjoyed the episode so I looked up the recipe in the course guidebook. Sadly, it is also lacking. I'm told to "check the temperature to ensure that it is appropriate". What temp is appropriate? That's seems like something we should be told, right? Maybe this is basic stuff for a world class chef but that's not the target audience here. I'd love to be told to keep the temp between x and y. Also, we're asked to use wet wood chips -- well, I'm sure I could use Hickory or Cedar or others but what did he use? We're not told. This sort of lack of detail throughout the course ruined it for me. Sadly, because I love the series and had high hopes for this one.
Date published: 2020-10-23
Rated

3

out of

5
by
lynn62
from
Grilling Course
I think the chefs are good teachers, but I have a bit of trouble watching them cross-contaminate all the food (using same surfaces for vegetables as for meats and fish, not washing their hands before touching clean plates AND (my #1 pet peeve) all the FLIES around the food drive me nuts and just make me think the whole cooking experience isn't sanitary. Aside from that, I like what they cook and their methods. Just have trouble getting past the flies...ugh.
Date published: 2020-08-05
Rated

1

out of

5
by
MichiganLifelongLearner
from
What About Gas Grills?
The lectures contained a lot of great ideas and techniques. The only problem is that virtually all were done on charcoal grills. The lectures should have contained information on whether the chefs' techniques would would work equally well on gas grills which are in common use for grilling. This is a huge omission in the course material and greatly diminishes the value of the course,
Date published: 2020-07-28
Rated

4

out of

5
by
Dee2019
from
Great grilling tips!
I love Chef Briwa, so I knowledgeable and entertaining. More courses with him! I have already purchased all courses with him, and am rewatching them. Would love a course on just seafood or Italian food!
Date published: 2019-08-29
Rated

2

out of

5
by
westshore
from
Didn't really deliver what I was hoping for
A few tips on grilling, but most of the course topics were spent telling me how to cook recipes I would never make. How about grill temperatures for different types of fish? Maybe grilling techniques for different cuts of meat. I am not going to take a giant grape leaf and wrap it around a piece of halibut. How do get good grill marks and grill the perfect pice of halibut is what I wanted to know . Most of the instrucions was not helpful. Too much time on fancy recipes and not enough on the basics of grilling.
Date published: 2019-07-31
Rated

5

out of

5
by
eaglesno1
from
Fantastic
What a great bunch of reciepes and tips. So many new ways to grill and get away from the typical burgers, steaks excetera. Very well presented and taught. I am waiting for the weather to change so i can cook outside and impress my friends with some exotic dishes. We also have all the other cooking series and the ups my game one more level
Date published: 2019-04-11
Rated

5

out of

5
by
Rootka
from
We have camped for many years, so I have a lot of experience cooking over an open fire. The foods and recipes introduced in this course look very fun and delicious. I will definitely be trying them.
Date published: 2019-02-18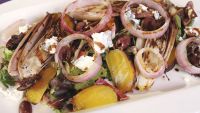 1: The Art of Grilling
Start your course with the basics of grilling: choosing wood, cleaning the grill, tools of the trade, and a few lessons in food safety. Then try your hand at three simple recipes-two types of steak and a grilled salad-to get a feel for cooking over live fire. This first lesson offers a wealth of rules of thumb.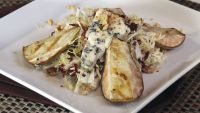 2: Grilled Vegetable Starters and Salads
Now that you're up to speed on all things grilling, take a closer look at preparing different types of salads, from pancetta-wrapped endive to Bartlett pears and greens. In addition to branching away from the traditional main course meat, this lecture on fruits and vegetables shows you how the grill can enhance your homemade salad dressings.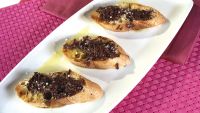 3: Flatbreads and Pizza on the Grill
Delve deeper into cooking with different types of charcoal. Here, you'll find out how to make different types of bread recipes on the grill, including a delicious bruschetta and a savory crostini. Then turn to homemade pizza dough and various sauces and toppings. Plus, see how to use leftover breads to make a sweet treat with the coal embers.
4: Grilling Seafood
Fish can be a tricky meat and requires close attention. Discover some common mistakes with grilling seafood and find out how best to prepare salmon, tuna, halibut, and more. Along the way, you'll learn crucial lessons about making marinades and vinaigrettes. End with a pair of recipes for grilled oysters and marinated shrimp.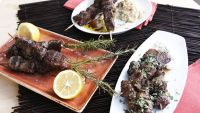 5: Mediterranean-Style Grilling
Enjoy a wealth of multicultural dishes with this tour of the Mediterranean, from Italy and Greece to Turkey and Tunisia. Here, you'll explore several popular outdoor cooking recipes. Highlights include lessons in sauces such as muhammara and tzatziki, ember-roasted vegetable dishes, sandwiches and pitas, and lamb kabobs.
6: Grilling Poultry
Take a deep dive into chicken on the grill. After reviewing the different parts of the chicken, learn how to make a classic American barbeque chicken dish, a unique marinated quail mixed grill, and a non-traditional smoke-roasted turkey with a complementary three-grain salad-sure to spice up your next holiday gathering.
7: Latin American-Style Grilling
Swing down to the Caribbean to sample the flavor of the islands. Start with a skirt steak in orange mojo sauce, and move on to an original jerk chicken recipe. Then hop over to the Yucatan for a unique twist on a traditional Mexican dish. Traditionally made with marinated pork, your cochinita pibil dish here is a barbeque halibut with fire-roasted salsa and tortillas.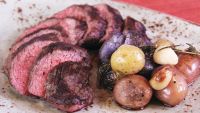 8: Grilling Lamb and Beef
When we think of the grill, many of us think of meat first. Look beyond the traditional burgers and hot dogs to explore different cuts of meat. Your chefs show you how to grill a marinated Thai-style hangar steak, a dry rub flat-iron steak with coal-roasted potatoes, and hoisin-glazed pork tenderloin.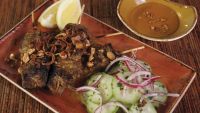 9: Asian-Style Grilling
Thailand. Japan. Vietnam. Korea. Asia is home to some of the most delicious recipes on the planet, and this lecture surveys some of the popular Asian cuisines that can be prepared on the grill. After a series of skewered meat dishes-including beef satay and yakitori chicken-you'll end with Korean barbeque short ribs.
10: Grilling Veggie Savories and Sides
Shift your attention from meat to the rest of the meal. Learn how to time different types of vegetables on the grill, which will cook fast and caramelize depending on the combination of heat and sugar. Make a splendid vegetable platter with shirred eggs-perfect for a summer brunch-and then turn to grilled corn and portobello mushroom burgers.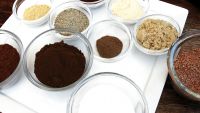 11: The American Tradition of Barbecue
Travel south for a tour of the great barbeque styles (vinegar-, ketchup- or mustard-based) and places (the Carolinas, Tennessee, St. Louis, and Texas). After exploring the history and culture of barbeque, see how to make your own with a variety of meats, dry rubs, and sauces. Cook everything from pork butts to ribs to brisket.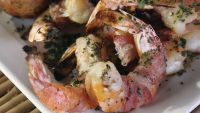 12: Entertaining-Grilling for a Group
What's a grill without the occasional outdoor party? Put together everything you've learned with several scrumptious recipes for one amazing party this summer: smoked and grilled appetizers, cedar-plank grilled king salmon, and a dry rub leg of lamb-plus a few special desserts for the road.
Bill Briwa
Don't waste any time wishing you were a better taster. Put your effort into becoming a better taster through focused attention and curiosity every time you prepare, season, and eat food. This skill set is really foundational.
ALMA MATER
The Culinary Institute of America
INSTITUTION
The Culinary Institute of America
About Bill Briwa
Bill Briwa (1957–2018) was a Professor of Culinary Arts at the Culinary Institute of America (CIA) and worked in the hospitality industry as a professional chef and culinary instructor for more than 30 years. He was the resident chef for The Hess Collection Winery in California's Napa Valley, the executive chef for The Wine Spectator Restaurant at the CIA at Greystone, and an officer on the board of the St. Helena Farmers' Market. As a member of the Industry Services Group at the CIA, he worked closely with a range of corporate clients to help them realize their culinary goals. Chef Briwa was a speaker, presenter, and judge at numerous professional conferences, gatherings, and competitions in the culinary world. He presented at the annual conference of the International Association of Culinary Professionals and spoke at the National Restaurant Association Show in Chicago. His writing on food and wine, olive oil, and cooking was featured in Fine Cooking, Mise en Place, and Sunset, as well as in the trade publications Flavor & the Menu and Practical Winery & Vineyard Journal.
Chef Briwa participated in The Great Courses Professor Chat series. Read the chat to learn more about cooking.
Patrick Clark
One of the challenges of cooking with live fire is we all know the challenges of grilling is managing food on the surface now we also have to manage our fuel source at the bottom at the same time.
ALMA MATER
The Culinary Institute of America
INSTITUTION
The Culinary Institute of America
About Patrick Clark
Patrick Clark has been a chef-instructor at the Culinary Institute of America (CIA) since 2008. A 1991 graduate of the California Culinary Academy (now called Le Cordon Bleu College of Culinary Arts), he brought strong industry experience in high-end, high-volume dining, most recently at Sutro's restaurant in San Francisco's historic Cliff House, where he won accolades for his farm-fresh, California-coastal cuisine.Chef Clark served as executive chef for the California Cafe restaurant group in Palo Alto, California, and the Santa Barbara Grill in Cupertino, California; both positions allowed him to bring his culinary passion for seasonal, local, and organic foods to the table. Chef Clark also has extensive experience in opening private clubs and luxury hotels. As a member of the 1992 Chaine des Rotisseurs Culinary Team USA, Chef Clark was the only apprentice to compete on a team that received 26 medals in the International Culinary Olympics in Frankfurt, Germany. As a Chef-Instructor at the CIA, Chef Clark has developed curricula and has taught a wide range of culinary topics, including garde-manger techniques, modernist cooking, modern banquets, and breakfast and lunch. He has traveled to teach and study cuisines across the United States and in Mexico, the Mediterranean, and Europe.